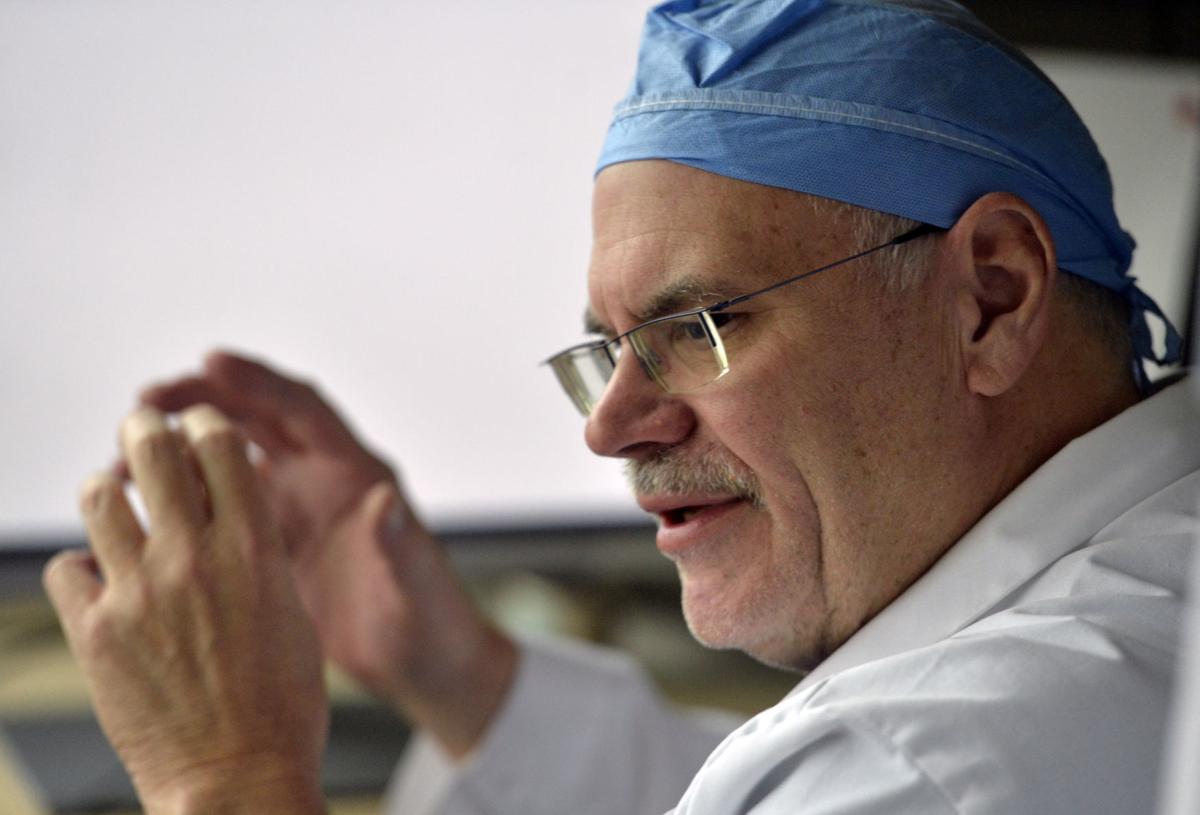 Dr. Kevin Fullin appreciates the healing power of music.
As a cardiologist for Froedtert South, he also appreciates the commitment of health workers on the front lines of the global pandemic.
To express his thanks, last week Fullin sang a "hallelujah" to health workers everywhere, especially his daughter, Kerianne Fullin, a medical intern currently working in New York City hospitals.
Accompanied on guitar by Racine musician and friend Mark Paffrath, Fullin sang his own take on "Hallelujah," in the driveway of his Kenosha home.
"Hero Tribute" is a 4-minute, 51-second version of the song written by the late Leonard Cohen in 1984. Fullin's re-scripted lyrics reflect the struggles and salute the bravery of health care workers during this time.
"Now, I've heard there was a Covid Plague; That Heroes fought, while all turned vague;
"But you do really care for patients, don't you?
"It started small, then scared us all; We hid inside, while others fall —
"Courageous, we await a Hallelujah ..."
A fan of Cohen's music, Fullin said "Hallelujah" was the perfect vehicle for expressing support for healthcare workers.
"We honor Cohen's greatness in the spirit of compassion and love in this time of need," Fullin said.
Fullin's delivery of the song is, so to speak, heartfelt.
"Of course I was thinking of my daughter Kerianne and all essential workers," Fullin wrote in an email this week.
Fullin said he wrote the lyrics over the course of a "a few days, but the idea was bubbling for a month."
He contacted Paffrath, who told him he was "all in" to play the song with him.
"Originally, we were going to do it at the hospital, but I didn't like the idea of going into a hospital right now," Paffrath said. "Also an important part of doing this was to play it in a socially distanced way, outside where there was more room."
Fullin, dressed in blue hospital scrubs, delivers the song from a "soundstage" set up in the driveway of his Kenosha home.
For an outdoor venue, the music is remarkably clear and free of extraneous sounds. Fullin explained that to get the best quality possible under the circumstances, the video was filmed on a GOPro camera and iPhone by Fullin's wife, Patty, and another friend, Kathy Rippon.
Fullin then edited the song using Adobe software and uploaded it to YouTube on May 23.
The set-up was simple, Paffrath said.
"We used a small mixer, a mic and equipment for a little reverb," he said.
Singer-songwriter Paffrath, who accompanies Fullin on the chorus lines of the the song, is well known on the local music scene.
Paffrath creates CDs and offers musical entertainment through New Leaf Enterprises. Prior to the shutdowns, he was hosting live open mics at the Union Park Tavern. During the quarantine, he began live streaming open mic virtual events on Wednesday nights through his Facebook page.
Paffrath noted that he and Fullin have collaborated on various projects over the years.
Fullin, a skilled cardiac surgeon, is also not a stranger to the creative arts. He shared that he was in a band in medical school.
"I was doing a lot of Tom Waits songs then and played harmonica," Fullin said.
He has also dabbled in hand drums with men's groups and enjoys oil painting.
"I have dyslexia, so the right side of my brain is active and I am not happy if I am not creating art," he said. "It probably also spills over into my innovations as a cardiologist."
As of Wednesday, "Hero Tribute" has had 485 views. One of those viewers was Fullin's daughter, Kerianne.
"I was really touched by my dad's song," she said. "It really captured our fears as healthcare workers with families."
"The reaction has been moving, with people telling me they are tearing up and it is beautiful," Fullin said. "I feel lighter having shared my open heart."
Concerned about COVID-19?
Sign up now to get the most recent coronavirus headlines and other important local and national news sent to your email inbox daily.