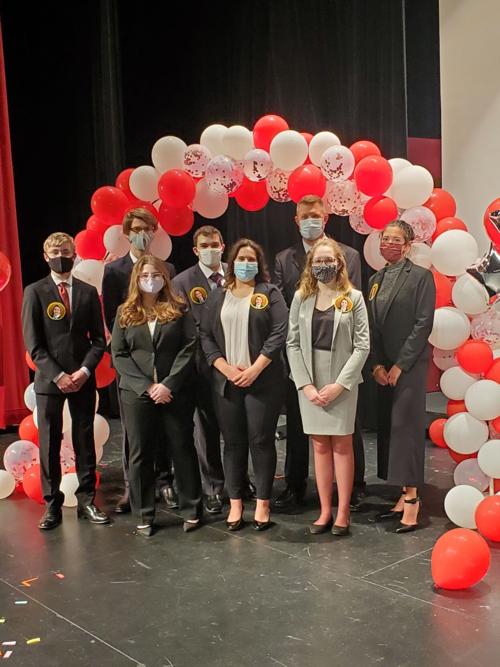 The Wilmot Union High School Academic Decathlon team won the 2021 Division II National Championship on Saturday, becoming the highest scoring team in school history.
Coach Don Serkowski said all their hard work paid off for the team.
"Whereas other teams finishing in the top 10 found their national scores drop considerably from their respective state competitions — on average by 2,000 points—the Panthers battled really hard to raise theirs by 1,100 points since the beginning of March," Serkowsi said. "That effort catapulted Wilmot to the top of the division, well beyond the New Jersey team they trailed coming into the event."
A 500-point deficit, turned into a 5,000-point championship win over New Jersey.
"It's our mantra, always keep growing from one competition to the next," Serkowski said. "When you have six to eight weeks in between to improve, each decathlete must take advantage of that time and get better. Our kids rallied big time and made it happen, fully demonstrating their tenacity to achieve at the highest level at the most important competition of the year."
Serkowski said the new school record of 47,607 points is three points higher than scored by Wilmot's 2016 national championship team.
The Academic Decathlon competition features 10 events covering science, language arts, literature, art, music, social science, economics and math, including an interview and team super quiz trivia-style event. This year's theme was the Cold War.
Each high school enters a team of nine students: three honor students (3.75 to 4.0 grade point average), three scholastic students (3.0 to 3.749 GPA), and three varsity students (students below a 3.0 GPA).
The achievements were announced and celebrated in the school auditorium late Saturday afternoon, in the presence of about 50 friends and family members.
"At the moment they were in fact crowned Division II national champions, several parents manned confetti cannons on either side of the stage that simultaneously went off with a loud bang and showered the decathletes," Serkowski said. "Our tremendous parents did a wonderful job in creating a spirited atmosphere. They decked the stage out with signs, banners, and every balloon imaginable."
Well-rounded team
This marked the first time a team from Wilmot posted four decathletes scoring over 8,000 points at a national decathlon, Serkowski said. Wilmot had two such scorers at state, Anna Carrol and Isaac Keen, who were joined by Meadow Loveless and Sydney Fontaine at nationals.
"I can't express how big that was for our team, that level of balance made them very formidable to beat," Serkowski said.
Iain McCutchan and Lydia Fielder also put up their highest scores of the season. Fielder joined Loveless in posting career highs in their very last decathlon.
Loveless' score of 8,160 makes her the highest scoring varsity entrant in Wilmot history, by a considerable amount, and McCutchan is now the second-highest scoring varsity in Wilmot history.
All-National Team
Three Wilmot decathletes walked away with the distinction of making the Division II All-National Team.
Carroll once again led the Wilmot squad in scoring, for which she received a cash scholarship and was voted Most Valuable Teammate by her peers for her incredible level of leadership and positivity.
"In terms of notable Wilmot decathletes in our program's history, Anna is assuredly on our Mount Rushmore," Serkowski said. "She's irreplaceable for all she's accomplished and meant to her teammates and to me as a coach."
For finishing as the top scholastic in Division II, Carroll earned the top $1,000 cash scholarship. She also won a cash scholarship for being Wilmot's top scorer.
Loveless also earned multiple scholarships. She was the top scorer in the Division II varsity division which also awards a $1,000 cash scholarship. She also won a cash scholarship unique to the national decathlon that goes to the varsity, regardless of school size, with the highest combined score in Essay, Interview and Literature.
McCutchan finished as the second highest scorer in the varsity division behind Loveless, earning him a $750 cash scholarship. He added the Founder's Scholarship, which goes to the varsity decathlete who improves their score the most from their state score.
All totaled Wilmot decathletes took home between $3,000 to $3,500 in cash scholarships from the competition.
Keen, a sophomore, was Wilmot's second leading scorer and finished in 4th place in the honors division, trailing third by only nine points. He scored a perfect 1,000 on the Literature test, the only one in the country to do so regardless of school division, or G.P.A. division.
"It's obviously the Wilmot record and at least ties the nationals record," Serkowski said. "He has such a very bright future in his remaining two years in academic decathlon, to be sure. Isaac will be the pillar our team will be built around these next few years."
Fontaine, a junior, made a tremendous leap in points from the state competition and will be a strong member of the team next season, Serkowski said.
Golden Sweep
The team was able to win six of the possible nine medals in three of the ten events. Carrol, Keen, Loveless, Fontaine, McCutchan, and Fielder dominated in Music, Social Science, and Literature. It was in Literature they managed to capture all three gold medals in the honors, scholastic, and varsity divisions.
The Golden Sweep was accomplished by Keen (with his stand alone perfect score), Carroll, and McCutchan.
Despite filling only 8 of the possible 9 roster slots at Nationals, Wilmot was able to take 1st place in the Super Quiz event, posted by Junior Isaac LaRose and senior Kort Visocnik.
This marks Wilmot's fourth Division II national championship – also achieved in 2015, 2016, and 2019.
Wilmot placed 4th overall in the nation, only trailing the three top scoring schools in Division I.
"Being able to hang with any school, regardless of their size or type, speaks volumes of Wisconsin public schools," Serkowski said. "We're proud to bring the championship back to our state and community. Wilmot's previous high water mark was 6th overall in the nation regardless of school divisions.