PRESIDENT DONALD TRUMP: "We had a great two weeks watching these crooked politicians not giving us due process, not giving us lawyers, not giving us the right to speak and destroying their witnesses. It fell apart. Those were their witnesses. We weren't allowed any rights." — Florida rally Tuesday.
REP. DOUG COLLINS: "Process sham ... this is a failure ...to actually have the president viably participate in his own defense, which he's not had the opportunity to do until now." — interview on Fox News Sunday.
RONNA MCDANIEL, Republican National Committee chairwoman: "Sham impeachment hearings with due process denied to our president." — to Fox News.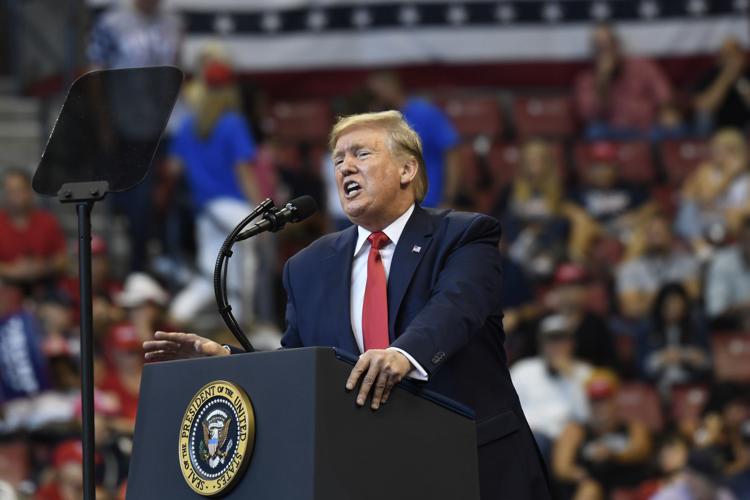 THE FACTS: Trump was not deprived of constitutional rights during the House Intelligence Committee hearings because the committee was conducting an investigation, not a trial.
Although the same will be true of the next round of hearings, the chairman of the House Judiciary Committee has invited Trump and his lawyers to appear if he wishes and to make a request to question witnesses.
Trump is also incorrect that the Intelligence Committee hearings only brought forward witnesses hand-picked by the Democrats. Several were invited at the request of Republicans on the committee.
More broadly, each stage of the impeachment inquiry has been guided by majority vote or by long-established institutional practices of Congress as interpreted by the Democratic majority elected by the voters.
It's also unfolding as outlined in the Constitution, which gives the House the sole power to impeach and the Senate the sole power to remove a president from office.
The Judiciary Committee hearings will be similar to the process seen in impeachment proceedings that began against Presidents Richard Nixon and Bill Clinton. Nixon resigned, heading off a House impeachment vote; Clinton was impeached by the House and acquitted by the Senate.
If the House impeaches Trump, the Senate trial will look like a normal trial in some respects, with senators as the jury. Arguments would be heard from each side's legal team for and against Trump's removal from office.
The Intelligence Committee hearings, in contrast, were like the investigative phase of criminal cases, conducted without the participation of the person under investigation.