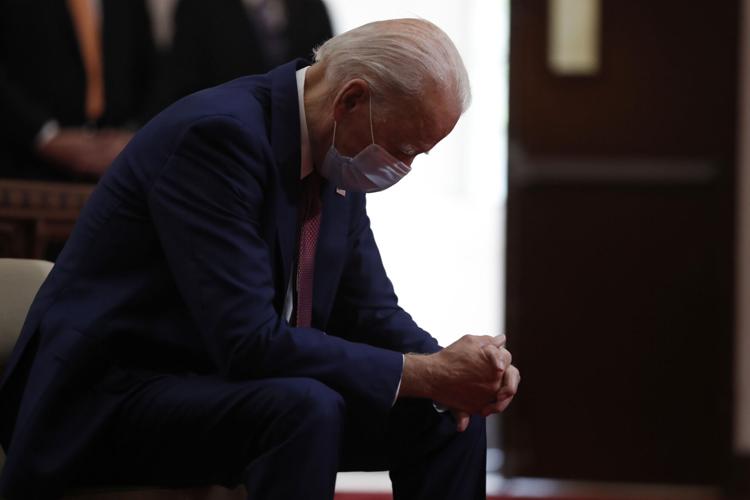 CLAIM: Photos in a campaign ad for President Donald Trump show that former Vice President Joe Biden is "alone, hiding, diminished."
THE FACTS: The photos used to support the claims that appear as the ad opens are not recent and have been altered in an effort to make those points.
The ad, which circulated widely on social media, opens by zooming in on Biden's home in Delaware. "Deep in the heart of Delaware, Joe Biden sits in his basement. Alone. Hiding. Diminished," a narrator says.
The initial footage used in the ad zooms in using an aerial shot of Biden's home and then cuts to him sitting at a desk in his basement surrounded by camera lights. It is after this that the altered photos are used. As the narration says "alone" and "hiding," a photo of Biden sitting alone on a floor appears on the screen. In the original photo, Biden is surrounded by people. Photographer Liz Martin for The Gazette in Cedar Rapids, Iowa, took the photo, which shows Biden watching the Holiday Bowl football game last December at the home of Mayor John Lundell in Coralville, Iowa.
Get to know the women vying to be Joe Biden's VP pick
As the narration says "diminished," the video cuts to a photo of Biden looking down, touching his forehead with no one around. A microphone he was holding was edited out and the background removed. The original photo by photographer Mark Peterson for Redux Pictures shows that Biden was holding a microphone while speaking at a town hall meeting at the Indian Creek Nature Preserve in Cedar Rapids, Iowa on Sept. 20, 2019.
Another photo in the ad is misrepresented. It shows Biden with his head down at a point when the ad says Biden is "defeated." The photo, taken by AP photographer Andrew Harnik on June 1, shows Biden praying at the Bethel AME Church in Wilmington, Delaware, during a meeting with Black leaders following the death of George Floyd. The ad blurs details that show Biden is praying in a church. The ad was tweeted by @TeamTrump on Wednesday. The Trump campaign did not respond to a request for comment on the images in the ad.