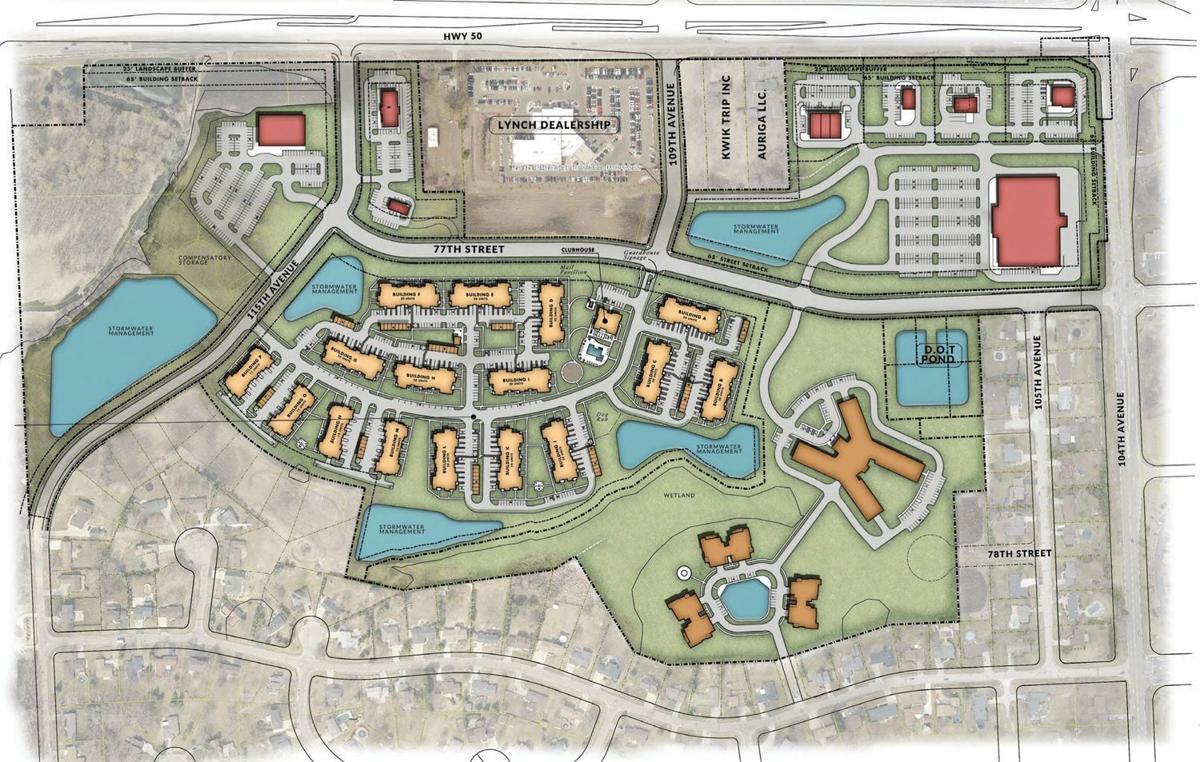 PLEASANT PRAIRIE — A proposed new Tax Incremental District in the village received glowing reviews during a public hearing Monday night.
And now it's one step closer to fruition.
Backed by the lone comment from a resident and positive remarks from the commissioners, the proposal for TID No. 8 that covers 127 acres south of Highway 50 between 104th and 115th Avenues received unanimous approval and now heads to the Village Board for action at its Nov. 2 meeting.
From there, if the proposal continues to progress, it will head to the Joint Review Board for the second time on Nov. 17. The final step is for approval documents to be submitted to the Wisconsin Department of Revenue before the TID officially is created.
Plan Commissioner Wayne Koessl said he was pleased to see an area that struggled with developments for the past 40 years now with a plan that will only help the village in the long run.
"That's been a site of blighted area for many years," he said. "I think this development will add a lot to the village. This development is a plus for the village."
Other commissioners agreed.
"From my perspective, this is a really great project," Commissioner John Skalbeck said. "This is going to take care of an area that's been not managed from the water perspective for a long time, and now it will be. It's going to help folks downstream. I was pleased when I saw the level of detail that went into the engineering for this project."
Letter of support
Resident Florence Bohn submitted a letter in support of the project that was read into the record by Community Development Director Jean Werbie-Harris.
"I believe that a tax increment district as proposed will serve all property owners' interest in both the near and the long term," Bohn said. "The land in this area has not been able to achieve its highest and best value in an unsupported marketplace for over the last 40 years.
"The scattered and unconsolidated nature of the existing development, along with topographical challenges, have made orderly development difficult, even in a dynamic real estate market."
The total improvement cost associated with the TID is $11,992,430, which includes design, construction and administration of a number of planned projects.
Fiduciary Real Estate Development in Milwaukee is the developer for the project.
Work that's been identified by the village to be included in the TID is the completion of 77th Street, 109th and 115th avenues, storm water management, utility installations and other project costs.
The first phase of TID 8 is the development of 300 upscale, multi-family apartments on 29 acres that will be known as Seasons at River View. Construction on that complex is scheduled to begin in the spring.
The remaining developments within TID 8 include two commercial development sites and senior housing. The TID is due to expire in 2040.
History of the land
Fiduciary Vice President of Development Tony DeRosa said his company is excited to add the village to its long list of successful projects.
DeRosa ran through a timeline of the land where the TID will be developed and echoed what many commissioners said with respect to the struggles there.
In 1977, a plat was recorded on the majority of the property that created a commercial and residential plan. In 2008, a wetland delineation was completed, but there were no wetlands on that property, DeRosa said.
Currently, there are artificial wetlands on the site, he said.
"(That's happened) for a variety of reasons," DeRosa said. "Poor grading, poor storm water management in the area. As additional land was developed to the north and to the east of here, this site, over the last 10 years, has taken on a lot of water."
A previous development planned in 2010 failed and the property went back to the bank, DeRosa said. Two years later, that bank failed and had all its assets purchased by another lender.
After one more failed attempt, Fiduciary became involved in 2018 and put its sights on developing the land.
Several challenges exist to developing the land, DeRosa said.
There are 130 individual parcels with multiple owners, which has made it difficult to secure necessary approvals, he said. Secondly is the significant need for public infrastructure improvements.
The final main challenge is the wetlands on the land, but DeRosa said this past summer that his company was able to secure final approvals and permits to fill those.
But time is of the essence, he said.
"The downside is if this prerty continues to sit idle, we know that with the amount of water flowing through here, it's likely the wetlands will continue to expand," DeRosa said.
Fiduciary dates back to 1984, DeRosa said, and has grown inito one of Wisconsin's largest real estate companies. Among the projects on its resume is more than 5,500 multi-family apartments the past 10 years.
"We have a proven track record of executing on complex projects, just like this one we're talking about today," DeRosa said.
DeRosa said calculations indicate an increase of more than $2 million a year in spending locally, along with a projected increase in the village's assessed value of approximately $90 million.
Be the first to know
Get local news delivered to your inbox!