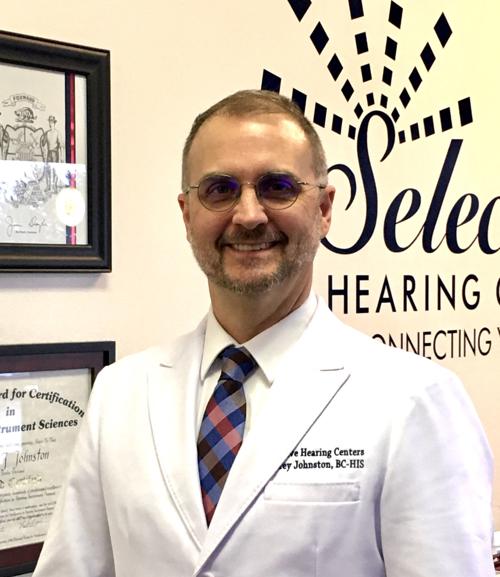 It's something that many people don't like to admit — that their hearing isn't what it used to be.
Maybe they keep turning up the TV volume. Or certain words are hard to make out.
Ignoring it won't make it go away, however. In fact, scientific studies and specialists working in the hearing instrument field say that if left untreated, a decline in hearing can eventually lead to even bigger problems like depression and dementia.
"Studies done in the last couple of years suggest that hearing aids can slow down cognitive decline later in life," said Jeff Johnston, 53, co-owner with his wife Cheryl of Selective Hearing Centers, 6804 Green Bay Road.
Johnston, a certified specialist with the National Board of Hearing Instrument Sciences and recently elected vice president of the Wisconsin Alliance of Hearing Professionals, said that as hearing function decreases, "the brain is not being stimulated. The longer it goes, the brain's ability to discern sound will atrophy, and the poorer their speech discrimination can get. And once it's gone, it's gone."
There also are social ramifications that come with hearing loss, with people tending to become more isolated if they aren't treated, especially as patients are coming in now at earlier ages than before.
"We're seeing a lot of people in their late 50s, and in their 60s is very common," he said. "When people have hearing loss, they may struggle for a while. There'll be isolation as they're not going out because they know they can't hear."
He said the symptoms also can be mistaken sometimes for Alzheimer's.
"People don't seem to pay attention," he said. "They're just not hearing, so they zone out."
Fear of the stigma of wearing a hearing aid often prevents some people from seeking help as well, but today's instruments are much improved and come in a range of styles.
"They have really changed a lot," he said. "They're rechargeable, can connect to smartphones, and they're very discreet, with a small silicone tip that goes in the ear."
The instruments range in price from $799 and up, with costs covered by some insurances, excluding Medicare.
Initial testing is often free of charge unless documentation is needed.
The devices can last for up to five years or sometimes longer, with follow-up appointments also needed to see that they are functioning properly or if any adjustments are needed.
Selective Hearing Centers also offers a 30-day trial and devices from multiple manufacturers to fit that person's needs.
The main thing Johnston advises is that people don't put off getting tested.
"We tell people to get baseline tested between 50 to 55 years old," he said. "Do it sooner rather than later. The sooner they get help, the better they'll do for the rest of their lives."
40 million Americans have hearing loss. Half are under age 65.
One in three families have or know someone with hearing loss.
Patients age 75 and older with hearing loss can experience a 30-40% faster decline in cognitive ability.
For information, contact Selective Hearing Centers, 6804 Green Bay Road, 262-577-5577.
Be the first to know
Get local news delivered to your inbox!