After what could be the first below zero reading of this fall and winter, a snowstorm Saturday night into Sunday will have Wisconsinites shoveling and snow-blowing, according to forecasters.
Kevin Lynott, a meteorologist at the National Weather Service in Sullivan, confirmed Tuesday that Madison and Milwaukee have not seen a temperature below zero this fall and winter.
But both the National Weather Service and 27 Storm Track predict a low slightly below zero early Saturday morning. (The official temperature readings for Madison are taken at the Dane County Regional Airport.)
Accumulating snow is expected Saturday evening into Sunday morning, with heavy snow possible at times late Saturday night into early Sunday morning.
National Weather Service lead forecaster Mark Gehring said the snow should be powdery and accumulate to 2 to 4 inches in southern Wisconsin. Kenosha should see 1 to 3 inches, Sheboygan 3 to 5 inches, La Crosse 3 to 4 inches, Eau Claire 3 to 5 inches, and Wausau and Green Bay 2 to 4 inches.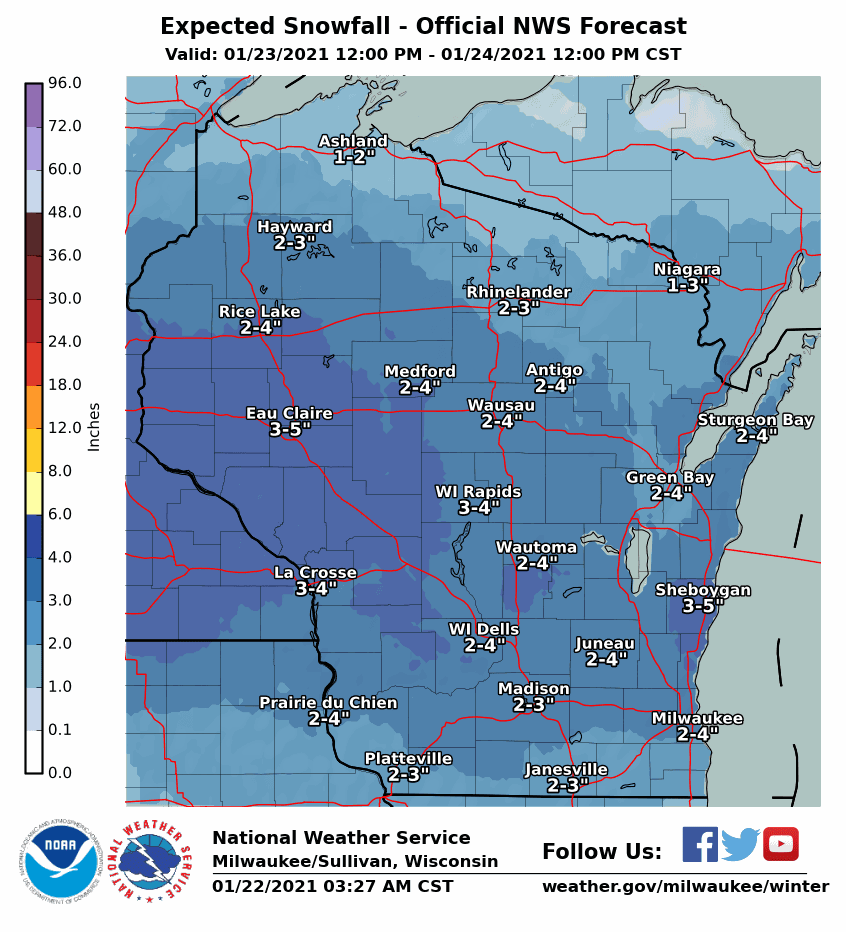 The snow will start west of Madison late Saturday afternoon and overspread southern Wisconsin during the evening, ending from southwest to northeast across the area Sunday morning.
The NFC title game between the Packers and Buccaneers at Lambeau field starts at 2:05 p.m., and the Weather Service said snow is likely before 3 p.m., with a slight chance for snow and freezing drizzle between 3 and 5 p.m.
The weekend storm is the first of two headed across the country, with the second next week likely to miss Wisconsin to the south, AccuWeather said.
"The first storm is forecast to produce a large swath of 1-3 inches of snow from parts of the northern Plains to the Midwest during this weekend," AccuWeather senior meteorologist Brett Anderson said. "Within this light snow area will be a patch of moderate to locally heavy snow with accumulations of 3-6 inches and an AccuWeather StormMax of 10 inches."
AccuWeather predicts Green Bay could see 3 to 6 inches of snow that is expected to taper off prior to the NFC title game.
The track of the stronger and larger second storm is not set in stone at this time, AccuWeather said, adding that 6 to 12 inches is possible in some areas.
In Madison on Friday, look for sunny skies, a frigid high near 16 and northwest winds at 5 to 10 miles per hour producing wind chill values of 5 below to 5, the Weather Service said.
After an overnight low around 3 below, the storm moves in on Saturday, with a 30% chance for snow after 3 p.m., increasing clouds, a high near 22 and calm wind becoming south winds around 5 mph in the morning.
There's a 90% chance for snow overnight, with possible accumulation of 1 to 3 inches, and a low around 19.
The chance for precipitation falls to 50% Sunday, in the form of snow, mixing with freezing rain after 10 a.m., then gradually ending. Skies should be mostly cloudy, with a high near 30 and southeast winds around 5 mph turning out of the northwest in the afternoon.
The Weather Service said chances for snow are 20% Sunday night after midnight, 30% Monday, 20% Monday night before midnight, and 20% Wednesday night.
Skies over Madison should be mostly cloudy Monday, partly sunny Tuesday, mostly cloudy Wednesday, and partly sunny Thursday, with highs near 28, 26, 29 and 30, and lows Sunday night through Wednesday night around 19, 16, 16 and 19.
27 Storm Track meteorologist Max Tsaparis forecasts the coldest night of the season overnight, snow developing Saturday evening and night and continuing into Sunday morning and accumulating to 2 to 4 inches, a chance for snow Monday, and a possible few flurries Wednesday.
Tsaparis said highs for Madison Friday through Thursday should be near 17, 20, 28, 26, 25, 25 and 27, and overnight lows around 1 below, 18, 20, 20, 16 and 14.
Thursday's high in Madison was 39 at 2:26 p.m., 13 degrees above the normal high and 13 degrees below the record high of 52 for Jan. 21, set in 1964.
Thursday's low in Madison was 18 at 11:59 p.m., 7 degrees above the normal low and 47 degrees above the record low of 29 below for Jan. 21, set in 1888.
No precipitation was recorded at the Dane County Regional Airport on Thursday, leaving Madison's January and 2021 total at 0.45 inches, 0.39 inches below normal. The meteorological winter (December through February) precipitation total (rain plus snow converted to liquid) stayed at 1.58 inches, 1 inch below normal.
Madison's record precipitation for Jan. 21 is 0.57 inches, set in 1895.
With no snow on Thursday, Madison's January and 2021 snow total stayed at 5.9 inches, 2.8 inches below normal. For meteorological winter, Madison has received 19.4 inches, 2.8 inches below normal. For the snow season (since July 1), Madison has received 21.7 inches, 4.6 inches below normal.
Madison's record snowfall for Jan. 21 is 7.2 inches, set in 2008.
Madison's official snow depth is 6 inches.
---
Photos: A look back at the frigid 'polar vortex' of 2014