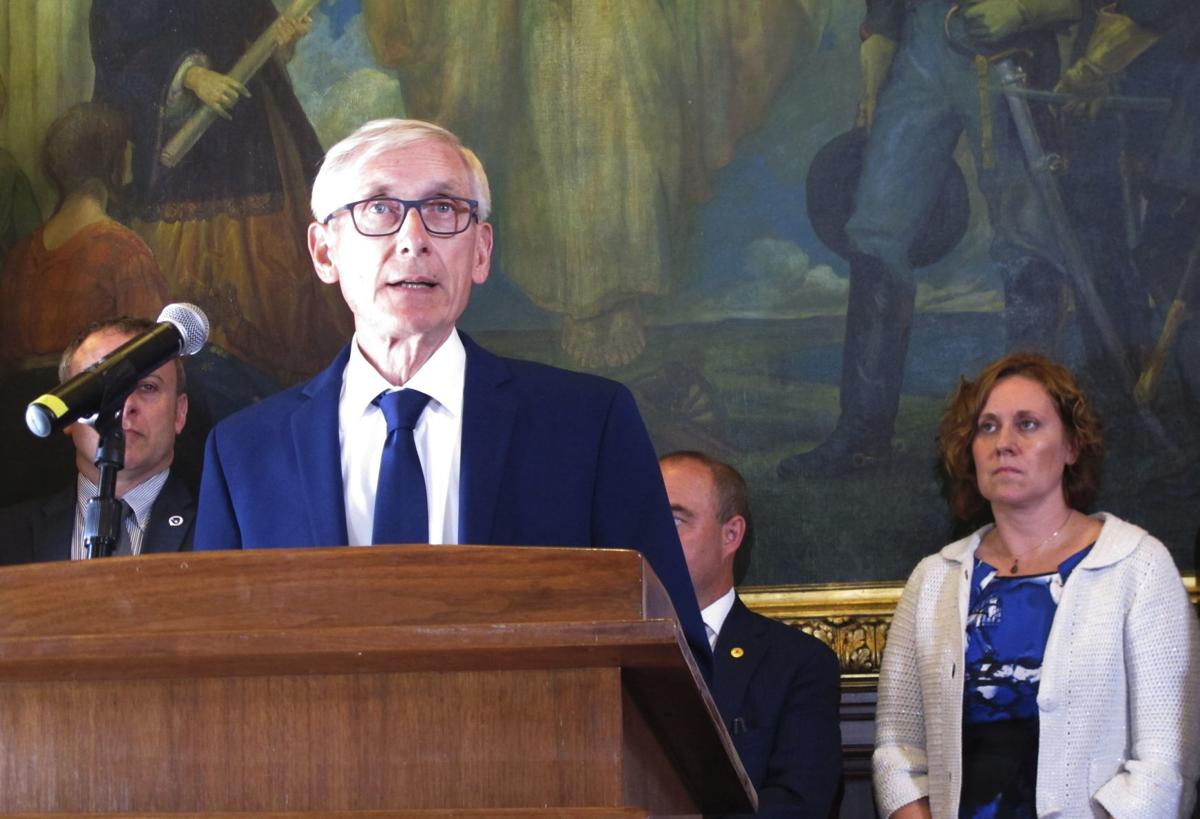 Gov. Tony Evers and Sen. Tammy Baldwin, both Democrats, have asked President Trump to make good on a pledge Trump made when he visited Kenosha to provide federal funds to help the city rebuild.
"When you visited Kenosha, Wisconsin, you made a commitment to help the city and state recover and rebuild with a promise of federal funding," a letter penned to Trump by Evers and Baldwin reads. "You told local business owners you would help them rebuild completely and also help with economic development."
However, Evers and Baldwin wrote they are "dismayed" that the funding announced thus far "will not be sufficient to rebuild and heal the Kenosha community."
"The vast majority of the funding you have already announced cannot be used to rebuild Kenosha following the unrest," the letter reads, referencing the destruction that took place during riots that followed the shooting of Jacob Blake by a Kenosha Police officer.
For example, Evers and Baldwin said the $4 million to support small businesses that Trump announced as part of the CARES Act is money Kenosha businesses were already counting on to help them recover from losses related to COVID-19.
"This Economic Development Administration funding will support loans to small businesses in Kenosha County to alleviate the economic impact of the pandemic," the letter reads. "It cannot be used for damages tied to the unrest."
Congressman Bryan Steil, R-Janesville, said Thursday that Trump has been responsive to the needs in Kenosha.
"When asked, President Trump immediately agreed to send resources to bring public safety to Kenosha," Steil said. "Those resources and that leadership likely saved lives and prevented more damage from occurring."
Steil said the federal government will continue to provide assistance to help move Kenosha forward.
"Following the unrest, President Trump came to Kenosha to thank first responders and announce federal assistance for Kenosha and Wisconsin," Steil said. "The Administration acted quickly by bringing initial assistance to Kenosha, and going forward, I will continue working with the Administration to provide additional resources to help our community come together and rebuild."
Evers and Baldwin said the $42 million announced by Trump to support public safety statewide also does not represent new funding. For example, more than half of that funding is Wisconsin's Crime Victims Fund dollars for Fiscal Year 2020. Of the new funding as part of that announcement, $1 million is for Kenosha law enforcement.
They asked Trump to "provide federal aid that will actually help the community, along with its residents and businesses, rebuild."
"We have seen the need for additional federal funding in Kenosha firsthand," the letter reads. "There is a need for aid for small businesses and help rebuilding public infrastructure and offsetting the public cleanup and recovery costs."
They said Kenosha and Wisconsin "will need a more robust federal response" than Trump has already announced.
"We look forward to your plan to support a complete rebuild because the Kenosha community deserves more than empty promises," the letter reads.
Be the first to know
Get local news delivered to your inbox!