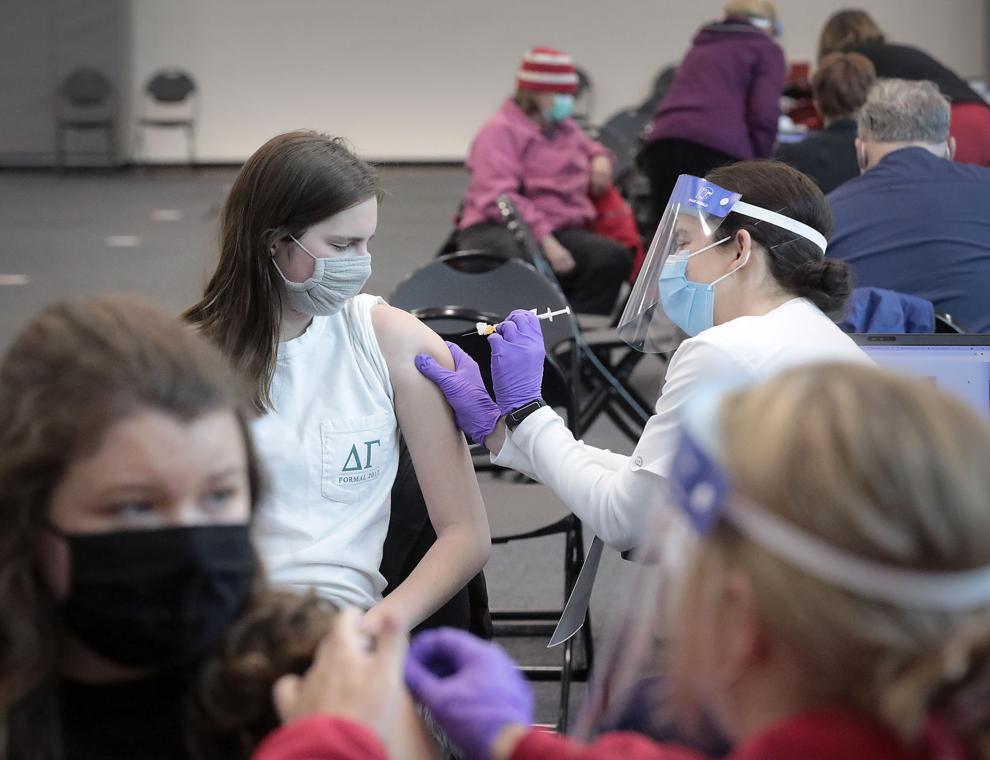 With about a month left in most universities' spring semesters and COVID-19 cases increasing statewide, schools are scrambling to vaccinate as many students as possible before they leave campus for the summer.
Wisconsin college students can receive COVID-19 vaccine after the state broadened eligibility this week to all residents 16 and older. But campus clinics are receiving limited doses, sending students to local pharmacies and county-run sites for appointments that can fill up fast.
UW-Madison Chancellor Rebecca Blank has several times in recent weeks noted her disappointment with the amount of vaccine allocated to University Health Services. Officials have encouraged the campus community to look elsewhere, noting in a Monday social media post that appointments for the week were already full.
The university's COVID-19 data dashboard shows UW-Madison receiving an average of about 1,000 shots per week. About 15,000 students and staff have received at least one dose, a figure that includes individuals vaccinated off-campus.
Blank requested the state Department of Health Services send a large supply of Johnson & Johnson vaccine to arrive in late April and early May. The single-dose shots could be easily administered just before students leave for the summer, she told professors in a faculty committee meeting last week.
At least one other state, Ohio, is already taking that approach. Republican Gov. Mike DeWine announced last week that the state plans to distribute the Johnson & Johnson vaccine to Ohio's public and private colleges. While college students are not at the highest risk for severe illness, "college students are high in capability to spread," DeWine said. "As we look at going into the summer, this is a big concern that we have for that whole age group."
Tommy Thompson, interim president for the UW System, also asked Wisconsin's health agency for more supply.
But agency spokesperson Jennifer Miller said there's no plans to allocate more doses to campus clinics, saying demand still exceeds supply.
Thompson said the System won't require students be vaccinated as a condition to enroll in person this fall nor will it create a "passport" system outlining perks for people who get the vaccine.
"I don't think mandates help," he told reporters during a Wednesday news conference. "I don't want to prevent (people) from having the opportunity to go to college and I don't want to say they have to do something in violation of their religious beliefs or their political idealism."
Thompson is aiming for 75-80% of students on each campus to be vaccinated in order to reach herd immunity levels. The System will incentivize vaccinations through a recent policy change exempting students who have gotten their shots from COVID-19 testing requirements. UW-Madison had already adjusted its policy on that last month.
---
Virus by the numbers: 10 charts that show how Dane County is coping with COVID-19
Wisconsin COVID-19 vaccination rates, by county
Wisconsin hospital capacity, by county
Madison-area hospital bed occupancy
Wisconsin COVID-19 vaccine distribution
COVID-19 vaccination rates: How Wisconsin compares
Wisconsin COVID-19 hospitalizations and ICU usage
Wisconsin ICU capacity, by county
Wisconsin COVID-19 testing
Dane county COVID-19 cases
Dane county COVID-19 deaths