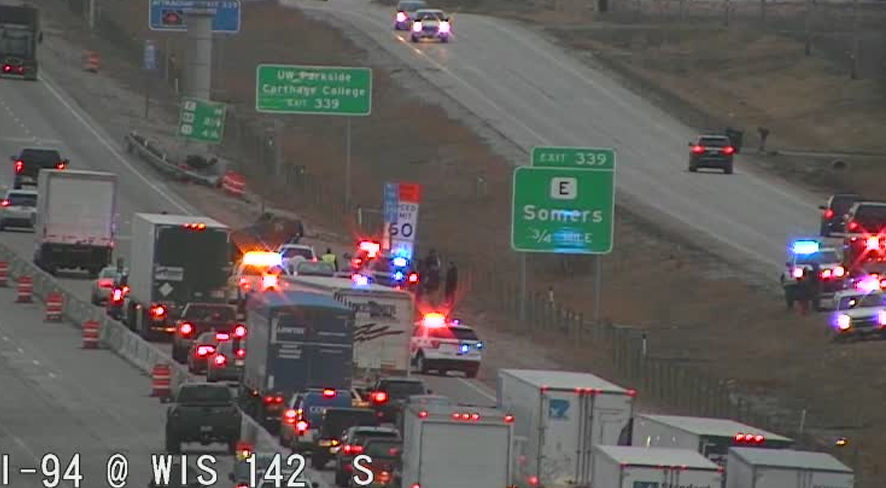 SOMERS — One person was taken by helicopter to a Milwaukee-area hospital with life-threatening injuries after a single-vehicle rollover crash on Interstate 94 less than a half mile north of Highway 142 Monday.
The crash occurred shortly before 4 p.m., with the man ejected from the vehicle, according to Somers Fire Chief Carson Wilkinson.
He was located in a grassy area and was taken by Somers Fire and Rescue to Froedtert Pleasant Prairie Hospital with life-threatening injuries, Wilkinson said. He was later transported by Flight for Life helicopter to Froedtert Hospital in Wauwatosa.
"The individual was alive at the time we transported," Wilkinson said.
Justin J. Sorrentino, 35, of Gilmer, Texas, was the sole person injured in the accident, according to the state patrol, which released the victim's name on Wednesday.
"The injuries were very serious and life-threatening," said Sgt. Matthew Noah of the Wisconsin State Highway Patrol, which is in charge of the investigation. 
Fave Five: Reporter Terry Flores
As the year draws to a close, the Kenosha News is taking a look back on 2019 and sharing the favorite five stories that each of our reporters has written this year.
Here are the Fave Five stories of Kenosha News reporter Terry Flores. 
He said the driver was headed north and appeared to have been distracted by something in the car or was possibly falling asleep.
The vehicle drifted to the right, and once it left the paved portion of the road, the driver tried to correct to go left sharply, he said.
One of the wheels then dug into the gravel, and the vehicle rolled over multiple times.
Gilmer was not wearing a seat belt and was ejected, he said.
Three or four witnesses saw the crash and stopped to help, he said.
"They tried to help with CPR until one of our troopers got there," he said.
Noah said criminal charges are not expected in connection with the accident.
Law enforcement and fire and rescue personnel remained on the scene for about an hour and 15 minutes, Wilkinson said.
The fire department aided in cleaning up vehicle fluid and debris from the crash while providing lighting. The Kenosha County Sheriff's Department directed traffic as the State Patrol investigated.
Be the first to know
Get local news delivered to your inbox!