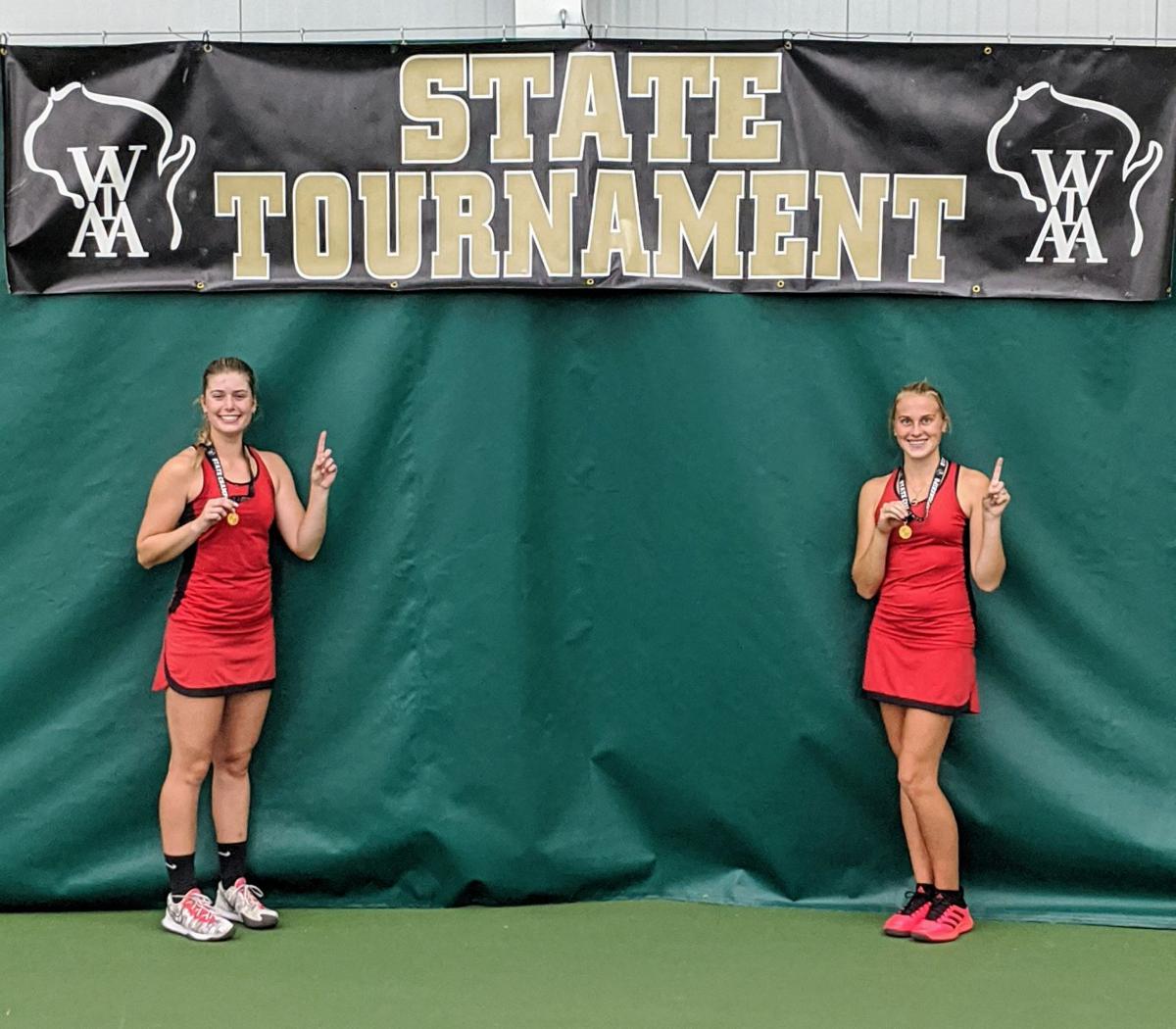 Like all high school athletes in Wisconsin the last seven months or so, girls tennis players didn't even know if they'd have a WIAA State Tournament this fall.
Wilmot senior Halle Rosentreter has been battling the uncertainty of being able to play for much longer than that.
Closing her high school career with a storybook finish on a storybook weekend, Rosentreter teamed with sophomore Gwen Hammond to deliver Wilmot its first state tennis title with a 7-5, 6-1 victory in straight sets over the Arrowhead team of sophomore Hannah Cady and senior Anna Long in the doubles championship match of the WIAA Division-1 State Individual Tournament on Saturday afternoon at Lake Geneva Tennis.
Rosentreter said she couldn't even play the last two seasons due to a back injury, which she said she's now learned how to deal with. So for her, a season of uncertainty piled on top of a high school career of uncertainty culminated in the ultimate triumph.
"It's amazing," Rosentreter said in a phone interview after the state title match. "I didn't get to play my sophomore or junior year, so to be able to do this my senior year, that's amazing.
"I didn't start playing again until February, so it was really an amazing thing that we got to do."
Hammond, who has another two seasons left with the Panthers, was thrilled to help Rosentreter achieve her storybook finish.
"I'm so happy it was able to be me," Hammond said. "I'm very grateful for the opportunity, and I'm very grateful that she's the person I could share it with. She deserved everything about it. She's a great player. She works hard at it, so I'm just happy."
Rosentreter and Hammond both said they knew they had chance to win the state doubles title if they teamed up, but for a while it appeared that may not happen.
Hammond spent most of the season at No. 1 singles and Rosentreter at No. 2 singles as Wilmot played a Southern Lakes Conference-only schedule. With travel minimized and without the opportunity to use non-conference weekend tournaments to switch players from singles to doubles, Wilmot coach Lisa Obertin had been resigned to playing them just at singles.
"They were very interested in playing together the whole season," Obertin said Saturday. "But the reality was, with COVID, we couldn't travel and play (non-conference) matches. That was kind of our agreement, so we were just playing conference matches. We were very limited in our schedule.
"We didn't think that there was going to even be a State Tournament."
As that possibility became reality, though, Rosentreter and Hammond were paired up at the tail end of the SLC slate.
"All of a sudden there's a State Tournament, and I said, 'OK, we have to do this, because we know that it could really be something,'" Obertin said.
"We chipped away every match they had, critiqued, and went from there and got here (Saturday). It was amazing."
Rosentreter and Hammond earned an automatic state berth by finishing third in a Division-1 sectional at Tremper then kicked it into high gear in Lake Geneva.
Seeded eighth, they had a first-round bye and defeated the Central duo of junior Alexandra Wells and senior Emily Wermeling in straight sets in an all-county second-round matchup Thursday.
On Friday, they beat the No. 9 seed in straight sets to become the first players in program history to reach the state quarterfinals, where they ousted the top seed in three sets to advance to Saturday's semifinals.
On Saturday morning, Rosentreter and Hammond defeated Franklin's fourth-seeded duo of senior Sophia Dekker and junior Madelyn Dziubek (more on that match appears in Sunday's print edition of the News) in straight sets to set up the title match against the third-seeded Cady and Long.
"I just told myself, 'Take some deep breaths. It's like any other match. It's nothing special. Just take it point by point,'" Rosenstreter said when asked if she was nervous during the title match.
Said Hammond: "When we first walked out on the court I was a little nervous, but when we started warming up my nerves kind of calmed down, and I just thought about it as a regular match, nothing special. And I played my best."
The Wilmot duo earned a hard-fought victory in the first set, and they said they learned from it to work through a quicker second set.
"We knew what we had to do," Rosentreter said. "We learned how to break both of them. We figured a lot out in the first set, so we were pretty comfortable in the second set."
Rosentreter admitted, however, that emotion overcame her when she realized she was a point away from joining her father as a Wilmot state champion. Paul Rosentreter was a member of the 1984 boys basketball team that won an undefeated WIAA Class B state title.
"When it was game point, I usually just say, 'Hey, it's just like the first point of the match. Nothing's about to happen or anything,'" Rosentreter said. "Just keep myself calmed down. But I'm not going to lie: The last game, I did start crying a little bit."
Arrowhead was serving and double faulted on break and match point, and Rosentreter and Hammond had completed their amazing run.
"I don't know," Rosentreter said. "It feels really good. I'm really happy and I knew we could do it and everything, but it's kind of like surreal right now."
Added Hammond: "I don't really know how to describe it. It's very exciting and I'm very happy and proud about it. I'm very grateful for it, too."
Be the first to know
Get local news delivered to your inbox!