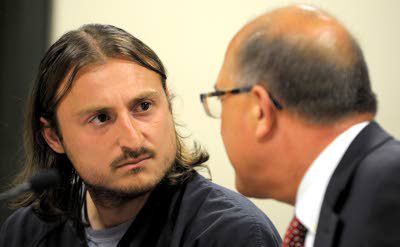 A 12-year-old girl stopped an alleged abduction of a 4-year-old neighbor last week, pulling the girl away from a man who was leading her away by the wrist.
The man, Benjamin Spasogevich-Lee, 27, of Kenosha, is being held on $15,000 bond, charged with abduction of a child and disorderly conduct.
In court Monday, a prosecutor said it is the second time Spasogevich-Lee has been charged with kidnapping. He said he was charged with kidnapping in 2010 in Illinois, but that charge was eventually reduced to disorderly conduct, the prosecutor said.
Spasogevich-Lee's defense attorney said his client has a history of mental illness and asked for a competency hearing. He said he also denied the allegations.
According to the criminal complaint and the Kenosha Police report, a group of children, neighborhood friends that included the 12-year-old, were playing in a garage in the 6000 block of 80th Place Thursday afternoon when several other children from the neighborhood came in and said Spasogevich-Lee had taken the 4-year-old.
The children reportedly had had odd encounters with Spasogevich-Lee and were wary of him.
Taking actionThe 12-year-old told police she knew something was wrong, so she went outside and saw Spasogevich-Lee holding the 4-year-old's wrist and walking away from her house.
"I ran down to them. I grabbed (the girl's) arm and grabbed her around her stomach. (Spasogevich-Lee) was holding onto her wrist. I yanked (the girl) away from him. I started to run back to my house," the 12-year-old told police, according to the police report.
It states that Spasogevich-Lee called for the 4-year-old to come back to him, and the 12 -year-old replied, "No, she won't."
Meanwhile, another child from the neighborhood had run to the 4-year-old's house to tell her parents what had happened.
According to the police report, the 4-year-old's father came outside and saw the 12-year-old carrying his daughter to his house. Learning what happened, the father immediately called police.
Acting on instinctOn Monday, the 12-year-old girl, a seventh-grader at Lance Middle School, said she acted on instinct.
"I was scared that she could have been taken away," she said, but said she wasn't afraid for herself.
The girl said kids from the neighborhood, including the 4-year-old, often come to her yard to play, and she knew the girl and her family.
She said the child's family were grateful, and that her grandfather "was just smiling" when he learned what she had done.
Man denies accusationThe criminal complaint states that Spasogevich-Lee told police he had been walking to a friend's house and that he talked to the 4-year-old but did not touch her.
According to the criminal complaint and police report, Spasogevich-Lee often spoke to children in the neighborhood and tried to play games with them, and that they had seen him do "strange things," like doing yoga outside in his underwear.
Another neighbor child told police that Spasogevich-Lee had talked to her and another group of children while they were playing outside and "began informing the children about rape," explaining what that term meant and telling the children "that kids could get kidnapped and raped" and that they should not be away from their parents, according to the criminal complaint.
Along with the kidnapping charge, Spasogevich-Lee was charged Monday with disorderly conduct for a May 11 incident in which he was outside his house and allegedly stripped to his underwear "in full view of a school bus containing children" before walking to his car and putting on different clothes.
Court Commissioner David Berman called Spasogevich-Lee's behavior "troubling" and set a $15,000 cash bond.
Defense attorney Michael Masnica said Spasogevich-Lee has a history of mental health problems and, according to a family member, has not been taking his medications recently.