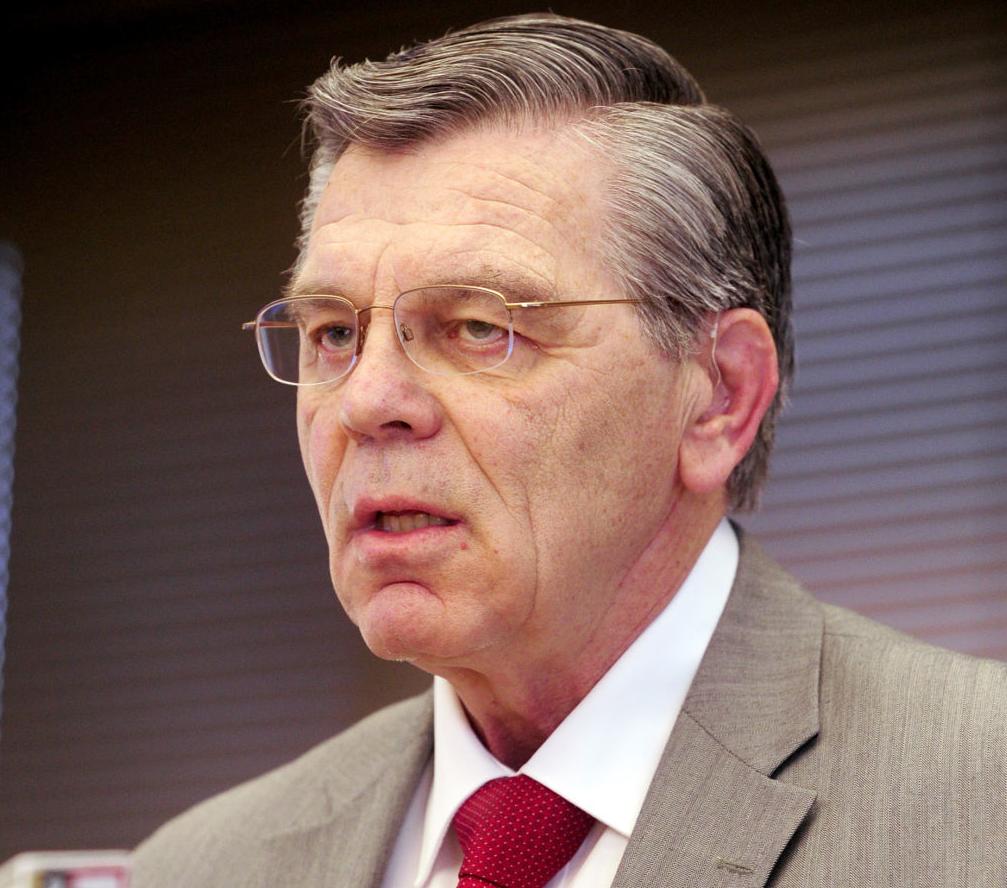 An attorney representing Robert Zapf said Friday the former Kenosha County District Attorney has solid grounds to appeal findings filed against him in the Wisconsin Supreme Court.
The findings allege misconduct in two homicide cases Zapf prosecuted in 2015 before retiring earlier this year.
They are included in a strongly worded report by retired Racine Judge Dennis Flynn, who additionally recommended suspending Zapf's law license for a year, barring him permanently from serving as a prosecutor in Wisconsin and applying other disciplinary measures.
The complaint accused Zapf of prosecutorial misconduct in the trials of Markese Tibbs and Joseph J. Brantley, who were convicted in the April 2014 shooting death of Anthony Edwards of Kenosha.
Flynn's report blasted Zapf for not disclosing to the defendants and their respective attorneys that Kenosha Police Department officer planted evidence during the investigation.
However, Milwaukee attorney Richard Cayo, who is representing Zapf as co-counsel in the complaint brought against him by the state Office of Lawyer Regulation, did some blasting of his own regarding Flynn's report as the appointed referee prosecuting the OLR complaint.
"Bob Zapf has been a long faithful public servant in Kenosha County," Cayo said. "The referee's decision in this case reflects a failure to interpret or understand the facts and the refusal to apply clear law in Wisconsin concerning the obligations of a district attorney."
Cites judge's ruling
According to Cayo, Flynn didn't give appropriate weight to a ruling about the evidence from Kenosha County Circuit Judge Bruce Schroeder.
Cayo said Flynn "ignored the decision of Judge Schroeder, who ruled the information at issue was neither relevant nor exculpatory and therefore not of the kind a district attorney is obliged to turn over."
In addition, Cayo said, Flynn "ignored the fact that — notwithstanding its insignificance — District Attorney Zapf did turn over the information when he received it."
In Cayo's view, it was unfair for Flynn to hold Zapf "accountable for a police officer's misconduct of which he was wholly unaware."
In his report, Flynn questioned Zapf's credibility in claiming he was "unaware" of former police officer Kyle Baars' misconduct — despite ranking Kenosha Police officers, including then Chief John Morrissey, orally reporting the misconduct — because Zapf had not gotten the reports in writing.
Still, Cayo feels Zapf has "very strong grounds for appeal of this decision," and said Friday the OLR " was making up obligations ... and making up the facts."
Local reaction muted
Kenosha attorney Terry Rose, who filed the complaint against Zapf, was reticent Friday to comment on Flynn's conclusions just yet.
Rose represented Tibbs, who accepted a plea deal in exchange for testifying against Brantley in the fatal shooting.
"At this point, I'm going to wait for the Supreme Court to make a final decision," Rose said. However, he added, "This is a very strong recommendation from Judge Flynn to the Supreme Court."
He wasn't expecting Flynn's allegations against the Kenosha Police Department orchestrating a cover-up of Baars misconduct as a police officer, which Flynn traced from the detectives who first interviewed Baars all the way to Morrissey as then-chief.
But Rose knew about those things, because they were revealed during hearings on the evidence-planting as well as Zapf's actions in initially withholding the information from the defense.
"I'm pleased that was in (Flynn's report), and it certainly was appropriate to the discussion," Rose said. "It makes it clear to the Wisconsin Supreme Court the full extent of this. When you read all of that material, it becomes crystal clear here what the police were doing and what the district attorney failed to do."
When Zapf eventually disclosed the police misconduct to the defense, it was the fifth day of Brantley's jury trial. By then, Tibbs, with no knowledge of the evidence being planted, already had accepted a plea deal.
"As a defense attorney, you could go to the defendant and say, 'You can accept this plea bargain or go to trial and argue police misconduct.' That's a valid defense," Rose said. "But, if you're never informed of that, how do you know what to do?"
"You have to show a client: Here are the negatives; here are the positives," he added. "Tibbs went through with the plea bargain, then was told about this police misconduct, the planting of evidence. That's not fair; that's not due process under the law, when the district attorney fails to disclose."
Even after learning of Baars' misconduct, Tibbs nevertheless opted not to rescind his plea agreement and proceed to trial.
Will Zapf appeal?
Racine attorney Michael Younglove, Zapf's co-counsel with Cayo, agreed Zapf has strong grounds to appeal. "We don't feel the facts support the findings," he said.
"We're obviously very disappointed in (Flynn's) decision and some of the reasoning for his decision," Younglove said. "We're concerned that in his report he went into a significant discussion of Kenosha Police Department corruption, which he laid at the feet of the district attorney. The district attorney does not work for the police department."
Cayo and Younglove said whether to appeal will be up to Zapf.
"We're in the right here," Cayo said. "(Zapf) did a good job. He's a hard-nosed prosecutor. He's a straight shooter. He fought this case on principle and whether he wants to continue, I don't know. He is retired, but he doesn't want to end his career on unfair criticism. The easy way for Bob to have dealt with this is to take the short suspension and let the case die."
Keith Sellen, OLR executive director, said the parties have a right to appeal Flynn's findings and recommendations within 20 days of Thursday's filing with the Supreme Court.
"The Supreme Court has a standard of review," Sellen said. "It will generally accept a referee's findings of fact unless they're clearly erroneous. But the Court reviews the conclusions and recommendations de novo — on their own. They will read the referee's opinion but are not bound by it."
Because the litigation remains ongoing, Sellen declined to comment on the potential outcome.
However, he said, complaints sent to the Supreme Court undergo "very thorough vetting ... before they're filed and after they're filed."