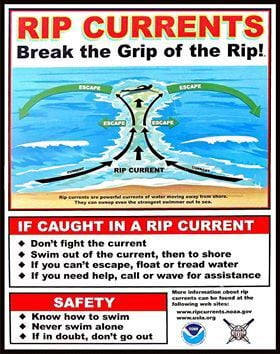 It's happened again — someone has drowned in Lake Michigan.
In this most recent drowning, a 10-year-old girl was swimming near the area where the Pike River meets the lake Saturday evening when she began having trouble in the water. Her father, a 28-year-old Kenosha man who didn't know how to swim, entered the water to save her.
However, he soon got into trouble as well. When first responders arrived, he was "floating and being pushed by waves." He was revived, but died two days later at a Kenosha hospital.
This story is sad and tragic, but it's also frustrating because it was so easily preventable.
This area of Kenosha's lakeshore is one of the most dangerous places to enter the water; that's well known. Signs are posted warning of the problems with undertow and unpredictable currents. The list of people who have drowned there and those who nearly drowned but were saved is too long.
Then there's the North Pier, which is equally dangerous due to unpredictable currents. Plus, jumping from the pier carries additional risk.
So why do people insist upon swimming at the mouth of the Pike and jumping from the pier?
Pier jumping is a rite of passage for some and a thrill for others. Meanwhile, the mouth of the Pike is a picturesque spot that belies the danger below the water's surface.
Warning signs posted at both spots are obviously ignored.
One reader suggested new signs, like the one you see accompanying this editorial.
In addition, some would like to see life rings with attached ropes mounted on the pier. There's no reason why they couldn't be attached to posts near the Pike River as well.
However, the pier matter is complicated because the pier is owned by the Army Corps of Engineers. Meanwhile, city officials say there could be liability problems if the life ring is stolen or missing and someone drowns.
We think that's a cop out.
In 2015, Dave Benjamin, a spokesman for the Great Lakes Surf Rescue Project, an organization that seeks to prevent drownings in the Great Lakes, said Michigan enacted legislation that shields municipalities from lawsuits related to safety equipment near the water.
And those life-saving devices work.
"First off, life rings really do save lives. It's irresponsible to have that access to water without having lifesaving devices there," Benjamin said. "A life ring is one of the easiest ways to save a drowning victim, especially off a pier. We don't advocate pier jumping, but we know people will do it. So having the equipment there is great."
More signs and the addition of life rings and ropes may not prevent another drowning, but if just one person is saved, isn't it worth it?
Meanwhile, if you insist on swimming in Lake Michigan, we offer these much safer alternatives:
Pennoyer Park's beach is literally a stone's throw from the Pike River danger area. It's big and wide and a good place to dip a toe in the water.
Simmons Island Beach is a little farther south. It is by far the most popular swimming and sunbathing beach because it too is not plagued by dangerous currents.
Then there's Eichelmann Park, where a breakwater and beach make for a calm, shallow place to play in the water.
While there are no lifeguards on Kenosha's Lake Michigan beaches, you can find them up the road at Racine's North Beach and at Lake Andrea in Pleasant Prairie and Silver Lake, as well as swimming pools in Washington and Anderson parks.
You can learn more about Kenosha County's many beaches in today's Get Out section, where Liz Snyder offers her annual review of all the county's beaches, listing their good and bad points.