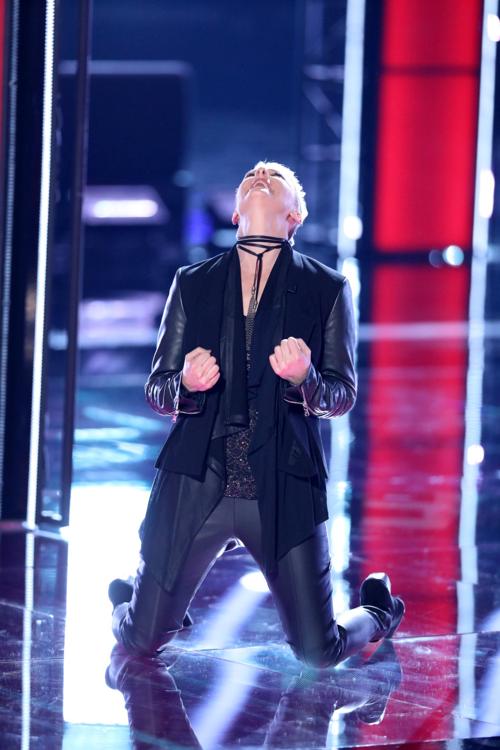 Betsy Ade has become the "cardiac kid."
Competing on the popular NBC show "The Voice," the Kenosha singer has lived and died a couple of times now.
She has been saved from elimination twice by the shows judges: Once she was saved by Kelly Clarkson after John Legend picked another singer over her, then a few weeks later she was saved by Adam Levine after a popular vote by viewers left her dangling.
It's been nerve-wracking — and exciting — to say the least.
Tonight, she faces a huge hurdle as the top 24 singers compete live on the show, which airs at 7 p.m. locally. Only the top eight will advance, although judges can still save some singers.
So why is Betsy always on the edge?
There are a couple of things that make her unique on the show:
At 40, she's older than most of the contestants, many of whom are in their early 20s.
She's a rock singer on a show dominated by pop and soul singers.
These unique qualities may be triggering the judges' saves, as they see Betsy's qualities worthy of advancement.
In turn, Betsy has now been tutored by three of the four judges — Legend, Clarkson and Levine. She said her latest teacher, Levine, has been down-to-earth and frank in his instruction, which sounds to us like a good thing.
"I think this is a really good fit for me," she told our Liz Snyder during a phone interview last week.
Working with Levine, she said, "is very efficient. He says what he feels; he's a no-baloney kind of dude with awesome energy. We connected right away and had a good time working together."
Will Betsy advance tonight? It's true the odds are against her and most of the contestants — a 1 in 3 shot, with only a few elusive saves left in the judges' pockets.
But one thing we know is that she won't need to be saved if Kenosha and viewers across the country vote for her tonight.
We don't know what she's singing tonight — she was not allowed to reveal that last week — but she said it's a song she's never performed before.
Whatever it is, we're sure she'll rock it. The rest is up to us. So the message is simple: Vote for Betsy tonight!