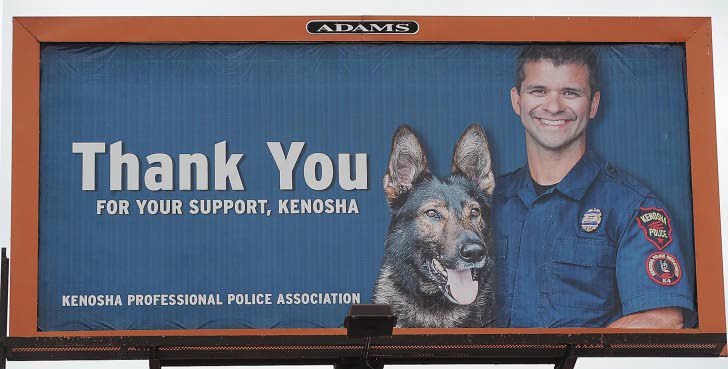 While it is understandable for police officers to rally around a fellow officer, the billboard featuring officer Pablo Torres proclaiming "Thank you for your support, Kenosha" is inappropriate at the moment.
The billboard actually helps to make the point that outside investigations of police shootings are necessary. Such investigations are the law now, but the Kenosha police officers union decided not to wait for the results before expressing support.
Torres is on administrative leave following the shooting death of Aaron Siler, 26, after a high-speed chase on March 14. That shooting occurred on Torres' first day back on the job after a non-fatal shooting on March 4.
Torres' use of deadly force on March 4 was deemed to be justified after an investigation by the state Department of Justice's Division of Criminal Investigation. In that incident, Torres shot Terry Knight, 66, of Kenosha, who was holding two knives and threatening to kill himself and acting like he might hurt others at the scene. District Attorney Robert Zapf, after reviewing the DCI investigation, said Torres was justified in using deadly force in self-defense and defense of others.
The same state agency is investigating the shooting death of Siler. Police chased a car driven by Siler, who was wanted on a felony probation and parole warrant. Siler's car crashed, and he continued fleeing on foot. Police reported that Siler armed himself with a weapon when confronted, and Torres shot him.
Torres, a canine officer, has appeared at numerous public relations events for the Kenosha Police Department along with his dog Chico. That makes it easier for the public to take his side in a crisis. Fellow officers and prosecutors are also likely to give him the benefit of the doubt. That's why it is so important for outsiders to investigate cases in which someone is killed by police or dies in police custody.
The billboard, and events such as the Back the Badge rally in Pennoyer Park on Saturday, may be intended as support for law enforcement and appreciation for that support, but they could also be seen as attempts to intimidate people who might criticize the police.
There is an ongoing investigation of a fatal police shooting in Kenosha. Everyone — the cheerleaders for the police and the critics — ought to withhold judgment on this case until the results of that investigation are made public.
In the meantime, the billboard ought to come down.
Catch the latest in Opinion
Get opinion pieces, letters and editorials sent directly to your inbox weekly!