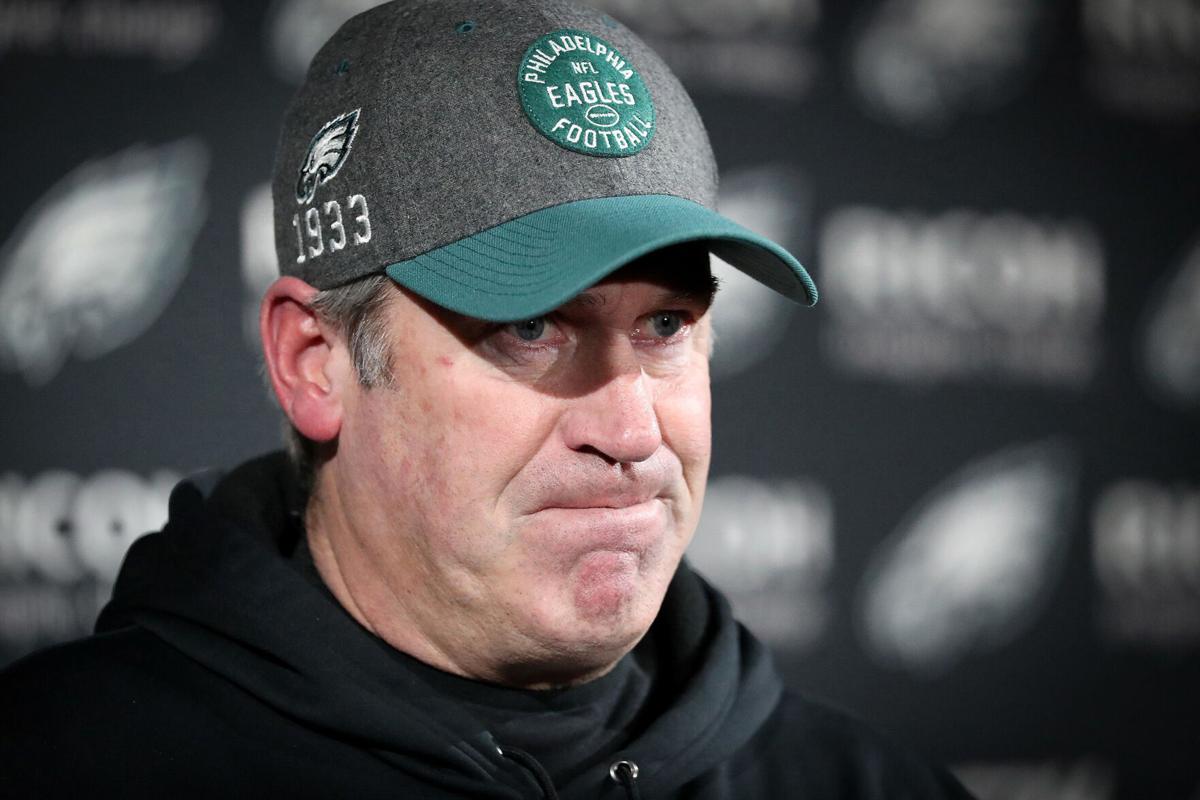 Monday night, the Phillies will resume their COVID-interrupted season with a four-game home-and-home series in New York, and the Yankees will treat them like they're radioactive. As they should.
The Phillies team had an outbreak in Florida before the season started, then hosted the Typhoid Marlins in the season-opening series. The Marlins might have arrived contaminated, but they left town with 20 positive cases. Now, the Eagles' football coach has the coronavirus. Philadelphia has become Ground Zero for pro sports' COVID panic.
These outbreaks won't end. Not with players (and their wives and children and girlfriends and parents and friends) traipsing around unmasked and unconcerned. They've had their chance to play an untethered season. They've failed.
It's time to bubble up. Bubble up or buckle up, because it's going to be a long, ugly ride.
Eagles coach Doug Pederson tested positive for COVID-19 on Sunday, proving that fate is not to be trifled with: Last week Pederson proclaimed that the NovaCare Complex is "our bubble."
The NovaCare Complex - and Citizens Bank Park, Yankee Stadium, and the two ballparks where the contaminated Cardinals played - aren't bubbles. Not even close. Like convenience stores and grocery stores and gyms, even with precautions in place, sports venues are the wild, wild West of contaminants, where an outlaw virus can slip in and make even the most cautious social distancer vulnerable to its dangers.
This does not have to be so.
The NFL and Major League Baseball can still construct virtually COVID-proof silos. With the agreement of players' unions, they can house, feed, train, transport, and test to their hearts' delight. That's what the Saints are doing, essentially: reportedly offering hotel accommodations to its 180 Tier 1 and Tier 2 employees as Louisiana sinks further and further underwater into a coronavirus nightmare.
It is this strategy, more than RPOs, that will give teams the best advantage this season. Not coincidentally, perhaps, Saints coach Sean Payton had COVID in March.
The NFL and Major League Baseball can track their players, too; monitor their movements and their vital signs like the NBA. The current system - chaperones, observers, and the buddy system - is not working.
All of this would mean no family, no freedom, no fun for half a year. You know. Like the military.
Players in all leagues have balked at the bubble concept, none as belligerently as baseball and football players. They are, after all, independent, narcissistic, spoiled, and rich, and that's a formula for obedience and common sense. If you equip every room with a PlayStation and a Tik Tok studio, they might not even know they're quarantining.
The NFL and MLB are hemorrhaging players: 59 have opted out, most recently odd Mets outfielder Yoenis Cespedes, who didn't even bother to tell the team.
If players choose to sit out the pandemic, great. Give them a stipend against future earnings but cost them their millions. The show will go on, because the leagues will always have enough players willing to live like an Army sergeant. If 1.3 million American troops can be forced to go to Iraq or Afghanistan for $30,000 a year, a million-dollar backup lineman can hunker down at the Residence Inn for 6 months.
If football and baseball make this adjustment now, then they have a chance to finish their seasons with minimal contamination. If not, prepare for more COVID cases - and more disingenuous outrage. The leagues knew that rashes of positive tests, while regrettable, were entirely predictable; logically inevitable; and completely unpreventable. What the leagues did not know is that the public wouldn't have the stomach for it.
It was always obvious that, without a bubble, people in both leagues were going to get sick. Lots of people: athletic trainers, such as the Vikings' Eric Sugarman; players, like the Eagles' Lane Johnson and the Phillies' Scott Kingery; clubhouse attendants, such as the Phillies' visiting clubby whom the Marlins apparently infected; and coaches, such as Pederson.
Yes, these players are the finest physical specimens among us. Most won't even feel sick. But many will. Several will suffer fever, and respiratory crises, and those mysterious purple toes. A few will suffer organ complications, like the inflamed heart that ended the season of 27-year-old Red Sox ace Eduardo Rodriguez. These complications could linger for the rest of their lives.
One or two players might even die. More likely a manager, or a coach, or an assistant coach, or medical staff, but maybe a player, too. And it will be horrible.
The data tells us that only one in every 1,500 men between the ages of 18 and 35 infected with COVID-19 dies. Sounds minuscule, right? But there are 900 active players in the Major Leagues right now and 900 more waiting in reserve, so that makes 1,800. More than 2,700 players will be in NFL training camps for the next six weeks. That's a total of 4,500 players, sweating and spitting and breathing, without the benefit of any real bubble.
As of this weekend, at least 150 NFL and major-league players tested positive since late June. That's 150 in about five weeks. The baseball season has about 10 weeks until the first round of playoffs ends (thereby winnowing the number of endangered players). The football season has 22 weeks until the first round of its playoffs end. It's been 22 weeks since sports shut down back in March. Seems like a lifetime ago, doesn't it?
You don't think football and baseball, without the benefit of a bubble, can produce another 1,000 positive tests in the next 10 to 22 weeks? Not even Vegas Vic would take that bet.
Sure, the players are getting tested every other day. Sure, they're getting screened every morning.
Sooner or later, the virus is going to infect a player, and they'll strike just the right chemistry, and we will witness the full wrath of the disease that has laid nearly 700,000 in their graves worldwide, almost 160,000 of them Americans, led by the irresponsible states of Texas, Florida and California. Those states also are home to 17 of the 62 pro football and baseball teams, or 27.4%. At the very least, the Cowboys should never have a home game.
If you think this is bad, just wait until the kiddies go back to school. And if you think that's going to be bad, wait until people start coughing and sneezing all over each other when cold-and-flu season hits during the baseball playoffs. Pro tip: Don't bet on the Astros.
The choices for football and baseball are simple.
Bubble up and limit exposure, spread, illness, and death.
Don't, and watch players, coaches, and innocent bystanders continue to drop like flies.
Be the first to know
Get local news delivered to your inbox!