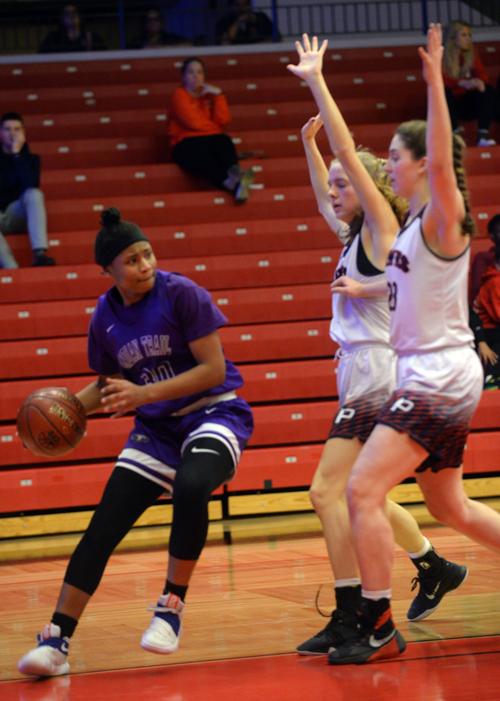 Scooter Terrien scored one point for the Indian Trail boys basketball team against Central in the final game of the first day of the Doctors of PT Holiday Classic at Carthage's Tarble Arena on Thursday night.
But sometimes the "when" matters a lot more than the "how many."
Terrien went to the free-throw line with about 5 seconds remaining and the game tied. He missed the first but made the second, and when Central's Jaeden Zackery came up empty on a contested shot from just inside halfcourt at the buzzer, the Hawks had a 54-53 victory.
"He only hits game-winners," Indian Trail coach Al Anderson joked of Terrien's lone point. "That's all he does."
It was a big win for the Hawks, who improved to 6-3 after two straight losses. Despite a game-high 33 points from Zackery, the Falcons — ranked seventh in Division-2 in the latest WisSports.net state coaches poll — saw their unblemished record come to an end in falling to 6-1.
"That was huge for us," Anderson said.
Arlind Zemaj led Indian Trail with 21 points, TJ Fullilove scored 13 and Anthony Bernero added 10.
After Zackery, Central's next-highest scorer was Adam Simmons with seven points. Anderson said slowing down the game's tempo was really the only shot his team had.
"Defensively, I told them going into the game, if it's out of the 50s, we won't win," Anderson said. "... We played some outstanding defense."
Indian Trail faces Racine Prairie in the classic at 6:15 tonight, while Central takes on Racine St. Catherine's — ranked No. 3 in Division-3 — at 7:45 p.m. Saturday.
Girls
Racine Lutheran 83, Wilmot 70
Julia Hickey and her Wilmot teammates had enough fireworks from the 3-point line to give the state-ranked Crusaders a a run for their money in the opening game of the day Thursday afternoon.
It just wasn't quite enough.
Hickey drained seven of the Panthers' 10 3-pointers in scoring 25 points, but the Crusaders — ranked fourth in Division-4 in the latest WisSports.net state coaches poll — got 34 points from star guard Caroline Strande and pulled away in the second half to improve to 10-0.
Wilmot (4-5) got 10 points from Karina Leber and nine from Delaney Brown. The game was tied 32-32 at halftime, but Racine Lutheran's Jayden Davis scored 18 of her 23 points in the second half to give Strande some help.
"Hard-fought game," Wilmot coach Jerod Boyd said. "Julia kept us in it by knocking down 3s every time they made a run. Defensively, (we) kept them off the boards as much as we could being severely undersized."
Strande, an NCAA Division I Bradley University commit, became the Crusaders' all-time leading scorer earlier this season. She entered Thursday third in the state at 30 points per game, according to WisSports.net, and made 13 field goals and went 7-of-14 from the free-throw line.
Racine Prairie 59, Indian Trail 40
Jasani Williams led the Hawks with 12 points but was the only Indian Trail player to score in double figures.
Javeyah Witt and Lauren Johnson added six points each, as the Hawks dropped to 2-9.
Brooke Foster, Prairie's leading scorer, had a game-high 18 points, and the Prairie Hawks also got 16 points from Jolie Larson, 10 from Jamie May and nine from Andrea Palmen.
Prairie (7-3) led 30-20 at halftime.
Janesville Craig Optimist Classic
The Trojans dropped to 6-3 with the defeat in Janesville.
No other details were available to the News.
On tap today
The Doctors of PT Holiday Classic continues today at Tarble Arena.
The slate of five games kicks off at 1:30 p.m. with a girls matchup between Racine St. Catherine's and Bradford.
The Milwaukee Bucks Rim Rockers will make a special appearance at 5 p.m. during halftime of the boys game between St. Joseph and Burlington.
For a full schedule of games today and Saturday, see the Scoreboard, Page C4.