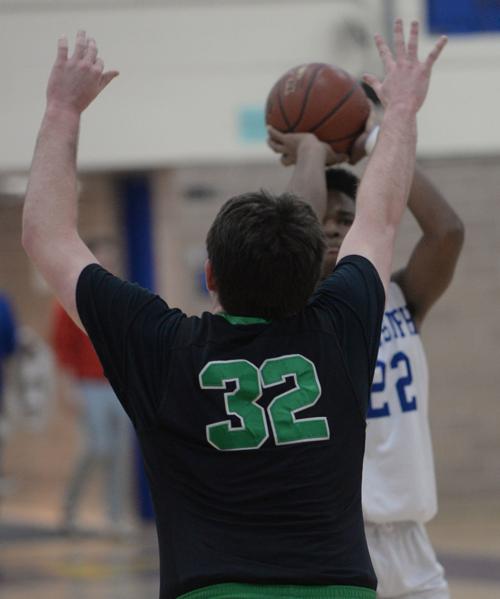 At one point during his team's 82-53 Metro Classic Conference loss to Whitefish Bay Dominican at Madrigrano Gymnasium on Saturday night, St. Joseph boys basketball coach Brandon Morris got a warning from one of the officials.
But it wasn't because of foul language or too much verbal abuse toward the refs.
Rather, Morris was so fired up and intense while coaching his team that he appeared to wander just a bit too far beyond his bench, which necessitated what looked like nothing more than a kind warning.
Morris' intensity had to stand out to anyone who attended Saturday's game.
Yes, the Lancers and their all-freshman starting lineup were overmatched against the Knights, ranked No. 9 in Division-3 in the latest WisSports.net state coaches poll. But nobody could deny how hard St. Joseph competed.
Or how hard Morris coached.
Which was probably no surprise from the first-year coach, whose competitive drive as a star guard was one of the biggest factors for the Lancers' immense success in the late 1990s and early 2000s.
"It is slightly possible," Morris said with a laugh when asked if he may be more intense as a coach than he was as a player.
"I think our coaching staff agrees on this, that nothing great comes to you without enthusiasm. If we're not walking that walk, just like we're talking that talk, then how do you get the players to believe in it, how do you get the parents to believe in it, how do you get the community, the school, and all the above to believe in it?"
Family ties
By now, basketball fans in Wisconsin have learned how to spell and pronounce "Antetokounmpo."
That name is pretty much becoming Wisconsin basketball royalty, and there were a pair of Antetokounmpo brothers — one certainly more famous than the other — at Madrigrano Gymnasium on Saturday night.
Milwaukee Bucks star Giannis Antetokounmpo was in the house to watch his brother Alex, a standout junior wing for Dominican.
Another Antetokounmpo brother, Kostas, previously played at Dominican, and it's not been uncommon in recent years to see Giannis come to area gyms to watch his brothers play when the Bucks are off and not on a road trip.
Still, there's definitely something fascinating about watching a 7-foot NBA frontrunner stretch himself across wooden bleachers and shout encouragement to his younger brother and his younger brother's teammates as if he was just another working-class fan on a Saturday night.
And after Giannis torched the Cleveland Cavaliers for 44 points to tie a career high Friday night, it was Alex Antetokounmpo torching the Lancers for 38 points and 13 rebounds Saturday.
Alex Antetokounmpo, who has a scholarship offer from DePaul according to WisSports.net, flashed a big grin when asked if he felt like he had to keep up with his famous brother.
"I'm just trying to play my hardest," he said. "Just trying to go out there, make them proud, make my family proud, and my school. Just play for them."
Other action
Here are some other results from Saturday's prep action that came in too late to appear in Sunday's News:
Junior Karina Leber paced the visiting Panthers (2-4) with 10 points, while Haley Lamberson added seven in the nonconference defeat.
Jenny Gorton scored a game-high 16 points for Monona Grove (8-1), which took a 35-17 lead into halftime.
Hannah Belanger knocked down five 3-pointers and scored a game-high 29 points to lead Grafton (4-3) past the visiting Hawks in a non-conference game.
Kalina Winslow scored 10 points for Indian Trail (2-8), which faced a 28-13 halftime deficit. Briana May added eight points.
Kenosha Combined competed in its first invitational of the season at the Frosty Flip Invitational in Franklin, placing fifth.
Maggie Losch was second in the floor exercise and fourth in the vault, while Megan Zeller placed sixth in the vault.
Grace Corcoran, Angie Riley, Katy Ferrell, Rylee Grove and Reagan Korpella also helped the team to its fifth-place finish.
Scott Koker contributed to this report.
Be the first to know
Get local news delivered to your inbox!