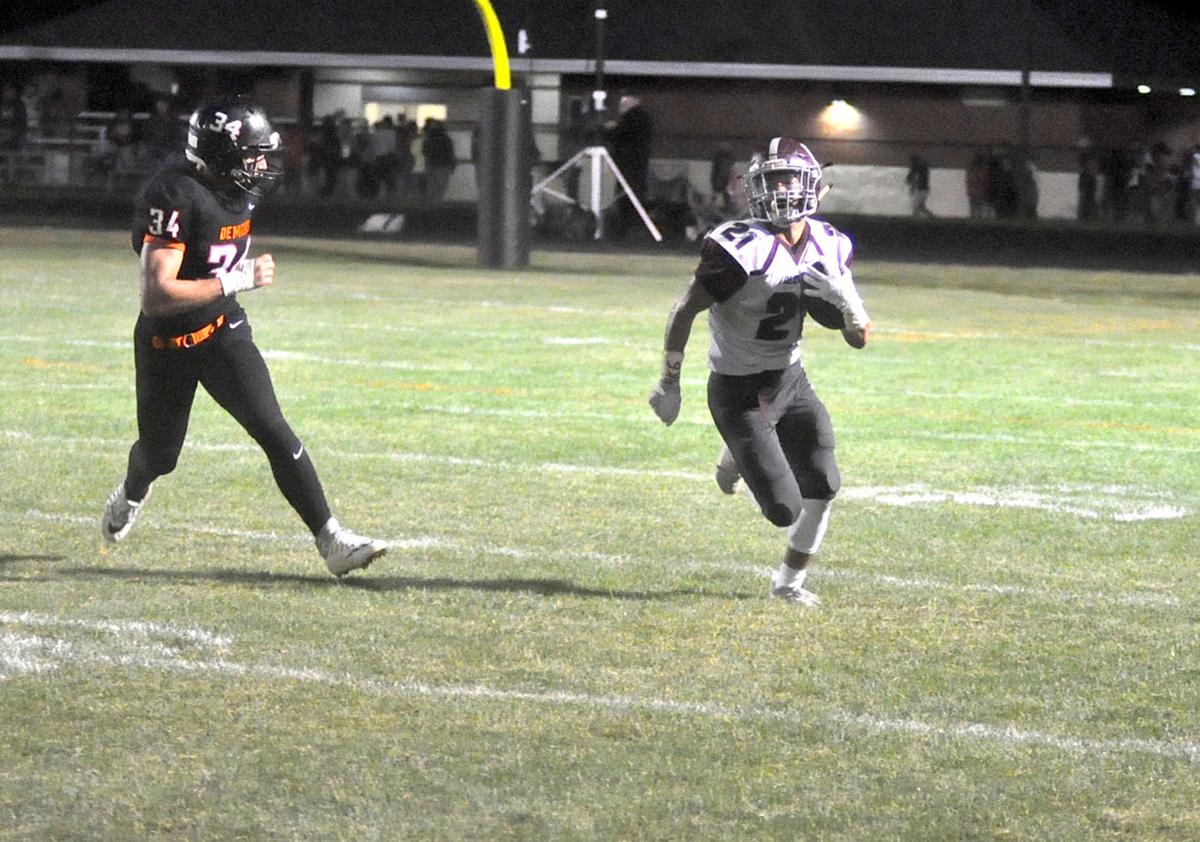 BURLINGTON — Thanks to some trickery and the spirited running of senior Myles Kazumura, the Central football team played Burlington evenly for one half for the second straight season.
The Falcons dug into the playbook late in the second quarter, as sophomore Jakob Simmons hit Kazumura for an 80-yard score to tie the Demons, 21-21.
But Central's momentum was erased with two Burlington touchdowns in two minutes, and the Demons later buried the Falcons with 35 unanswered points and cruised to a 56-29 victory in a Southern Lakes Conference opener Friday night at Don Dalton Stadium.
Zach Wallace ran all over Central for four touchdowns, two of which were 69 yards.
Burlington's high-powered offense, which is putting up 45 points per game in the Demons' 3-0 start, spoiled a season high in points from Central (0-3).
"Tyson's doing a good job over there, and they came ready to play," Burlington coach Steve Tenhagen said about Central coach Tyson Mengel.
As for Mengel, the defeat was chalked up to inexperience and a dominant Burlington offense.
"We're a young team, a lot of sophomores playing," Mengel said. "Wallace is a tough runner. He ran the ball really well on us tonight."
Wallace, a junior, finished with 274 yards on 16 carries.
Mengel was encouraged by his team's strong start, and he said the Falcons did a good job sticking with the run game and keeping the dangerous Burlington offense off the field.
He said the Falcons have practiced their trick play, which turned into a touchdown, but it was the first time they've used it in a game.
Mengel said his team never gave up in the contest and credited its effort.
"We've got 40 on the varsity, which is good for us," he said. "The message is, 'Let's just get better every day.' It's cliche, I get it. You have to find the victories, the things you're doing well, and keep doing those.
"It's not the results we want tonight, but I'm proud of the guys. You can't question the effort, you can't question heart. They fought against a really good Burlington team. They kept fighting, so I'm proud of them."
Senior quarterback Dalton Damon completed 9-of-15 passes for 156 yards and two touchdowns, one each to Dylan Runkel and Otto Traxinger.
Burlington piled up 524 total yards, compared to 314 for the Falcons, a season high.
Kazumura racked up 172 total yards and three touchdowns, two via the ground.
Senior Gavin Carlson hit sophomore Michael Mulhollon for a 46-yard touchdown pass.
"Tough loss," Kazumura said. "The offense played well, but we struggled tackling a little bit. We gave it our all from opening kickoff to the last snap of the game, that's all you can ask."