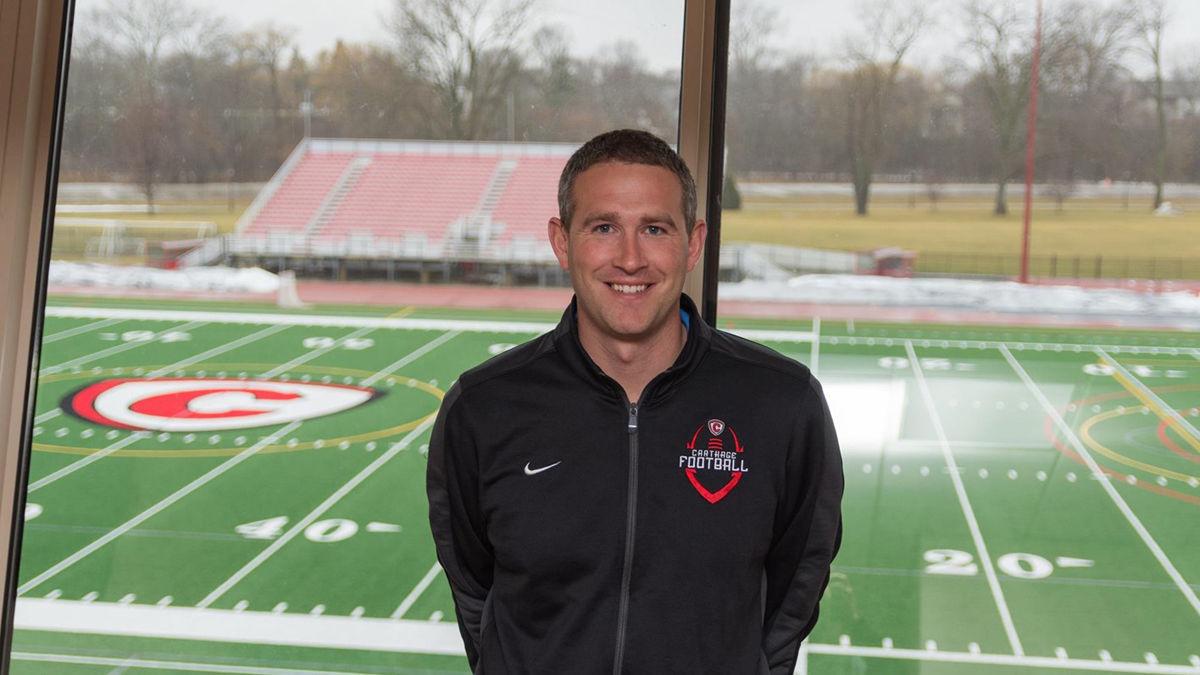 Carthage football coach Dustin Hass was going for the win.
It just didn't quite work out.
For the second year in a row, the Red Men gave Wisconsin Intercollegiate Athletic Conference power UW-Oshkosh all it could handle in a non-conference season opener — this time at Oshkosh's Alumni Stadium — but the Titans stopped a two-point conversion with 3 minutes left after Carthage returned a blocked field goal for a touchdown and held on for a 20-19 victory Saturday afternoon.
Last season, Carthage held a 9-7 lead early in the fourth quarter against then-No.-4-ranked Oshkosh at Art Keller Field before the Titans rallied for a 20-9 win.
With a chance to steal one on the road this time around, Hass wasn't going to get conservative.
But it took a crazy sequence of plays to get to that point.
Facing fourth-and-11 at the Carthage 12-yard line and leading 20-13, Oshkosh sent out kicker Peyton Peterson to try a 30-yard field goal for a two-score lead.
For the second time in the game, though, the Red Men turned a blocked field goal into a touchdown, as junior defensive lineman Dylan Ramirez stuffed the kick and junior linebacker Steven Shipp scooped up the loose ball and took it back 72 yards for a stunning touchdown.
Hass decided to go for a two-point conversion and the lead, but the Titans sniffed out the play, forced junior quarterback Colton Klein to run and stopped him short.
"We had a little pop pass play call," Hass said in a postgame interview on WLIP-AM 1050. "We thought that linebacker would flow up heavier than he did, and he didn't. He made a good play, and Colton didn't have anywhere to go with the ball. Tried to run it, and it didn't work.
"I liked the play call. I thought it was a good idea to go for two on the road (as) an underdog. It just didn't work out for us."
Of course, Hass admitted, he'd second-guess the decision, especially after the effort his defense provided Saturday.
"I'll lose sleep over it tonight on what would've happened if I had kicked that extra point and seen if we could've beat them in overtime," Hass said.
You certainly couldn't fault Carthage's effort, especially on the defensive end.
The Red Men gained just 152 total yards, including 24 on the ground on 36 attempts for a measly 0.7-yard average, and went 2-for-12 on third down. But they also limited Oshkosh to 333 total yards, recovered two fumbles and got an interception from junior defensive back Bobby Baker.
"They played well," Hass said of his defense. "They got us out of some tough situations and kept a good offensive team down, for the most part."
Carthage did get one big play from its offense to take a second-quarter lead.
Down 3-0 and facing a second-and-6 from his own 33-yard line, Klein fired a strike to senior receiver Bret Patton, who raced 67 yards for a touchdown. The extra point was blocked, but the Red Men led 6-3 with 7:39 left in the first half.
Oshkosh struck back quickly, however, as Kobe Berghammer fired a 22-yard scoring pass to cap a five-play, 86-yard drive to give the Titans a 10-6 lead with 5:15 left before halftime.
The Titans then recovered a fumble at the Carthage 8, but the Red Men stiffened up on defense and forced a 26-yard field-goal attempt by Peterson.
Ramirez blocked that one, too, and junior linebacker Kevin O'Boyle — who also led the Red Men with 11 tackles — went 85 yards for a scoop-and-score and a 13-10 halftime lead.
But Peterson was able to get a kick through the line with 2:09 left in the third quarter to tie the game on a 22-yard field goal, and Oshkosh took a 20-13 lead with 10:29 left in the fourth when Berghammer found Riley Kallas for a 25-yard touchdown toss.
After Carthage's failed two-point conversion, Oskosh recovered an onside kick.
The Red Men got the ball back on their own 28 with 33 seconds left after forcing a three-and-out, but the desperation drive ended quickly with a sack and a false start penalty that ran the clock off.
"We played behind the chains so much," Hass said. "We couldn't get in a rhythm a little bit, and that hurt us. We've got to take that next step. These guys now have got a game under their belts. They're no longer freshmen, they're no longer first-time starters.
"To make that jump, we've got to handle some of the stuff that the teams in the (College Conference of Illinois and Wisconsin) are going to try to do to us."
And the Red Men will have a week off before they open CCIW play by hosting Carroll at noon on Sept. 21 at Art Keller Field.
"I've got every confidence in our players," Hass said. "I love our team, I love where we're at. We've got to keep working and come back ready to go for CCIW (play)."