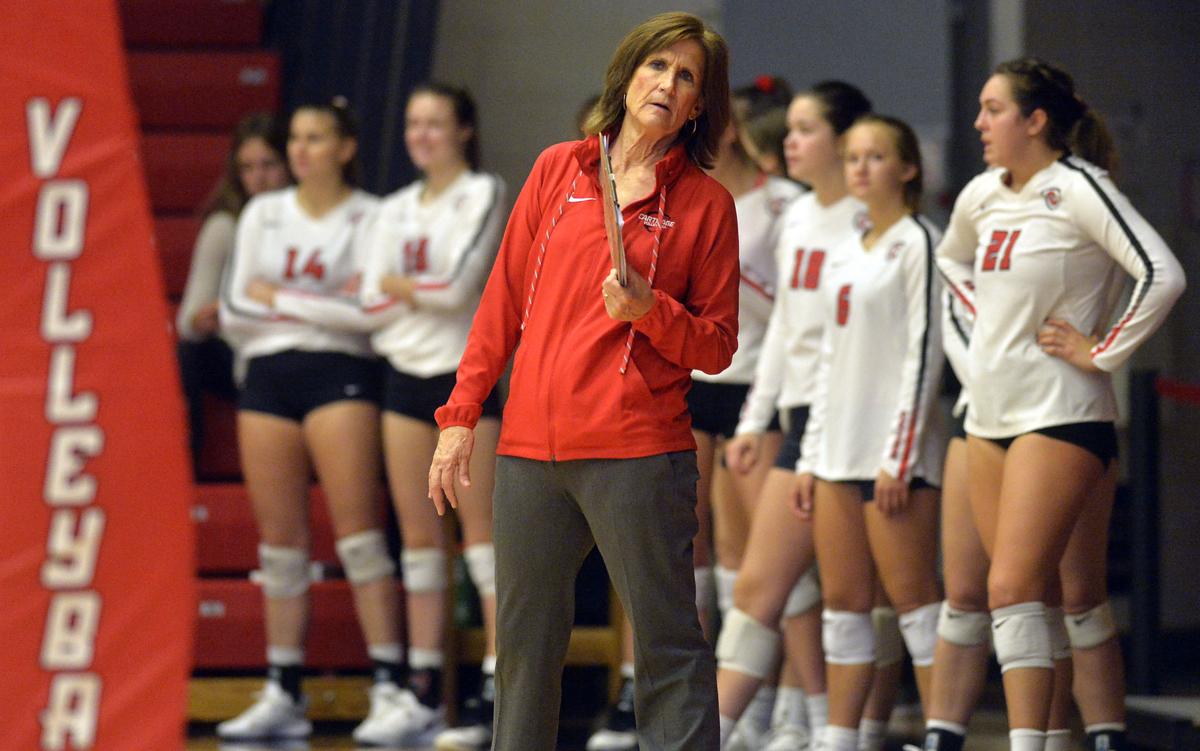 Millikin pushed the Carthage women's volleyball team to the brink Saturday night.
But the Reds came through.
In a thrilling five-set College Conference of Illinois and Wisconsin Tournament championship match at Tarble Arena, top-seeded Carthage outlasted third-seeded Millikin, 21-25, 25-10, 22-25, 25-11, 15-12.
The Reds, who won the CCIW regular-season title and dropped just three sets in conference play including Saturday, won their 11th conference title under coach Leanne Ulmer and secured an automatic bid to the NCAA Division III Tournament.
Carthage (27-3) was ranked No. 4, with one first-place vote, in the latest NCAA Division III coaches poll and will find out its national tournament location and opponent when the brackets are announced today at 11:30 a.m.
"What an exciting match and an electric atmosphere," Ulmer said in a news release.
"Our crowd was a force. The players could feel the support, and I know they wanted to finish strong for them. Millikin played their hearts out and kept us off-balance. In the sets we lost, we struggled with the serve and pass game."
Ulmer added she was proud to see her team fight through to the very last point.
"The sets we won were definitive and crisp," she said. "That was the first time we played a fifth set this year, and it was a battle. I am so proud of our resolve, and so much of the credit goes to the seniors. They have been rock-solid and great leaders all season. Winning the conference is always a goal, and winning the CCIW Tournament to guarantee we will play in the NCAA Tournament is the cherry on top.
"This is an awesome program win, and we are so excited to see where we go next."
Carthage racked up 54 kills for the match, led by Megan Behrendt (15), Haley Horner (11) and Shannon Kebisek (11).
Ellie LeCount notched 42 assists, the eighth time this season she's collected at least 40 assists in a match.
LeCount and Laura de Rosales had three aces apiece, Andrea Kozak notched nine blocks and Kebisek totaled 17 digs.
Still, Millikin (22-13) had a 2-1 lead in the match before Carthage used an 18-4 run in the fourth set to force a fifth.
Leading 11-10, the Reds got back-to-back kills from Nicole Acton and Kebisek, then Behrendt put down a kill on match point to end it.
Behrendt was named the tournament's Most Valuable Player. Kebisek and LeCount were also named to the All-Tournament team, as were Millikin's Marissa McElroy and Rose Syversen.
Be the first to know
Get local news delivered to your inbox!