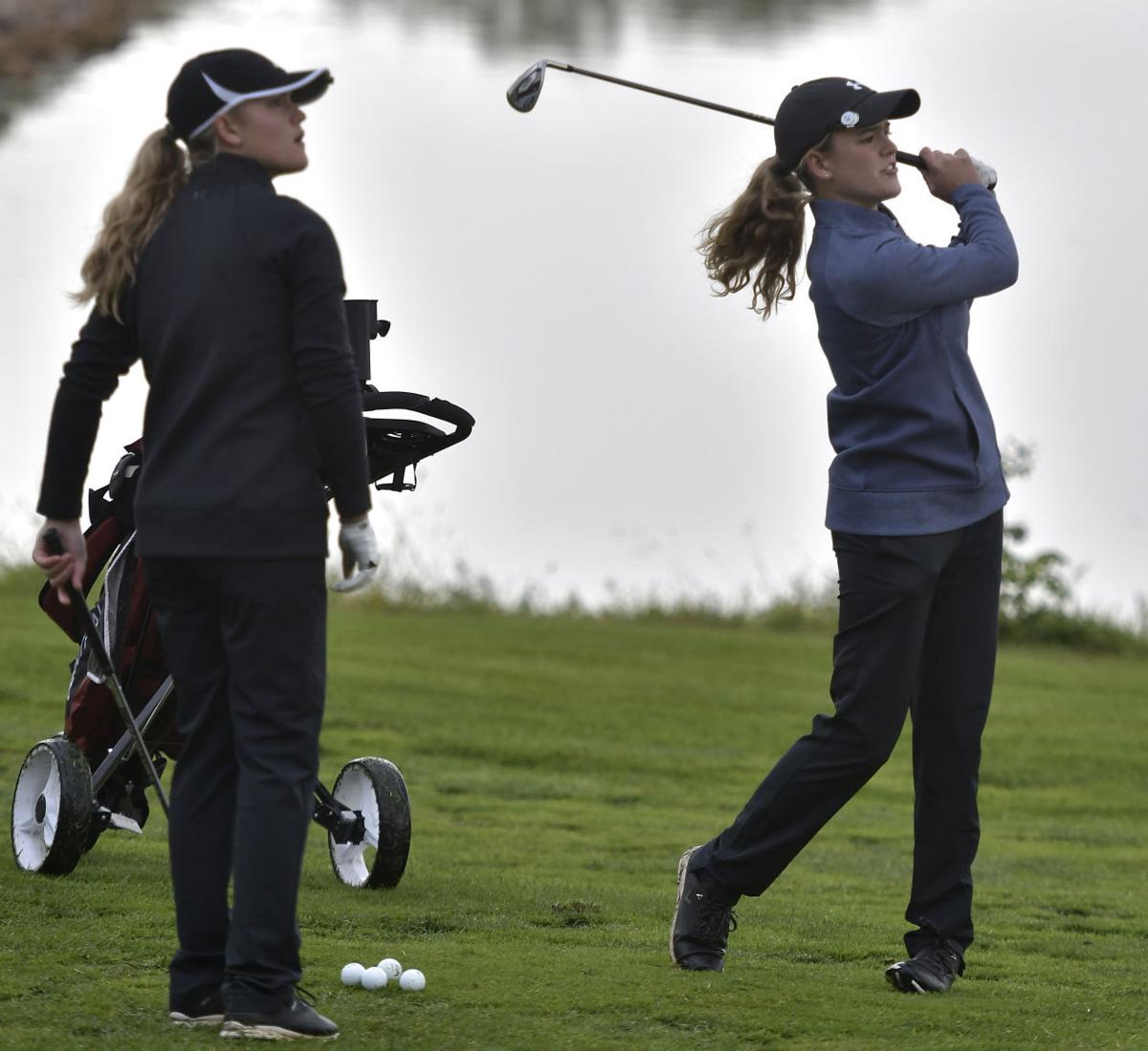 Central freshman Kylie Walker didn't end up winning this year's WIAA Division-1 State Girls Golf Tournament.
But what she did end up with was the invaluable experience of being in contention, something sure to benefit her as she moves forward in her golf career.
Walker fired a 1-over-par 37 in Monday's first round of the State Tournament, which was shortened to nine holes because of rain, at the Blackwolf Run Meadow Valleys Course in Kohler to enter Tuesday's 18-hole final round with a three-stroke lead and a serious chance at winning the state title.
Like the rest of the 52-player Division-1 field Tuesday, Walker could only try to scratch and claw through the howling wind during a final round that sent scores flying sky-high.
Ultimately, Walker carded a 12-over 84 on Tuesday for a two-day total of 121, which left her tied for third place with Union Grove sophomore Norah Roberts — a frequent Southern Lakes Conference competitor — two shots out of first.
It was another first-timer who won the state title, as Arrowhead freshman Jessica Guiser defeated Cedarburg senior Elise Hoven on the first playoff hole after each finished at 11-over 119.
Brookfield Central senior Kyley Wipper, who started Tuesday three shots behind Walker alone in second place, finished fifth at 16-over 124.
Kylie's twin sister Katelyn Walker, meanwhile, was also in the state field and had a strong close to her tournament, firing a final-round 85 after struggling with a first-round 49 to finish alone in 22nd at 135.
Though Kylie Walker was disappointed not to win the title, she understood what she accomplished.
"It was a great experience," she said. "I was definitely a little nervous (Tuesday) morning. As a freshman, it's definitely something to be proud of."
First-year Central coach Ryan Dahl said just being in contention is part of the process of becoming a great player.
"Just the process of it, it's a little bit slower, you have to take your time, you have to go through everything," he said. "It's a different game. Being able to see it as a freshman and have success is really going to help her moving forward."
Battling through the week's conditions alone was an experience.
Kylie Walker managed a pair of birdies against three bogeys on Monday during a windy, rainy round that included a 3-hour, 25-minute storm delay.
The winds were whipping again Tuesday, and Walker struggled with 10 bogeys, a double bogey and seven pars.
"The wind was whipping like crazy," she said. "It got tough on the last couple holes. No. 16, it was pretty open, kind of elevated, so we could feel the wind. My ball — I was trying to mark it and put a line to putt — my ball was rolling away from me. I had to wait like five minutes before I could putt.
After going out with a 42 on the front nine, Walker came back in with another 42 on the back. She was tied for seventh when she finished her round, but there were still players on the course.
"We were just trying to post a number to get in, because we knew those other kids were going to have to fight it for a little bit longer than we were," Dahl said.
Indeed, Walker rose as others fell, but the two leaders just didn't fall far enough.
Katelyn Walker, meanwhile, put together a solid round Tuesday, firing a front-nine 40 and a back-nine 45 to make a nice comeback after Monday's tough round.
"She struggled (Monday), and I'm just proud that she got back out here today, put yesterday behind her and played well (Tuesday)," Kylie said of her sister.
Kylie also said the twins are considering playing basketball this winter. They live right on the course at The Club at Strawberry Creek, so they'll play golf until it gets too cold, at which point they'll practice on the simulator in their basement.
After all, this season was only the beginning.
"It's a great learning experience," Dahl said. "It's pretty eye-opening for them, like, 'OK, we have some things we really can work on to get ourselves to a new level,' break through that next level that they are right at."
Former Bradford standout Carly Werwie remains the lone county girls golfer to win a state title, accomplishing the feat in back-to-back years in 2004 and 2005 and leading the Red Devils to the team title in 2005.
In the Division-1 team field, Brookfield Central won the state title by 10 strokes over Waunakee and Arrowhead.
Be the first to know
Get local news delivered to your inbox!