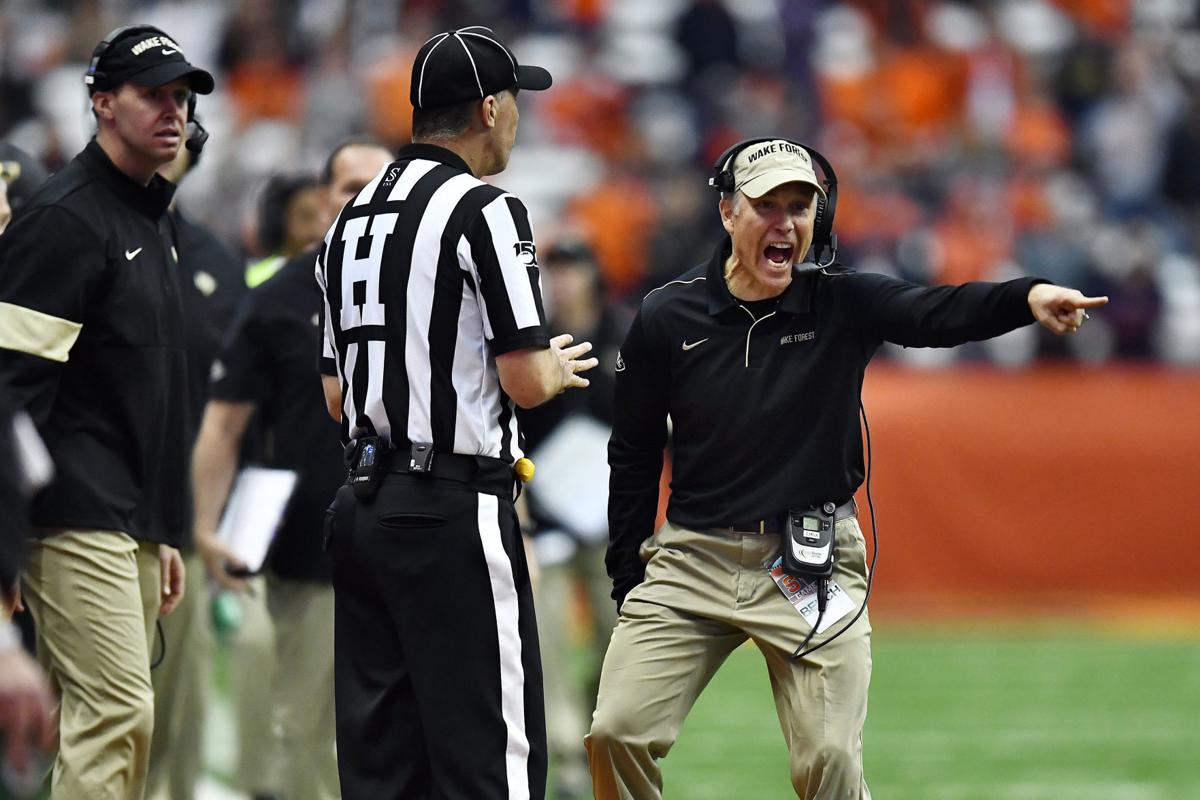 Even though it's been eight years, Wake Forest coach Dave Clawson has plenty of vivid memories of his interview for the University of Wisconsin football opening.
Clawson remembers spending four to five hours in a conference room in Toledo, Ohio, trying to impress a three-person UW contingent led by athletic director Barry Alvarez.
"I thought it went well," Clawson said Tuesday afternoon of that question-and-answer session in December 2012. "Obviously, it didn't go well."
Alvarez was in the process of finding a replacement for Bret Bielema, who had bolted to Arkansas. Clawson, who was nearing the end of his fourth season at Bowling Green, was among a handful of candidates who were interviewed before Alvarez eventually settled on Utah State's Gary Andersen.
At the time, reports circulated Alvarez and Co. were in Ohio to interview then-Toledo coach Matt Campbell. That wasn't the case — Campbell was actually in Idaho at the time for a bowl game — but Clawson certainly wasn't going to correct the record.
"We used to recruit against Toledo a lot," Clawson said. "There were all these rumors that Barry flew to Toledo to interview Matt Campbell, which I thought was great because it helped us recruiting against them. I was completely off the radar in terms of our recruiting."
A year later, Clawson landed a gig at another Power 5 program. He's built a steady program at Wake Forest and will lead the Demon Deacons (4-4) against the Badgers (3-3) in the Duke's Mayo Bowl on Dec. 30 at Bank of America Stadium in Charlotte, North Carolina.
Alvarez was traveling Tuesday and unavailable to answer questions about Clawson, according to a UW official.
But Clawson was plenty eager to speak about the meeting.
"I was really impressed with Barry," Clawson said. "His love of the Wisconsin program, how much he identified with it, how important it was to him, it just oozed in the interview of what Wisconsin football meant to him — the program, the tradition.
"I learned a lot from Barry just in that interview. I found myself in that interview taking notes and doing things that I said, regardless of whether I get this job or not, I've learned a lot today.
Clawson, 53, has had an interesting climb through the coaching ranks.
He led programs at Fordham (1999-2003) and Richmond (2004-07) before making the jump to the FBS as offensive coordinator for Tennessee coach Phillip Fulmer. But Fulmer was forced to resign three games into the 2008 season and Clawson wasn't retained by incoming coach Lane Kiffin.
Eleven days after being let go at Tennessee, Clawson was hired to lead the Bowling Green program. He went 32-32 in five seasons with the Falcons and, after leading the program to a 10-win season in 2013, Clawson left for Wake Forest.
While the Demon Deacons never have finished better than 8-5 under Clawson and is 40-44 overall in seven seasons, they've recorded four consecutive winning seasons for the first time in over 70 years.
This will be the fifth consecutive season Wake Forest is playing in a bowl game, and Clawson said he's proud of that streak.
"I just think it goes back to our program," he said. "We've established that as an annual goal. It's really important to our team."
Like the Badgers, Wake Forest has had a stop-and-start 2020 season due to the COVID-19 pandemic. The Demon Deacons went four weeks between a 59-53 loss at North Carolina on Nov. 14 and a 45-21 loss at Louisville on Dec. 12.
Still, Clawson said his team was eager to play in a bowl game against what he called a "name-brand opponent" in UW.
"I'm proud that 95 or 96% of our team stuck together and decided to finish this thing," Clawson said. "We've had a couple of opt-outs but very few. And I just think the resolve and the commitment that they made to each other when they came back in July, the percentage of players that lived that commitment to the very end, I'm very proud of.
"This year, and I told our team this, typically you measure the success of a season by wins and losses, what bowl, where you're ranked. I think for 2020 there's a lot of other measuring sticks for what was a good season other than just wins or losses and in that way I'm proud of our team."
A lot has changed since Clawson interviewed at UW. Campbell ended up being hired by Alvarez's former right-hand man Jamie Pollard at Iowa State following the 2015 season. Andersen spent two seasons in Madison before making a shocking departure to Oregon State in 2014 and Alvarez replaced him with Paul Chryst.
Clawson and Chryst crossed paths in the ACC in 2014 when the latter was at Pittsburgh, though the Panthers and Demon Deacons didn't meet on the field that season.
As far as Clawson is concerned, all's well that ends well.
"Coach Andersen didn't last there long and Paul is the best guy for that job," Clawson said. "He went to Wisconsin, played there, he's from Wisconsin. So I think it worked out really well in the long run for Wisconsin and I could not be happier with how things worked out for me and my family."
---