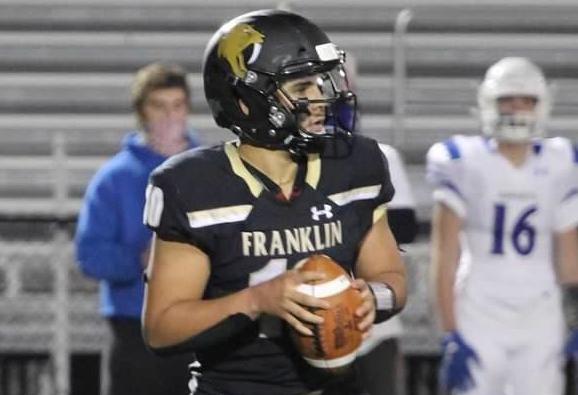 At seemingly each turn of his football career, Myles Burkett has faced doubt.
Growing up, some didn't see him having a future at quarterback and wanted him to change positions. When he entered high school in the Milwaukee suburb of Franklin, some didn't think he'd win the starting job until possibly late in his career. After he was injured late his sophomore season, some believed he'd never get back to being the same player.
Some of the doubt even came from within when Burkett wasn't getting the recruiting attention he had expected.
Burkett — who last month became the first member of the University of Wisconsin's 2022 recruiting class — has faced these moments with simple motto: Bet on myself. That's led him to his dream school and an opportunity he's wanted since he was a child.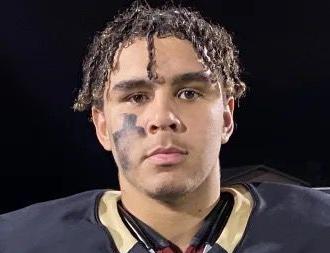 "Overcoming those moments of self-doubt and just using it as fuel to just get better and better, that's the thing that I really did," Burkett said in an interview this week. "Now that I look back at it. I'm glad that I just stayed even-keeled, kept my confidence and bet on myself.
After committing to UW, folks on Twitter asked why Burkett (6-foot-2, 205 pounds) chose the Badgers when the program seems set at quarterback for years to come with Graham Mertz, a redshirt freshman, and 2021 recruit Deacon Hill, a four-star prospect out of Santa Barbara, California.
But after spending his formative years conquering doubts and achieving his goal of accepting a UW scholarship offer, what's doing so again and becoming a starter at the college level?
"I know there's some good quarterbacks ahead of him at Wisconsin, but don't count this kid out," Franklin coach Louis Brown said. "There's a reason they gave him a scholarship."
Blazing trails
Burkett was the first in-state quarterback to earn a UW scholarship out of high school since Tyler Donovan in 2003. For someone who's cheered for the Badgers for as long as he can remember, that's an accomplishment he holds dear.
"For them to believe in me, it was definitely an honor," Burkett said.
"My goals, my aspirations, and my motivations are going to be different than these guys from out-of-state because I've always wanted to play for this team. I've always wanted to help this team win. … I just really want to win for the state. My friends and family are here, I've grown up here, and for me to bring a national championship, or at least help, that'd be a huge honor for me."
But that's not the only history Burkett is trying to make.
UW hasn't had an African-American quarterback start a game since Wilson in 2011. Burkett said he wants to change that.
"I'm all about progress," he said.
"I'm all about trying to represent for African-American quarterbacks all over. It's a position to be in where you're very criticized for the way you play and the way you carry yourself. It's not too often that an African-American quarterback is leading this type of team. It's becoming more of a trend and of a reality and I'm really glad because we're really good athletes, but we can really handle the position ourselves."
Don't believe the label
Burkett is listed as a three-star dual-threat quarterback by the major recruiting sites, but he doesn't quite see himself that way.
He's mobile, sure, but a torn MCL late his sophomore season redirected the way he approached the quarterback position. In his estimation, quarterbacks who rely on their legs too often have a short self life. He models his game after former UW quarterback Russell Wilson, running only to extend plays or picking up easy yards.
"Last year, I had to be more of a true pocket passer, not run around and risk injury, but still use my athletic ability to my advantage," Burkett said. "So it definitely changed the way I see the game. And honestly, it helped me for the best now trying to go to Wisconsin and play in a pro-style program."
Franklin's season ended after five games due to COVID-19, but Brown said he showed a deeper understanding of coverages and how to attack defenses from the pocket.
Jeff Trickey — a longtime quarterbacks coach in the state who runs camps nationwide — was impressed early on at just how natural of a thrower Burkett was when they began working together six years ago. Their training has shifted in focus over the years, as Burkett learned the nuances of footwork and his throwing motion. Trickey said the key has been to take what Burkett already does and make it more efficient.
"In quarterback play, the load to release (time) is critical because the window of opportunity is shorter and shorter every level that you go up," Trickey said. "And so not only do you build that foundation with clean throws and clean pockets, but you really now have to be able to create a play as a quarterback, and he really has that gift. So we still are working hard on that, but he's done it (in games)."
Trickey said Burkett has one of the quicker releases he's coached.
Burkett said he's determined to add more skills to his game and not rely on extending plays. That's an area Trickey said he's seen the most growth from his pupil.
"His strength is, I think, pre-snap and post-snap reading of coverages and knowing where to go with a football and throwing guys open," Trickey said.
"So we work hard on his ability to throw people open, create leverage away from defenders. I think sometimes when a kid's got athleticism in his feet, they think he just wants to break contain and goal. But he really is a strong rhythm passer out of a one-step or a three-step out of anything, out of gun or under center, and play action is really strong there."
Fiery competitor
Brown knew Burkett was playing well in Franklin's youth program, but isn't one to start building hype for players until he sees them at the high school level.
A meeting with Trickey opened Brown's eyes.
"He mentioned that we had a very special quarterback coming up," Brown said of that conversation with Trickey. "I kind of already knew about him, but he let me know that he was going to be really special."
Brown and the Franklin program has produced a number of all-state level quarterbacks, like Max Alba (2017), so when Burkett joined the high school team, he had to earn his role. He competed for and eventually won the starting role for the JV team as a freshman and started suiting up for varsity games.
His first career start came the opening game of his sophomore year after he'd won a preseason battle for the starting role. It started disastrously — Burkett threw two pick-sixes in the first half and his team was down 27-10 to Fond du Lac late in the third quarter.
But the way Burkett finished the game and the rest of the season solidified who he is as a player in Brown's mind.
"He owned (his mistakes)," Brown said. "That would be the game where he just wore down the defense. He kept some things alive with his feet, made some unbelievable throws, brought us all the way back.
Franklin lost that night, 37-34, missing a long field goal in the final seconds. But Burkett showed he was ready for that level of play.
"Believe it or not, a loss to me was probably his best learning experience. Just get thrown into the fire and I knew right away I'm like, 'All right, he's got something special,' because he didn't quit," Brown said.
Burkett knows there will be stiff competition when he arrives in Madison. He, Mertz and Hill are all gunning for one job. But he also believes the team atmosphere the Badgers QB room possesses makes it possible to compete and become close.
"Playing Division I football is something that's so rare amongst football players that there's mutual respect because it's so hard to get to that position," Burkett said. "So it's not going to be that the petty stuff where you're wishing them bad or not getting closer to them.
"Those guys are probably going to be my best friends for my whole life. But, on the field, we know it's time to compete. So I'm really excited for it. I'm just trying to help the team win."
---
Breaking down the Badgers' 2021 recruiting class