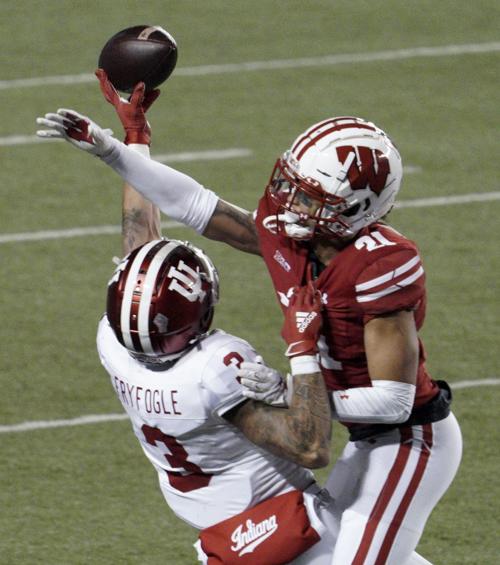 Caesar Williams believes he has unfinished business at the University of Wisconsin.
The senior cornerback announced Sunday night he was returning to the Badgers' football program instead of making the jump to the NFL, which gives UW eight starters returning on defense.
"The University of Wisconsin has shown me nothing but love from the first day I was being recruited," Williams wrote in a social media post. "With all of the many challenges we are facing in the world, I've managed to grow closer to my family, teammates, and coaching staff. As I embark upon the next steps in my journey, it is clear to me that this team has a lot more to accomplish.
"After a lot of self-reflection, I am excited to declare my intent to stay for another year. I am looking forward to my senior season and what my team and I can achieve through hard work and dedication. Thank you for giving me the opportunity to be the best I can be."
Williams, who had 13 tackles and two pass breakups this year, said in the lead-up to the Duke's Mayo Bowl that he wanted to have a traditional pre-draft process. That being a reality this year isn't likely due to the COVID-19 pandemic reportedly altering the NFL Scouting Combine and pro days around the country.
"What would potentially lead me to come back would just be scouts wanting to possibly see more about me, me not possibly getting the grade to leave that I want," Williams said last month. "During this time, you want to play everything smart because it's COVID and everything's unpredictable right now."
The Grand Prairie, Texas, native has played in 35 games in his career, including 19 starts. He's tallied 72 total tackles, including 5½ for loss, and 18 passes defended.
Williams is the third upperclassman in the secondary to say he's returning to the program — cornerback Faion Hicks and safety Collin Wilder will also be back.
Williams joked on Twitter that part of his motivation for returning was to nab an interception off Jack Coan, the former UW quarterback who transferred to Notre Dame. 
I really just want to pick Jack off 😂 but it's all love.

— Caesar Williams (@Caesar_Austin) January 18, 2021
---
A look at the Badgers' defense in 2021
Badgers' defense has chance to remain one of nation's best
DEFENSIVE LINE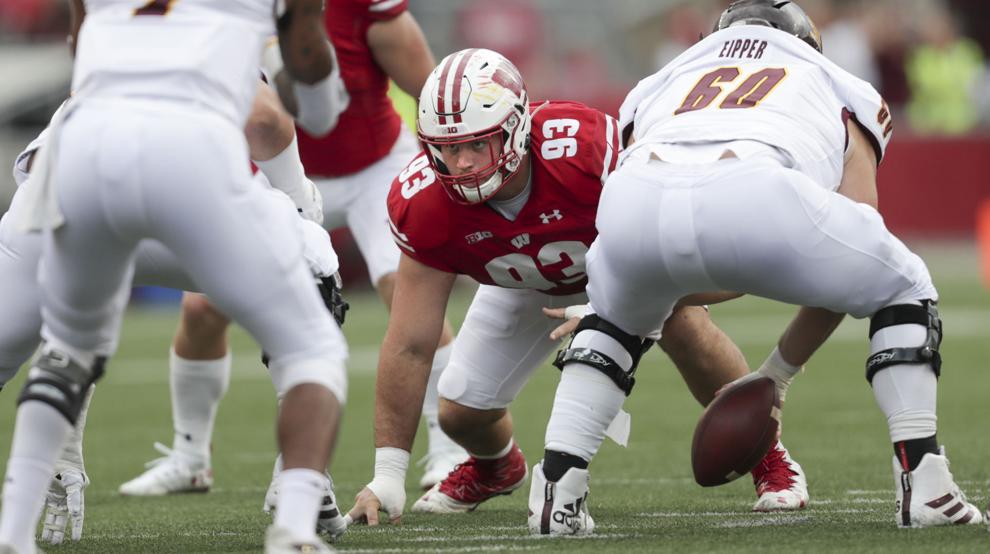 On the roster: Michael Balistreri (RS Jr.), Keeanu Benton (Soph.), Boyd Dietzen (RS Soph.), Matt Hennigsen (RS Jr.), Rodas Johnson (RS Fr.), Cade McDonald (Fr.), Gio Paez (RS Fr.), James Thompson Jr. (Fr.), Bryson Williams (Jr.)
Departing: Isaiahh Loudermilk (NFL), possibly Rand (NFL)
Projected starters (end, nose tackle, end): Rand, Benton, Henningsen
Loudermilk's departure might be the most impactful loss of the offseason for the Badgers. He was a stud on the defensive line and was able to play as effectively in base as he was nickel.
But the group has experienced players ready to play next year — Rand (above) was Loudermilk's running mate for years, Benton has shown flashes of being a big-time playmaker, and before an injury last season, Henningsen was a solid piece of the end rotation.
Thompson and McDonald saw the field as freshmen in 2020, but Thompson suffered a season-ending right leg injury against Michigan, so his status for the offseason is unknown.
Depth may be a concern with this group moving forward, but they've got a solid top group to lean on.
OUTSIDE LINEBACKER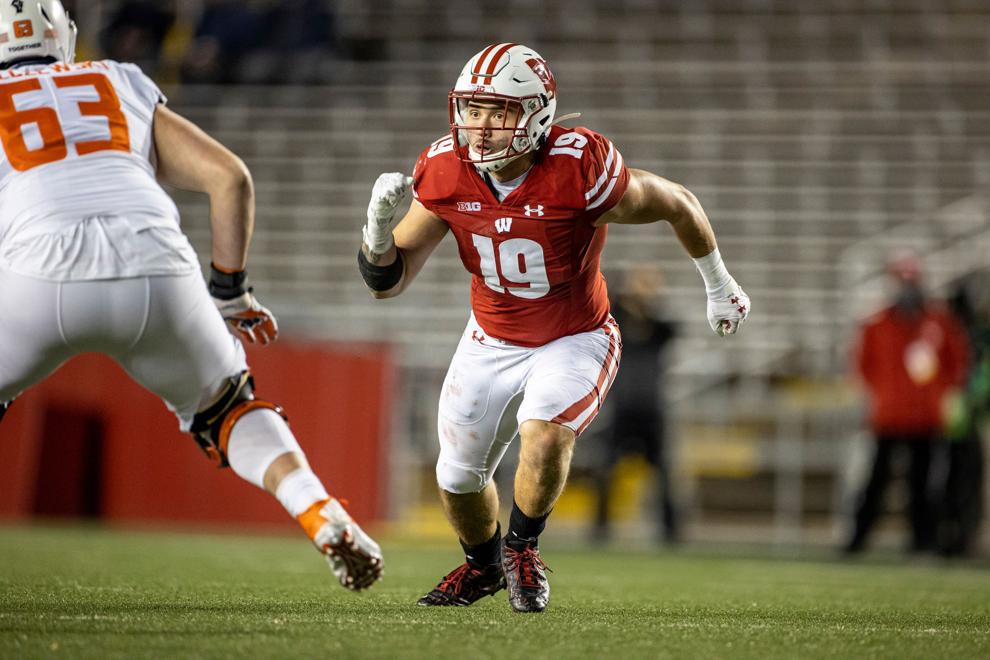 On the roster: Noah Burks (RS Sr.), C.J. Goetz (RS Soph.), Izayah Green-May (RS Jr.), Nick Herbig (Fr.), Kaden Johnson (Fr.), Spencer Lytle (RS Fr.), Riley Nowakowski (Fr.), Marty Strey (RS Soph.), Aaron Witt (Fr.)
Incoming: Ayo Adebogun, TJ Bollers, Darryl Peterson
Departing: Possibly Burks (Graduation)
Projected starters: Burks (Replaced by Witt if Burks leaves), Herbig
Herbig (above) coming in and earning the starting job opposite of Burks was a surprise this season, but he proved he belonged by playing with a high motor. Goetz got more playing time than expected and he was able to provide some depth, but the young group of Johnson, Witt and the incoming freshmen will likely push for reps next year.
Witt is physically-gifted rusher and tallied a sack in the Duke's Mayo Bowl. A full offseason of preparation should do wonders for him.
Bollers is a four-star prospect that defensive coordinator Jim Leonhard called an "outside linebacker-plus." Leonhard sees a versatile role for Bollers, and that could start next year.
A big question mark is what the Badgers can get out of Green-May. He missed the year with a right arm injury.
INSIDE LINEBACKER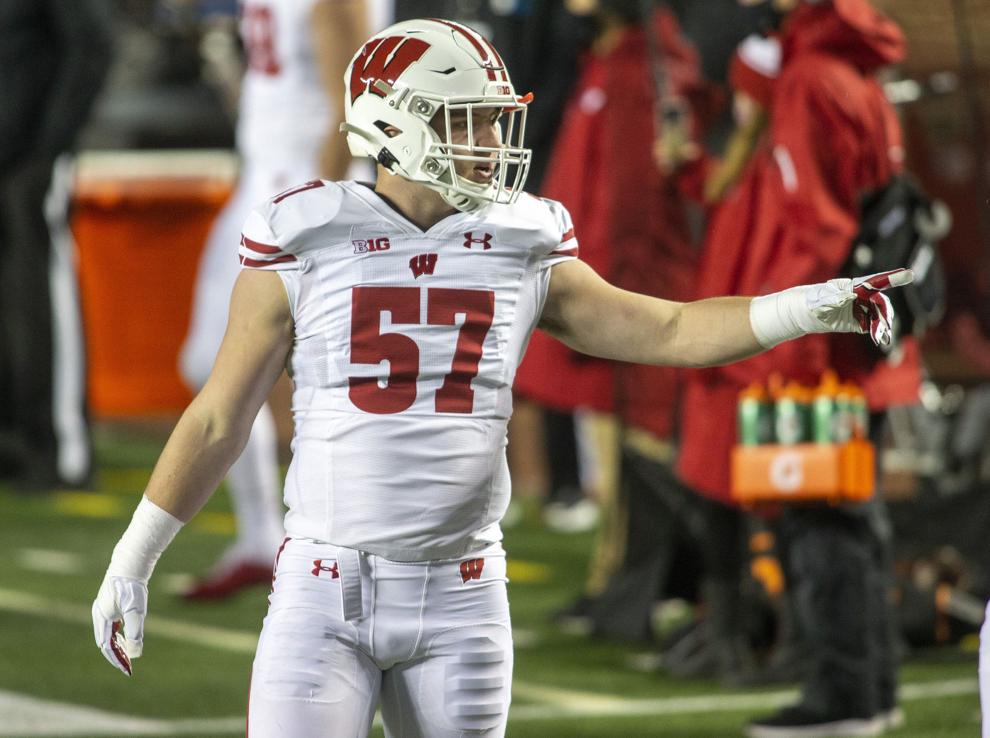 On the roster: Leo Chenal (Soph.), Ross Gengler (Fr.), Tatum Grass (RS Fr.), Mike Maskalunas (RS Sr.), Maema Njongmeta (RS Fr.), Malik Reed (Fr.), Jack Sanborn (Jr.), Jordan Turner (Fr.), Preston Zachman (Fr.)
Incoming: Braelon Allen (could also play safety), Jake Chaney, Jake Ratzlaff, Bryan Sanborn
Departing: Possibly Maskalunas (Graduation)
Projected starters: Chenal, Sanborn
Sanborn's return to the Badgers is a massive win for UW's defense. Keeping Sanborn and Chenal together for another season provides a cornerstone for the defense to build around.
It's a young group behind those two, but they took strides this season in practice. Chenal and Sanborn rarely, if ever, leave the field, so getting backups ready in case of injury would be the primary concern.
The recruiting class at linebacker, highlighted by four-star prospects Allen and Ratzlaff, is impressive and helps deepen the group. Last season, inside linebackers coach Bob Bostad said he believed he had three players at his position he was comfortable putting on the field — it'll be more next season.
CORNERBACK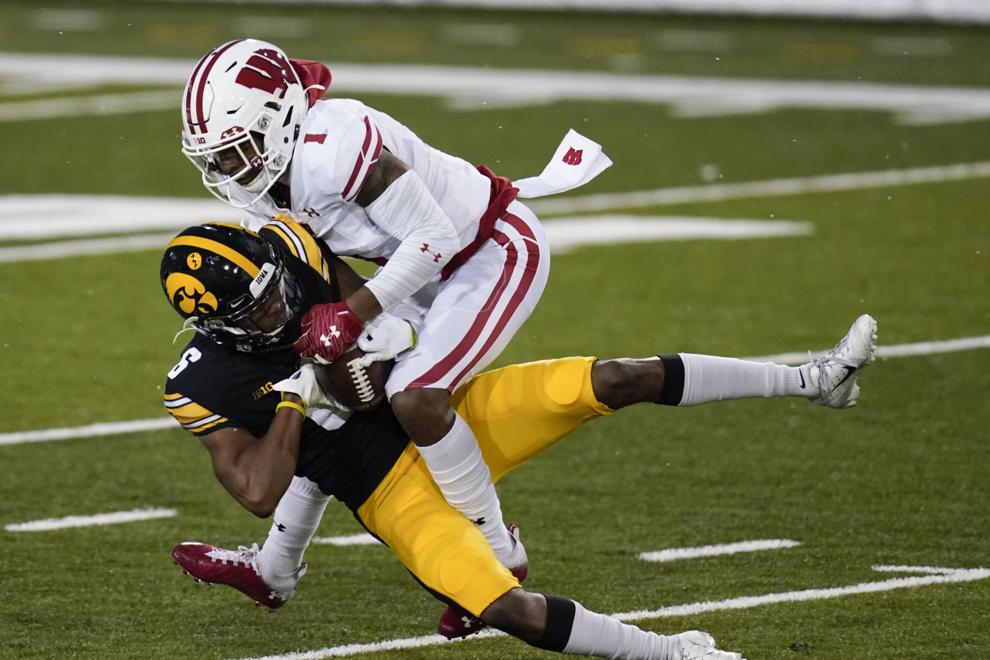 On the roster: Donte Burton (RS Soph.), Dean Engram (RS Fr.), Deron Harrell (RS Jr.), Faion Hicks (RS Jr.), Max Lofy (Fr.), Semar Melvin (RS Fr.), Alexander Smith (RS Soph.), Caesar Williams (RS Sr.)
Incoming: Al Ashford III, Ricardo Hallman
Departing: Rachad Wildgoose (NFL), possibly Williams (NFL)
Projected starters: Hicks, Melvin
There are rightfully major concerns about this group going into 2021.
After playing well for the most part against Indiana, the corners struggled against Iowa, Minnesota and Wake Forest to end the season. Hicks (above) will be back and likely be a starter for a third season, and while the rest the group has experience, their level of play hasn't been high.
Leonhard's aggressive pressures leave the corners on islands often and they didn't respond well to those one-on-one challenges, with penalties in the secondary being a key issue this year.
There will be a lot of competition for reps in this group — any step up in play from the younger group would be welcome.
SAFETY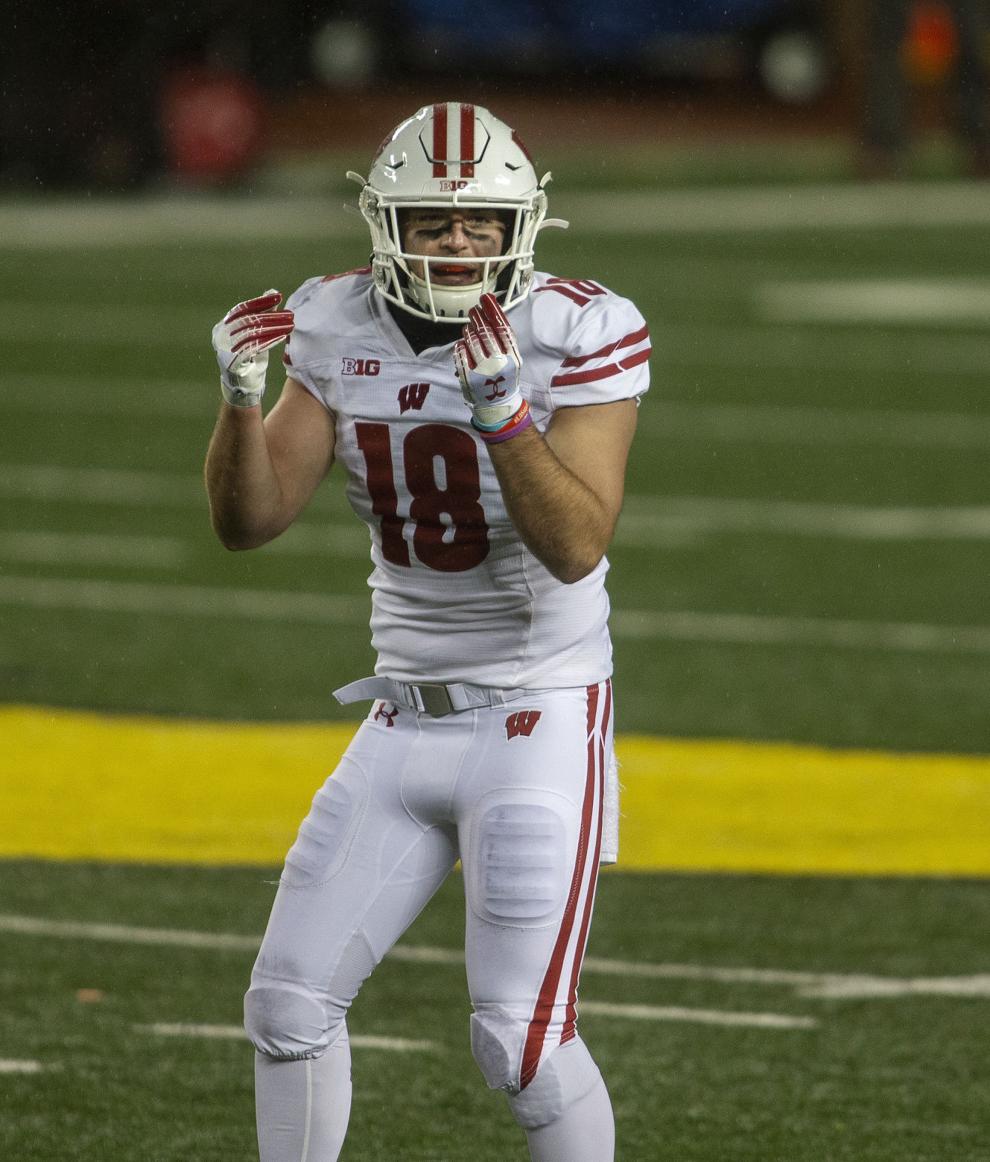 On the roster: Travion Blaylock (RS Soph.), Dante Caputo (RS Fr.), Madison Cone (Sr.), Tyler Mais (RS Jr.), Scott Nelson (RS Jr.), Brady Schipper (RS Soph.), Titus Toler (RS Fr.), John Torchio (RS Soph.), Collin Wilder (RS Sr.)
Incoming: Braelon Allen (could play ILB), Hunter Wohler
Departing: Eric Burrell (NFL), possibly Cone (Graduation)
Projected starters: Nelson, Wilder
Replacing Burrell will be a tall task, as he was the most experienced player in the group, but the safety position has depth going into next year.
Toler, Torchio and Mais have gotten some snaps over the past two years, and there could be an opportunity for more rotation if Leonhard likes a handful of his options at safety.
Wohler was one of the top recruits in the class, a four-star prospect out of Muskego, but expecting immediate production out of him might be too much to ask.
UW's safeties are asked to play in the box often, with Nelson and Wilder (above) providing good physicality as tacklers. They'll need to find someone to take more of an open-field coverage role next season.