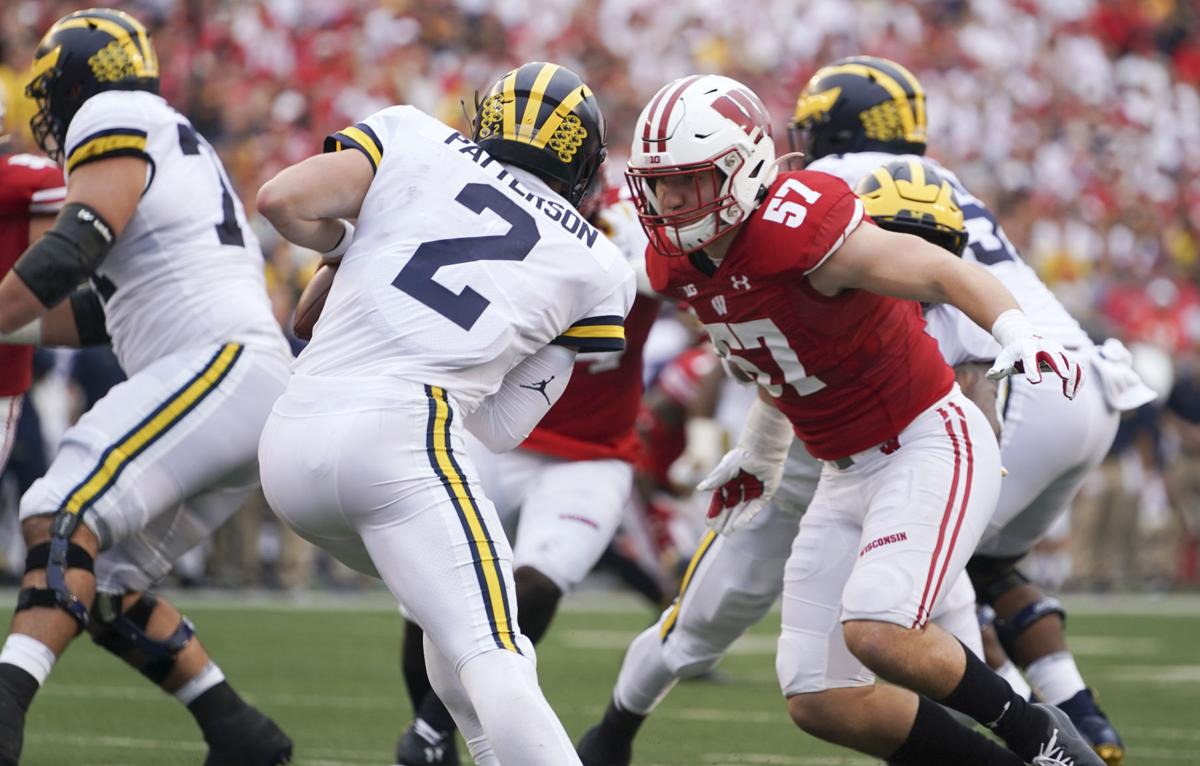 Internally and externally, eyes will be on Jack Sanborn this season.
Sanborn's play and communication as an inside linebacker for the University of Wisconsin will be crucial for the defense to replicate the success it had a year ago. His performances will be examined at length by NFL scouts, interested to see if the school has produced yet another pro-caliber linebacker. He's on preseason watch lists for awards as the best defensive player in the country and the nation's top linebacker.
He led the team with 80 tackles in 2019 and finished tied for the team lead with three interceptions. He did so while, as he says it, not being as confident with himself as he could be. Now tasked with a larger leadership role after senior linebackers Zack Baun and Chris Orr graduated, Sanborn is stepping up to push a young linebacker corps.
"The way he carries himself, he attracts people to him," UW inside linebackers coach Bob Bostad said.
Sanborn has spoken in the past about the role Orr and other UW linebackers have had in mentoring him and helping in excel. Now he's ready to pay it forward.
"I think anytime you have experience, and me having the most experience in our room right now, I think that that adds something, and puts a little more pressure on you," Sanborn said. "You kind of have that extra role of helping all the young guys out, get them up to speed, and being there for them."
Lead communicator
Even with Orr in the lineup last year, Sanborn was a crucial factor in getting the defense set up each play. From relaying calls from the sideline to making pre-snap adjustments, Sanborn was as involved as Orr was, according to Bostad.
Now Sanborn is the experienced voice in the group, and he takes seriously the responsibility of aligning the defense correctly.
"Inside linebackers have to be the communicators. You're the ones that see everything, you're the ones that communicate the calls or any adjustments," he said. "To do that, you've got to know what everyone is doing in front of you and you've got to know what everyone's doing behind you."
Bostad said Sanborn quickly picked up the nuances of the defense when he arrived in 2017. That allowed him to quickly earn reps, and allowed Bostad and the rest of the coaching staff to build trust with him quickly.
"He had to grow up pretty fast," Bostad said. "You go all the way back to his true freshman year and you have to make a decision if you want to play him and not, and we knew that this day would come where we would say, 'We're going to have to have a guy who's ready to go and be that field general out there.' I think that's what's paying off for us. He had a chance to get his feet wet two years ago and then last year he accelerated."
The defense returns eight regular starters from a year ago and a majority of its second-string players across the board. The team's top five defensive linemen are all back, as are nine of the 10 players in the secondary who started games last season. The experience around Sanborn should help the unit stay among the top defensive corps in the nation.
"Coach Leonhard and all the coaches we have on defense, they're all so great at what they do. I'm sure they're going to throw some wrinkles in there and really have some fun with the guys we have out there on the field," Sanborn said.
The next steps
Sanborn said as he reviewed his play in the 2019 season, he saw substantial growth from his freshman season. But he also saw a gap between where he was and what he believes his ceiling to be.
"I look back on some of my games, especially earlier in the year, and there's so much improvement that I can still make," Sanborn said. "Some of the plays that I didn't make, just being so much more confident in what I'm doing on the field. Both physically and mentally I think there are tremendous strides that I still can make, and want to make. I'm glad I get that chance."
"He's just humble. When you're humble, you realize you have to get better. That's what we're hoping and I know that's what he's hoping," Bostad said.
The Draft Network ranks Sanborn as the No. 70 overall prospect in this spring's draft and the sixth-best linebacker of the class.
"Impressive physicality and finishing power as a tackler — he did well in the B1G Championship against Ohio State to serve as a force to challenge both the pass (and) run against the Buckeyes' spread offense. Sanborn offers impressive football IQ for a younger talent and was quick to make reads and flow to the football throughout the course of his first season as a starter in 2019," TDN evaluator Kyle Crabbs wrote.
"He offers sufficient lateral mobility and range and can fill the MIKE (middle linebacker) role at the NFL level comfortably from an athletic perspective."
Sanborn said he hasn't thought much about what factors will weigh into his decision after the season.
"Months ago, we weren't sure this (season) was going to happen," he said. "Now that it's here in front of us, we're all super excited and I'm just going to give it the best that I can."
---
57 JACK SANBORN | 6-2, 232, Junior, Deer Park, Ill.
2019 SEASON
Led team with 80 total tackles, including 9 tackles for loss and 5½ sacks. ... Matched team high with 3 interceptions and broke up 3 passes. ... Forced one fumble and recovered one fumble. ... Recorded career-high 13 tackles, including 1 for loss, and broke up a pass vs. Northwestern on Sept. 28. ... Tallied career-high 2 sacks vs. Kent State on Oct. 5.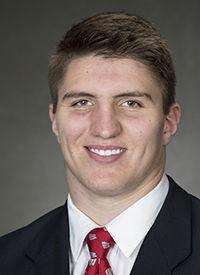 2018 SEASON
Finished with 7 total tackles, including 4 solo stops, and recorded 1 forced fumble and 1 pass breakup. … Had 4 tackles and forced a fumble vs. Illinois on Oct. 20.
HIGH SCHOOL
Four-star recruit by 247Sports and Rivals. … Three-star recruit by ESPN. … First-team all-state by Illinois High School Football Coaches Association as a junior and senior. … All-area as a junior and senior. … All-North Suburban Conference as a sophomore, junior and senior. … Led Lake Zurich to Class 7A state championship game and 13-1 record as a senior. … Finished three-year varsity career with 296 tackles and 13 sacks.
PERSONAL
Parents are Malinda and the late Paul Sanborn. … Father played football at Oregon from 1980-82.