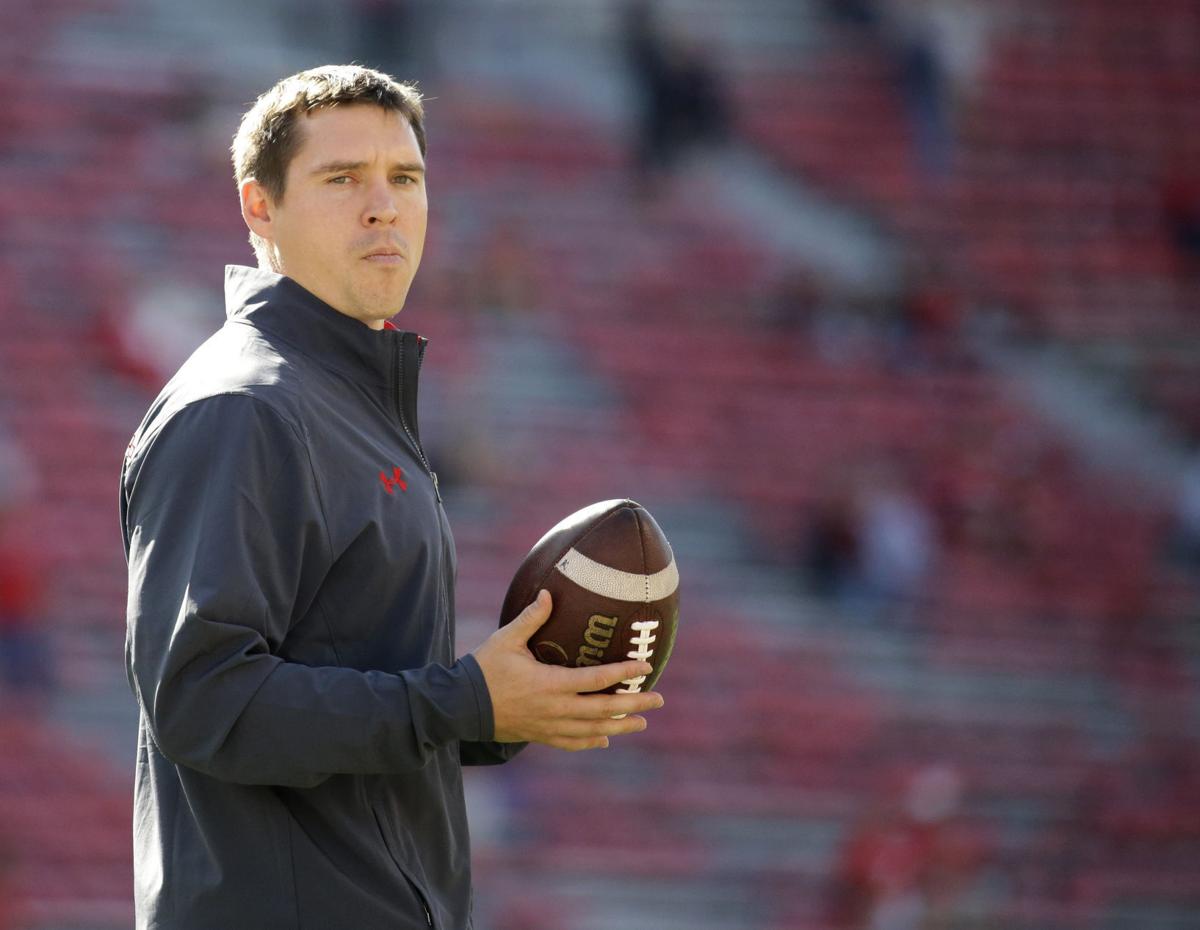 GREEN BAY — For Jim Leonhard, there was no wrong answer. But in his mind, there was a right one.
That's why the University of Wisconsin defensive coordinator informed Green Bay Packers coach Matt LaFleur on Friday night he would be staying put in Madison, rather than accepting LaFleur's offer to take over the Packers' defense.
"It was me choosing UW," Leonhard told the State Journal Saturday morning. "I want to stay at UW. I want to be at this level right now. Extremely flattered. Awesome opportunity. But it was not the right time for me to go back to the NFL."
"It was very real," Leonhard said. "I was about out the door."
According to Leonhard and his Madison-based agent, Tim Valentyn, Leonhard and LaFleur first spoke on Tuesday via Zoom video conference. Leonhard then came to Green Bay on Thursday and spent the day with LaFleur, who parted ways with Mike Pettine following the Packers' season-ending loss to the Tampa Bay Buccaneers in the Jan. 24 NFC Championship Game.
Pettine, first hired by previous coach Mike McCarthy in 2018, had allowed his contract to expire after the season, and LaFleur admitted the two had a "miscommunication" on the defensive call for the Buccaneers' final play of the first half of the NFC title game, resulting in a 39-yard Tom Brady-to-Scotty Miller touchdown, putting the Packers in a 21-10 halftime hole.
After parting ways with Pettine on Jan. 29, LaFleur cast a wide net for his next coordinator, speaking to a host of candidates and getting input from other coaches he trusts around the league on others he should interview. ESPN.com reported earlier in the week LaFleur had begun informing some candidates that they hadn't made the initial cut and that second interviews were underway.
LaFleur and Leonhard hit it off during their time together, and the sides discussed contract numbers on Thursday before Leonhard ultimately decided on Friday to stay with the Badgers.
"I've got a ton of respect for Green Bay as an organization, and I've said my piece about UW a lot of times. I love it here, and I don't necessarily want to leave," Leonhard said. "These aren't opportunities I'm actively searching for — but they're real.
"I know the NFL. I know the good, I know the bad, being in there for 10 years. I understand what the NFL is. It's exciting. Right now, I just feel like UW is the right place. I'm not saying it will always be. But right now, this is where I want to be, at this level, with this group of kids.
"I'm flattered. It was awesome. I've got a lot of respect for Matt and for what they're doing. And obviously everybody knows how close they are to winning the Super Bowl. It was an awesome opportunity to get. I went into it knowing it was a longshot to leave. Even though it was close, this is where I want to be right now."
Asked if he spoke to Pettine about his experience in Green Bay before making his decision on LaFleur's offer, Leonhard replied, "I had a lot of conversations with a lot of people. I have a ton of respect for 'Pett,' the guys he was coaching with. I know a number of guys on that staff. I had a lot of conversations to figure out where that franchise is and to be able to get behind the walls. I respect Coach LaFleur, I think Green Bay's always been known to be one of the most straightforward organizations in sports. But I'm not going to lie to you and say I didn't have those conversations."
Under Leonhard, the Badgers' defense has consistently ranked with the best in the country. In his five seasons on staff, the last four as defensive coordinator, the Badgers have the third-best scoring defense in the FBS (17 points per game allowed), the second-best total defense (294.5 yards per game allowed), the second-best passing efficiency defense (109.7) and the second-best third-down defense (30% conversion rate allowed).
Also factoring into Leonhard's decision? How the COVID-19 pandemic threw the 2020 season into disarray, and how it figures to impact the 2021 NFL and college seasons, too.
"To me, it's all timing. With where I'm at with my family and everything, we didn't want to make the change. We don't want change right now," Leonhard said. "That could change in a year. It truly can. But right now, I feel most comfortable here. I think we've got a great group of coaches great group of players.
"This last year for everyone involved in athletics, it was like no other. For that to be my last experience here at UW and to start over in the same conditions — obviously we're a little farther (into dealing with the pandemic), but how much? — to make this move during this time, having had the experience we had to go through this last season, I don't feel comfortable doing that. That would be a disservice."
The 38-year-old Leonhard and his wife, Katie, have three sons — Reese, Graham and Pierce — and Leonhard said his family was happy to support whatever decision he made.
Asked how LaFleur took the news that he had decided to stay wat UW, Leonhard replied, "We had a conversation, and I told him it was a great experience to go through. And he understood. I had a decision to make. and they have decisions to make.
"There was no wrong answer. It truly came down to, what's the best answer for myself and my family at this time? It's unique to have the opportunity within the state, with similar fan bases. I know how passionate the state is about football."
The Packers having interest in Leonhard wasn't the first time another team or school had pursued Leonhard — he was rumored to be the University of Illinois' prime candidate for its head-coaching job, which ended up going to ex-UW head coach Bret Bielema — and likely won't be the last. Asked what his long-term coaching goal is and if he wants to be a head coach in college or the NFL someday, Leonhard said he couldn't say.
"I still don't know. I don't have an end game," Leonhard replied. "When I got into this, my whole goal was to impact the people I was around — from the coaching staff, to the players, to the university. That was really the only motivation for me to get into coaching.
"Obviously, things have happened fast, with the rise through the ranks and getting the recognition. It's never been about that. I don't care about that. I don't have the five-year plan. I don't have that. I'm taking it year by year right now, and I'm focused on impacting the people."
---
A game-by-game look at the Badgers' revised schedule
A game-by-game look at the Badgers' 2021 football schedule
WEEK 1: vs. Penn State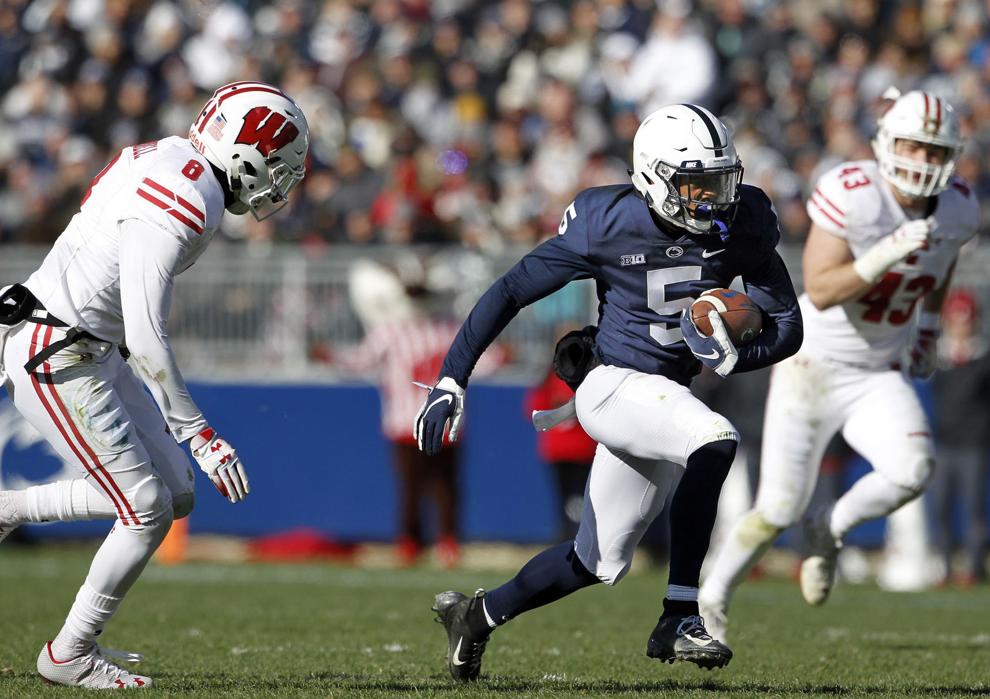 All-time series: UW trails 9-10
Last meeting: UW lost 22-10 in 2018
Key returner: WR Jahan Dotson posted five games of over 100 yards receiving and was a catalyst of the team's four-game winning streak to end last season
Note: The Nittany Lions' losing season last year was their first under coach James Franklin and the program's second since 2004
WEEK 2: vs. Eastern Michigan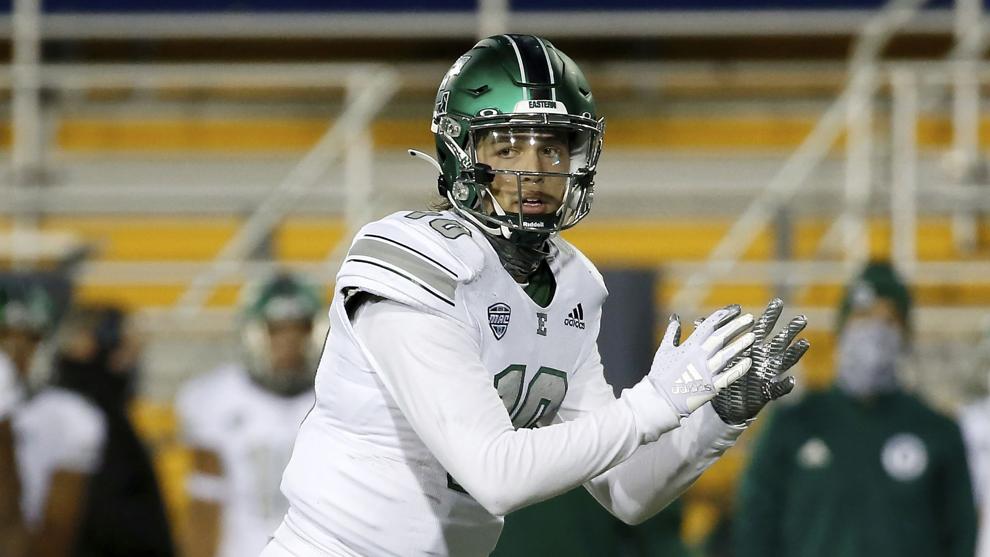 All-time series: UW leads 3-0
Last meeting: UW won 24-3 in 1996
Key returner: QB Preston Hutchinson averaged 277 yards per game last season
Note: The Eagles have had two winning seasons since 2010
WEEK 3: vs. Notre Dame (Soldier Field, Chicago)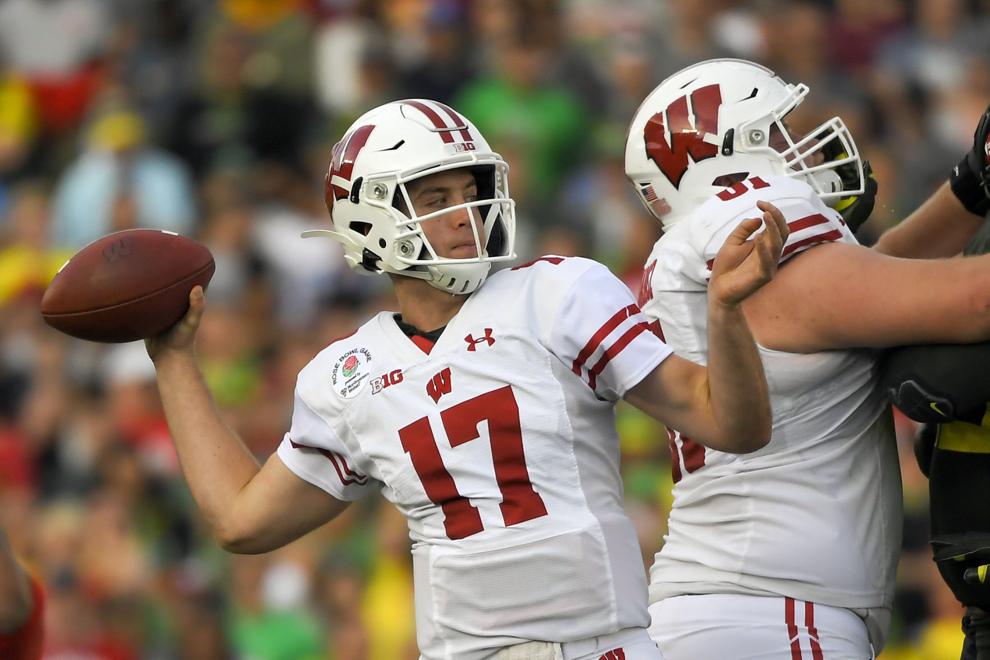 All-time series: UW trails 6-8-2
Last meeting: UW lost 31-7 in 1964
Key returner: Safety Kyle Hamilton, who led the Irish in tackles and had six pass breakups last season
Note: Former Badgers QB Jack Coan will be in the running to be the starting QB for the Irish after transferring this winter
WEEK 4: vs. Michigan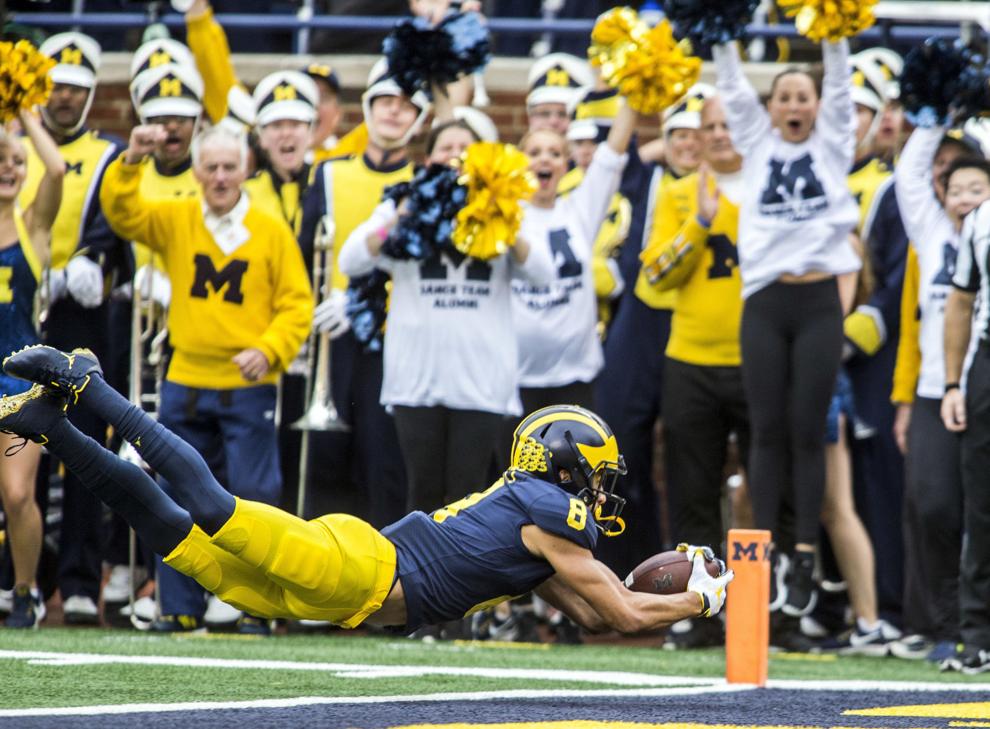 All-time series: UW trails 17-51-1
Last meeting: UW won 49-11 on Nov. 14, 2020
Key returner: WR Ronnie Bell was a bright spot on an offense that struggled with inconsistent quarterback play
Note: Despite the Wolverines' 2-4 season, the program extended the contract of coach Jim Harbaugh and posted the second-best recruiting class in the conference
WEEK 5: at Illinois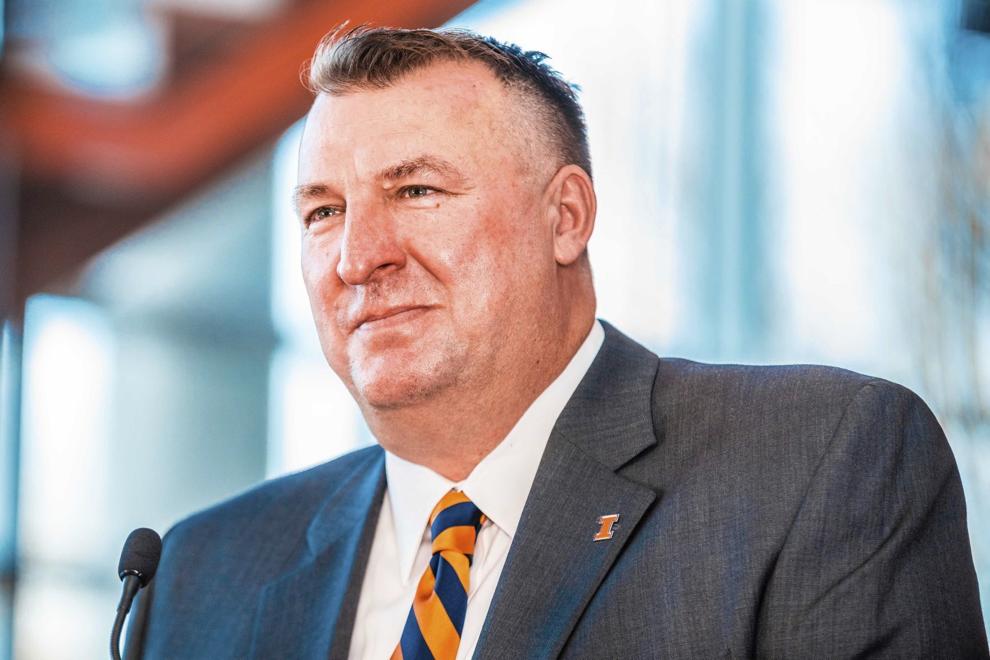 All-time series: UW leads 43-37-7
Last meeting: UW won 45-7 on Oct. 23, 2020
Key returner: QB Brandon Peters, who gives the Illini some stability under center while they adjust to a new coaching staff. The Illini are looking to bounce back from a tough 2020 that included a COVID-19 diagnosis
Note: First-year coach Bret Bielema, the former UW coach, has said he envisions a three-man front for the defense, a major shift that already has prompted the transfer of DE Owen Carney Jr.
WEEK 6: vs. Army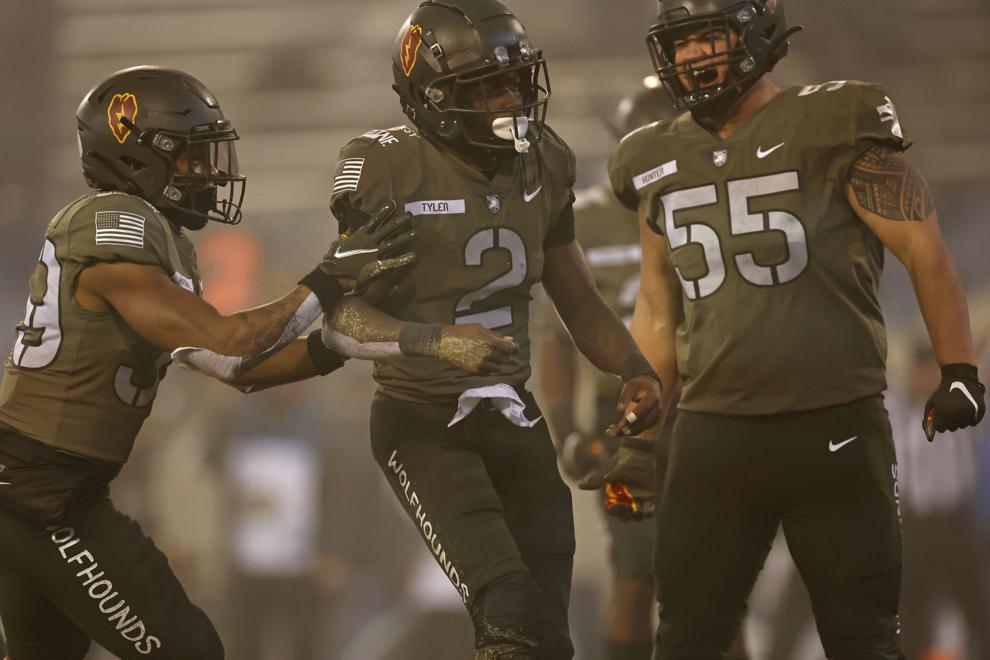 All-time series: First meeting
Key returner: QB Tyhier Tyler (above), who led the Black Knights in rushing (578 yards) despite only playing in seven of their 12 games
Note: This could be a difficult test for the Badgers, preparing for a triple-option attack in the middle of the conference season
WEEK 7: at Purdue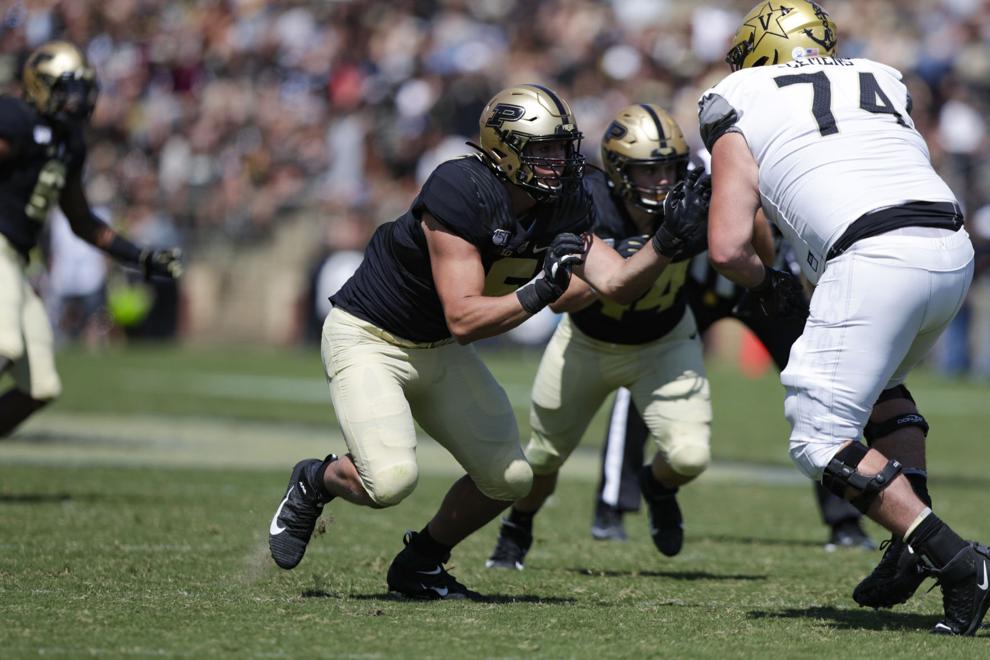 All-time series: UW leads 50-29-8
Last meeting: UW won 45-24 in 2019
Key returner: DE George Karlaftis (above), who was sidelined by injuries last season but is a potential game-wrecker off the edge. He helped land his younger brother Yanni Karlaftis, a four-star OLB who is the highest-ranked player in Purdue's class and was considering UW
Note: Last season's game was canceled due to UW's COVID-19 outbreak, but the Badgers haven't lost to Purdue since 2003
WEEK 8: vs. Iowa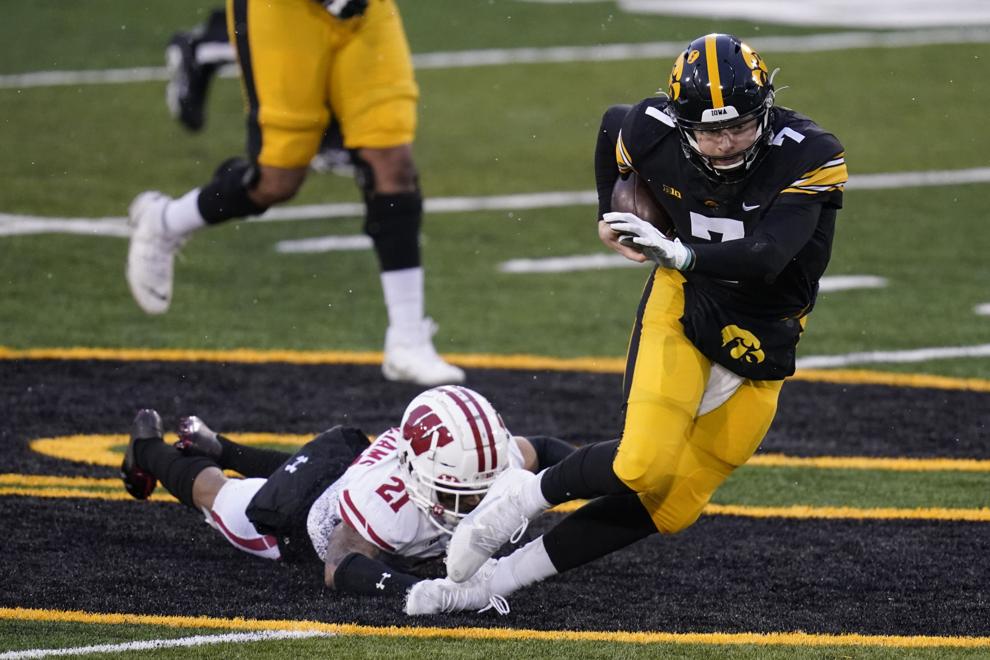 All-time series: UW leads 48-44-2
Last meeting: UW lost 28-7 on Dec. 12, 2020
Key returner: QB Spencer Petras, made strides in first year as a starter, but with defense losing studs up front and the offense losing playmaker Ihmir Smith-Marsette, Petras will be asked to do more
Note: Iowa's win over the Badgers at Kinnick Stadium was just their second in the rivalry since 2010
Week 9: at Rutgers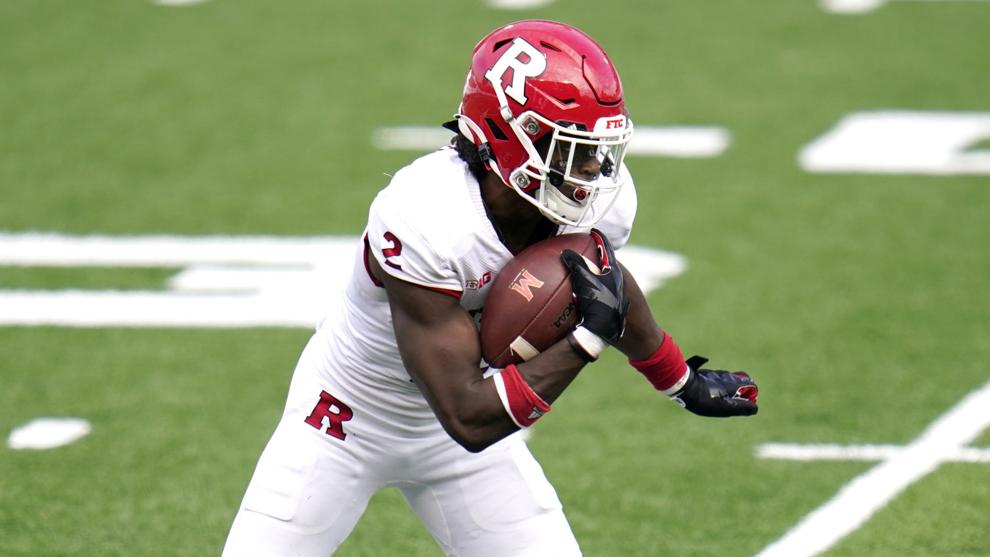 All-time series: UW leads 3-0
Last meeting: UW won 31-17 in 2018
Key returner: WR/KR Aron Cruickshank (above) — who transferred from UW last season — provided a number of big plays in the return game en route to winning the league's returner of the year award and was the team's second-leading receiver.
Note: UW has only surrendered 27 points in three matchups against the Scarlet Knights
WEEK 10: vs. Northwestern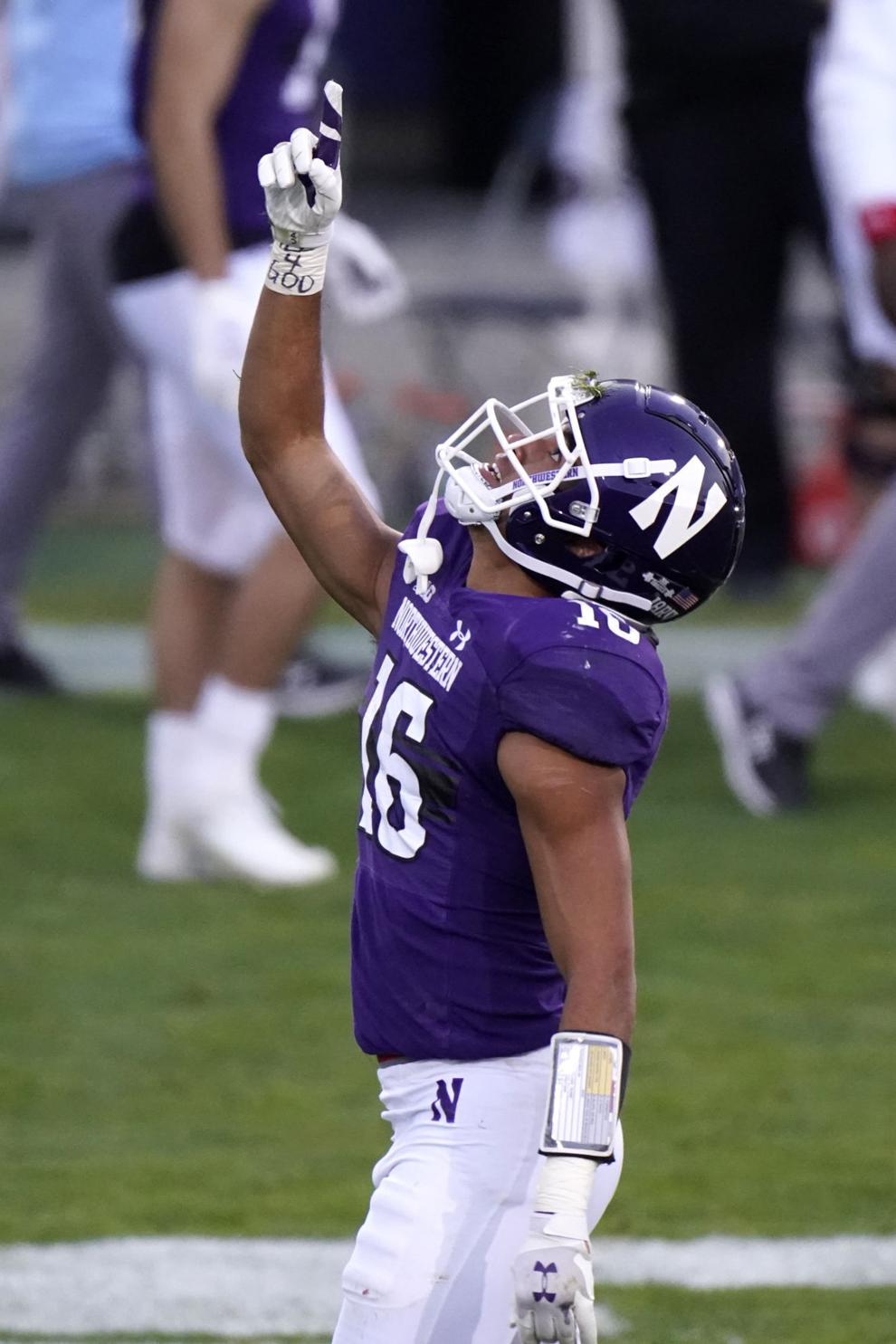 All-time series: UW leads 60-37-5
Last meeting: UW lost 17-7 on Nov. 21, 2020
Key returner: Safety Brandon Joseph (above), earned All-American honors as a freshman after tallying six interceptions, eight pass breakups and 56 total tackles
Note: Longtime defensive coordinator Mike Hankwitz — a former assistant coach at UW — retired after last season
WEEK 11: vs. Nebraska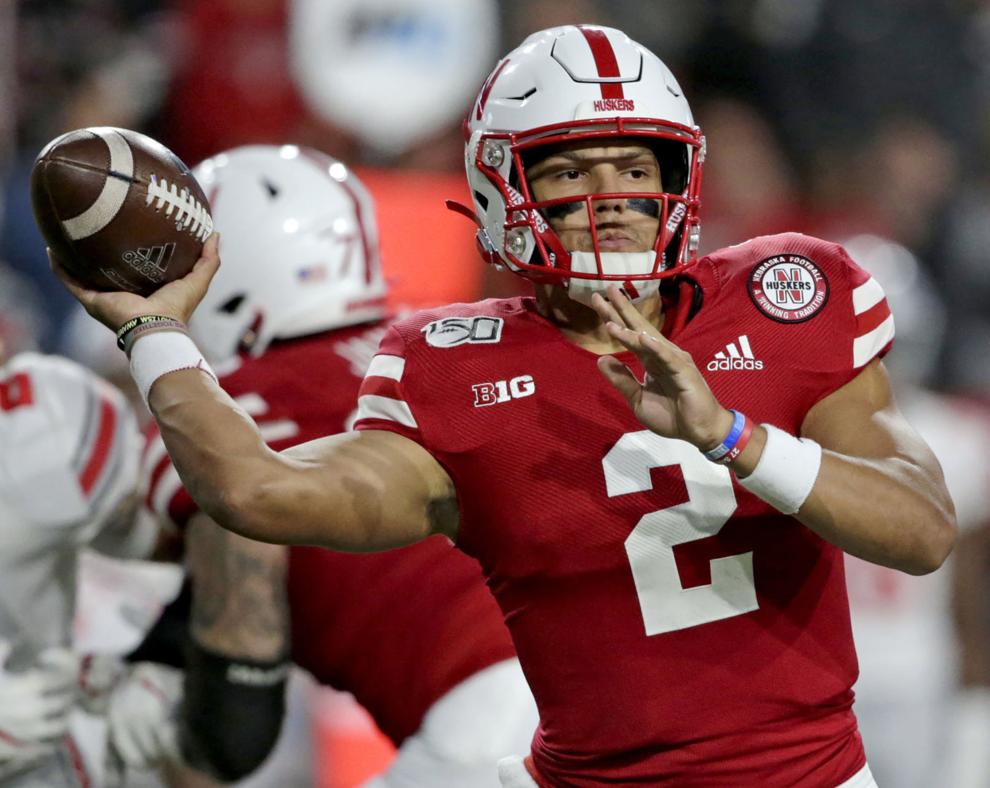 All-time series: UW leads 10-4
Last meeting: UW won 37-21 in 2019
Key returner: QB Adrian Martinez (above), who battled for his position with Luke McCaffrey last season, comes into the season as the presumed starter after McCaffrey announced he was transferring
Note: UW has an 18-point average margin of victory over Nebraska in its seven-game win streak over the Huskers
WEEK 12: at Minnesota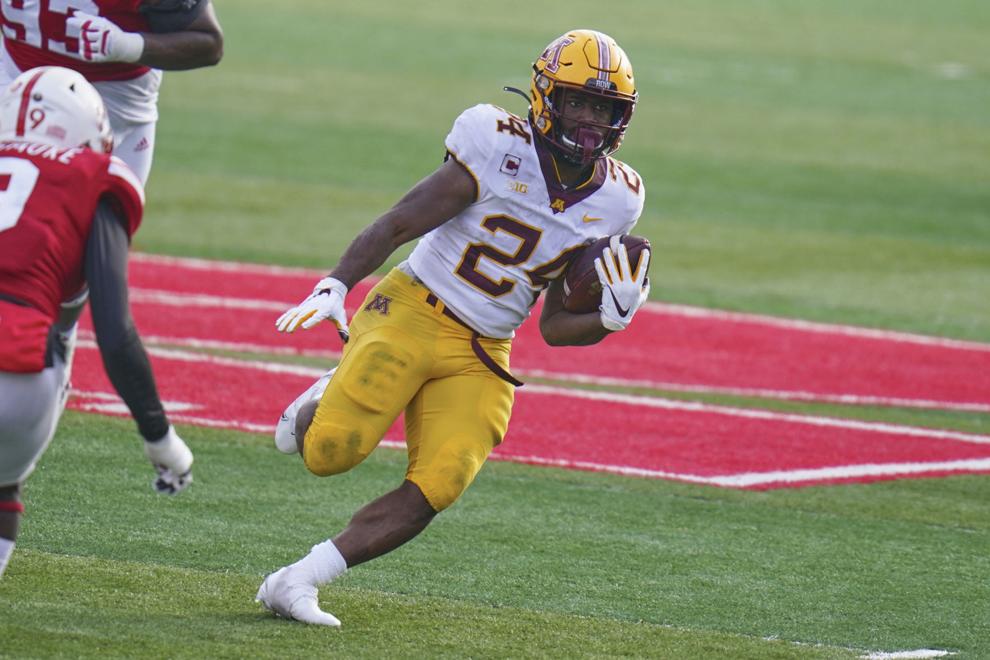 All-time series: UW leads 62-60-8
Last meeting: UW won 20-17 in OT on Dec. 19, 2020
Key returner: RB Mo Ibrahim (above), winner of the Big Ten's running back of the year award last season, scored 15 touchdowns and set multiple program records last season
Note: The Gophers have attacked the transfer market hard, landing seven transfer players this winter