INDIANAPOLIS — Jonathan Davis was handed a purple tie when he was getting ready for his Big Ten Conference media days appearance Friday. He refused to wear the tie because it wasn't school colors.
The sophomore guard doesn't dress up a lot, so he put effort into his appearance before talking to the media. Fifth-year senior Brad Davison, junior Tyler Wahl and Davis were in suits and ties as they sat together at the podium for interviews.
This isn't Davison's first time representing UW at a media event, but this was a whole new experience for Wahl and Davis.
"I think this day is good for them because neither one has been here before in terms of this atmosphere," UW coach Greg Gard said. "Those two guys have been waiting for this opportunity, to walk into a leadership role and find their voices on the team."
Davison and Wahl arrived at their station first — Davis had to run to the bathroom. Before Wahl even could sit down in his chair, his teammate Carter Higginbottom FaceTimed him to wish him luck and see the scene.
Wahl panned the camera to the building full of reporters before hanging up. Davis arrived and questions started.
The Badgers lost five seniors to the transfer portal or graduation. They added eight new players, with only three returning upperclassmen. Davison, Wahl and Davis are the only three returning players who played substantial minutes.
Davison always has been in the leadership role and he's good at it, but even he said it's time for Davis and Wahl to shine.
"Both of them do a great job of not only leading by example and giving their all in the weight room and on the court, but also with their voice," Davison said. "They really stepped up. They're holding other people accountable, encouraging other people. For me, I just kind of have taken a step back and let them do their thing."
Wahl said it started in the spring. The seniors were preparing for graduation and it was really just Wahl, Davis and a few other underclassmen around campus. They didn't have to be in the gym, but they were and encouraged others to join them.
Gard said it was inspiring to watch them take ownership of their leadership. It continued once they got to the summer workouts and fall practices.
"The hard work that we're putting into the summer just kind of follows from the leadership of us three," Wahl said. "I think we've done a great job. We got a lot of young guys and we've kind of been leading by example."
Wahl and Davis are quiet guys, so most of their leadership has been by others watching them. Gard said he often sees them pausing in the middle of a conversation with a younger player to find their words.
They have the underlying similarity of quietness, but Gard said they're different kinds of leaders. Davis is very direct. He doesn't need a lot of words to call it like he sees it. Wahl has been in the program a year longer than Davis, so he has experience guiding others and is a bit more gentle with his guidance.
"I think the most favorite part is watching them walk into something that they have no idea what they're getting themselves into, and figure it out and kind of swim on their own," Gard said. "I could talk about leadership, I could talk about what it's going to take, but they need to, they need to walk it, they need to experience it for themselves."
Davison is a very vocal leader who has been on the team since 2017, so it's easy to defer to him. There were multiple times Davison passed a question to Wahl or Davis when it wasn't directed to a particular person. The younger pair often looked to Davison for reassurance.
It was clear who the new leaders on the team were when it was time for UW's Big Ten Network appearance. There are only three chairs — one for Gard and two players. Wahl and Davis represented the players and left Davison on his own at the podium.
"The standards you set as a leader on the team goes a long way," Davison said. "That's one thing that's our calling card at Wisconsin: it's not one guy's team, not one guy is the leader. We have a group of people here that care about our program. That's spearheaded by these two."
Big Ten men's basketball schedule announced: What to know about the Badgers' conference matchups
Dec. 8 | Indiana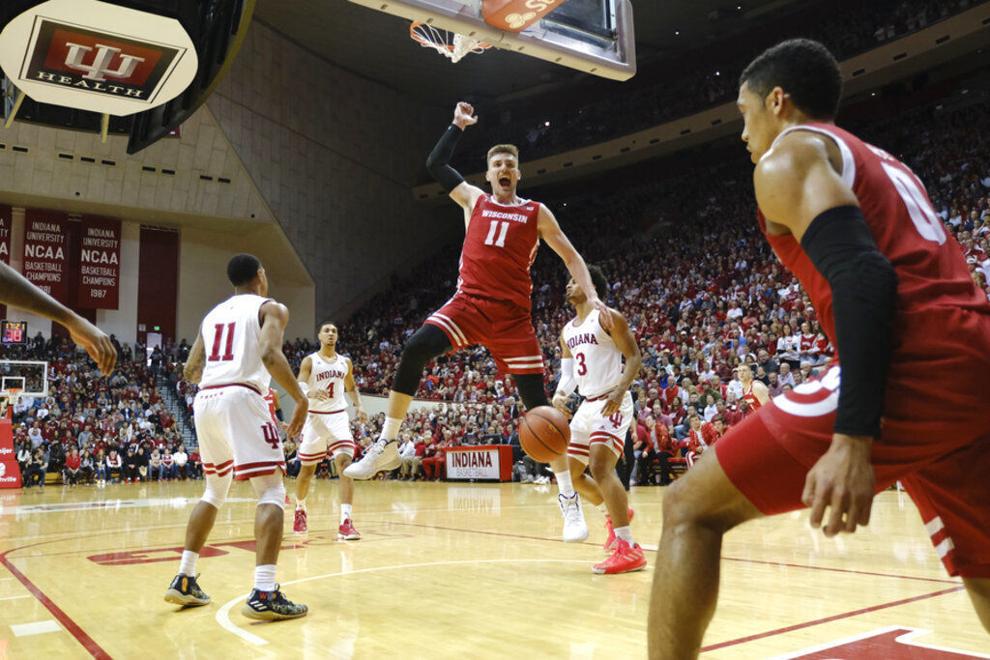 Where: Big Ten conference opener for Wisconsin at the Kohl Center in Madison
2020-21 season: The Hoosiers finished 10th in the Big Ten with a 7-12 conference record while going 12-15 overall. Their season ended in the first round of the Big Ten tournament with a 61-50 loss against Rutgers.
Series: Last season Wisconsin edged out Indiana 80-73 in a win at the Kohl Center. The Hoosiers hold the series edge 97-77.
Heading into 2021-22: Coach Mike Woodson is in his first season at Indiana. Leading scorer sophomore Trayce Jackson-Davis returns for the Hoosiers. He averaged 19.1 points per game last season. Indiana also added perimeter shooting in transfers Xavier Johnson from Pitt and Miller Kopp from Northwestern.
Dec. 11 | Ohio State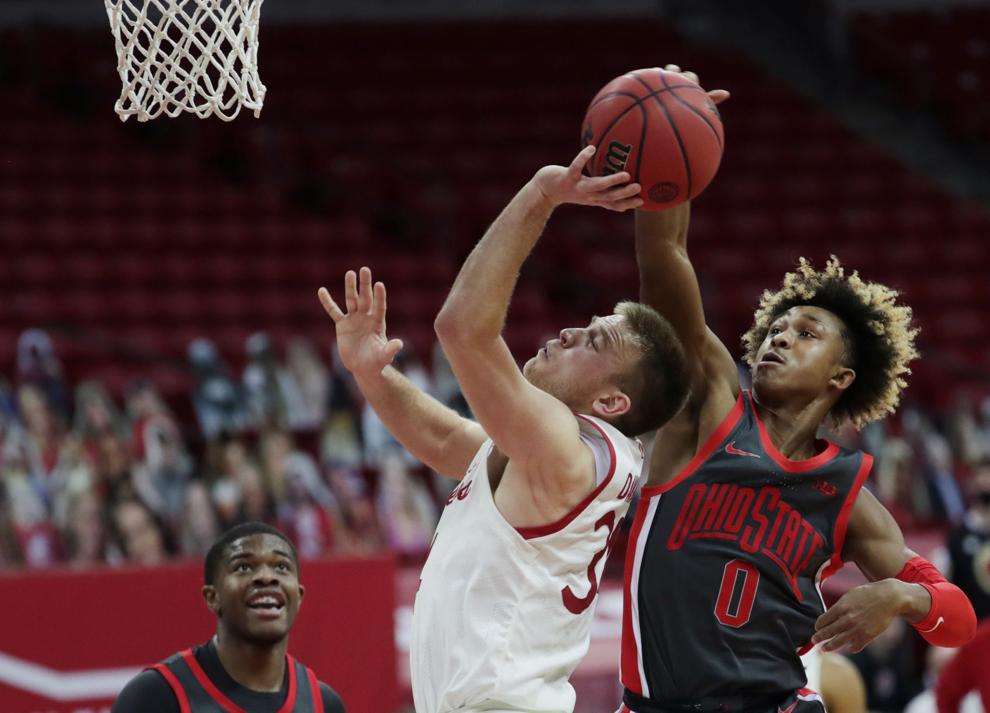 Where: The Schottenstein Center, Columbus, Ohio
2020-21 season: Ohio State finished fifth in the Big Ten with a 12-8 conference record, going 21-10 overall. The Buckeyes lost to Illinois in the Big Ten Conference championship game before being upset by No. 15 seed Oral Roberts 75-72 in the opening round of the NCAA tournament.
Series: Ohio State holds the lead in the all time series between the Buckeyes and the Badgers 93-75. The Buckeyes were one of five teams to hand the Badgers a home loss last season when they won 74-62.
Heading into 2021-22: The Buckeyes return the second and third-leading scorers from last season in E.J. Liddell and Justice Sueing, who averaged a combined 32.6 points per game. Ohio State also added three transfers to their roster — Harvard's Seth Towns, Penn State's Jamari Wheeler and Indiana's Joey Brunk. The team boasts a veteran roster with five graduate students, three true seniors and one redshirt senior.
Jan. 3 | Purdue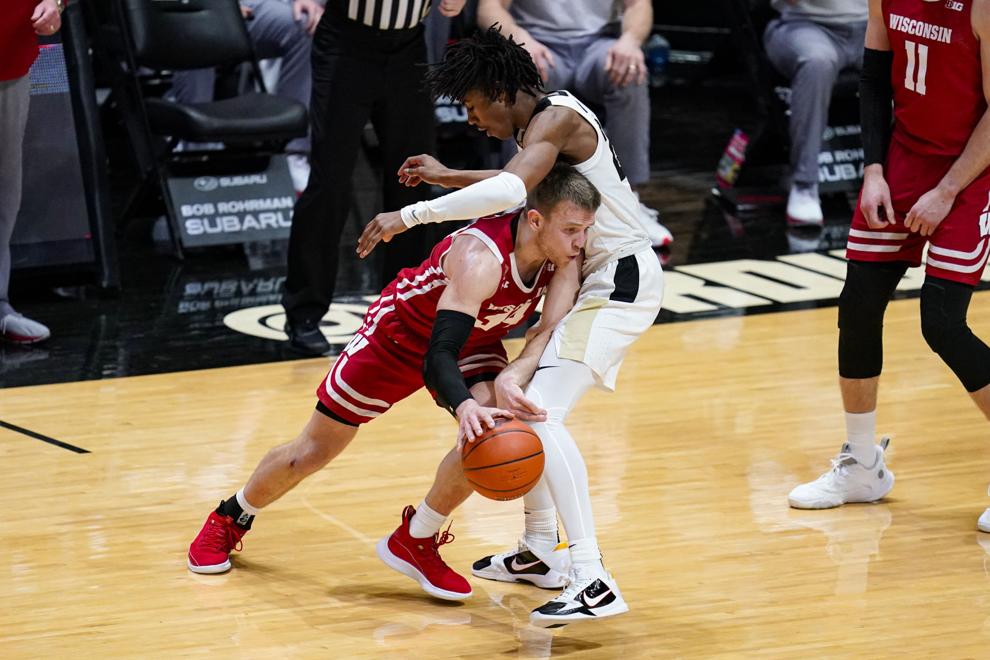 Where: Mackey Complex in Lafayette, Indiana
2020-21 season: The Boilermakers finished fourth in the Big Ten after going 13-6. They entered the NCAA tournament as a No. 4 seed, but their season ended with an overtime loss against North Texas in the first round.
Series: Last season Purdue defeated Wisconsin in West Lafayette, Indiana, 73-69. The win advanced their all-time series lead to 111-72.
Heading into 2021-22: Purdue returns four of its five starters from last season in Jaden Ivey, Trevion Williams, Eric Hunter Jr. and Sasha Stefanovic. Ivey played in the 2021 FIBA U19 World Cup this summer alongside Wisconsin's sophomore guard Jonathan Davis. Ivey was the second-leading scorer — behind Louisiana Tech's Kenneth Lofton Jr. — with an average of 12.3 points per game. His experience in Latvia, where Team USA captured the gold medal, plus strong end to his freshman year adds to an already impressive Purdue roster.
Jan. 6 | Iowa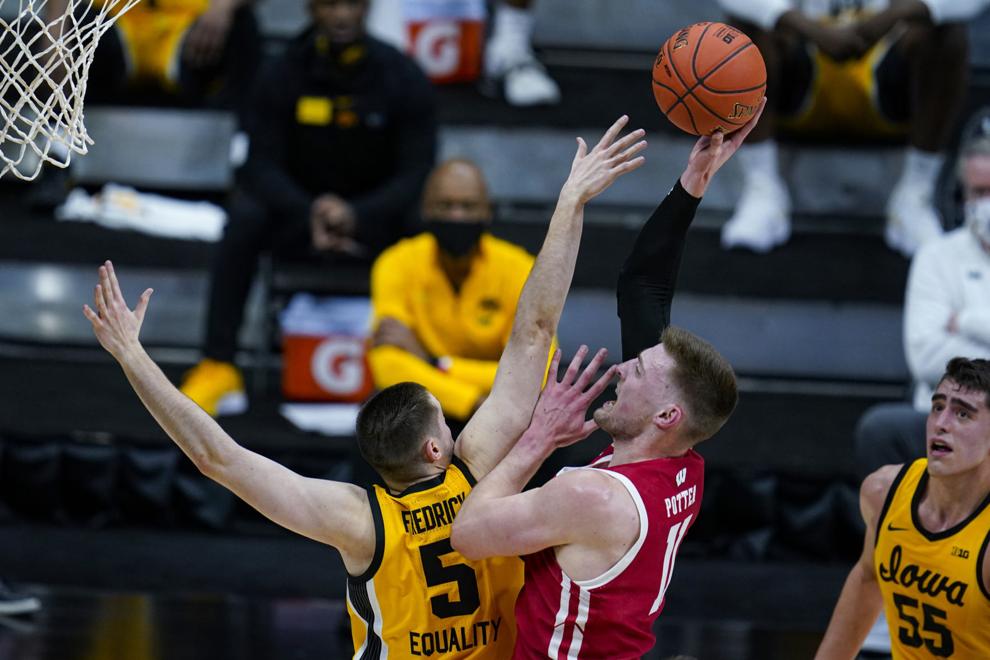 Where: Kohl Center, Madison, Wisconsin
2020-21 season: The Hawkeyes finished third in the Big Ten with a 22-9 overall record and a 14-6 conference mark. Iowa was knocked out in the semifinals by Illinois during the Big Ten tournament, but entered the NCAA tournament as a No. 2 seed. Their Big Dance journey ended in the second round via a 95-80 loss to Oregon.
Series: Iowa and Wisconsin stand at an 85-85 draw in their history after the Hawkweyes won all three games the pair played last season — two during the regular season and one in the Big Ten tournament.
Heading into 2021-22: Iowa has to overcome big roster losses this season. Naismith Men's College Player of the Year Luke Garza and Joe Wieskamp both got drafted into the NBA, while CJ Fredrick transferred to Kentucky. Jordan Bohannon returns for a sixth season alongside standout sophomore Keegan Murray. The pair were the third and fifth-leading scorers for the Hawkeyes a year ago, with 10.6 and 7.2 points per game.
Jan. 9 | Maryland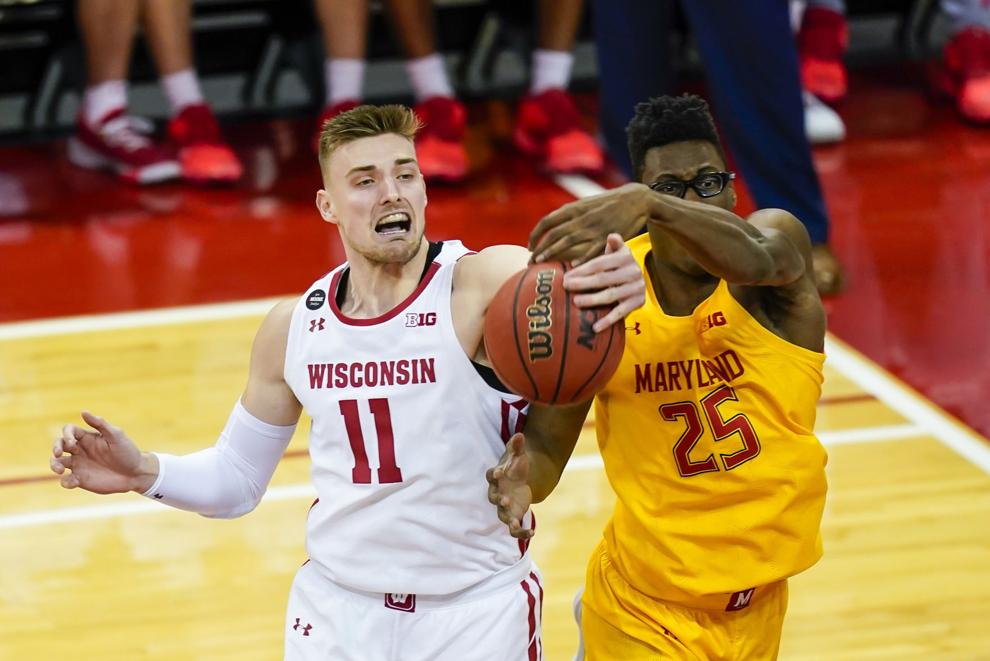 Where: Xfinity Center, College Park, Maryland
2020-21 season: Maryland finished 9-11 in the Big Ten and 17-14 overall last season. This earned it eighth place in the Big Ten standings. The Terrapins did receive an at-large bid into the NCAA tournament and even defeated then No. 7 Connecticut to advance to the second round, where they were knocked out by Alabama.
Series: Wisconsin and Maryland have played just 18 times. The Badgers hold an 11-7 edge after splitting last season's games.
Heading into 2021-22: Maryland's best player last season, Darryl Morsell, transferred to Marquette during the offseason, but coach Mark Turgeon rallied to build up the roster. The Terrapins gained Rhode Island's Fatts Russell and Georgetown's Qudus Wahab, who have the potential to combine for upwards of 30 points per game this season. Maryland also returns senior guard Eric Ayala and junior forward Donta Scott, who were key players in the win over Connecticut in the NCAA Tournament.
Jan. 13 | Ohio State
Where: Kohl Center, Madison, Wisconsin
Jan. 18 | Northwestern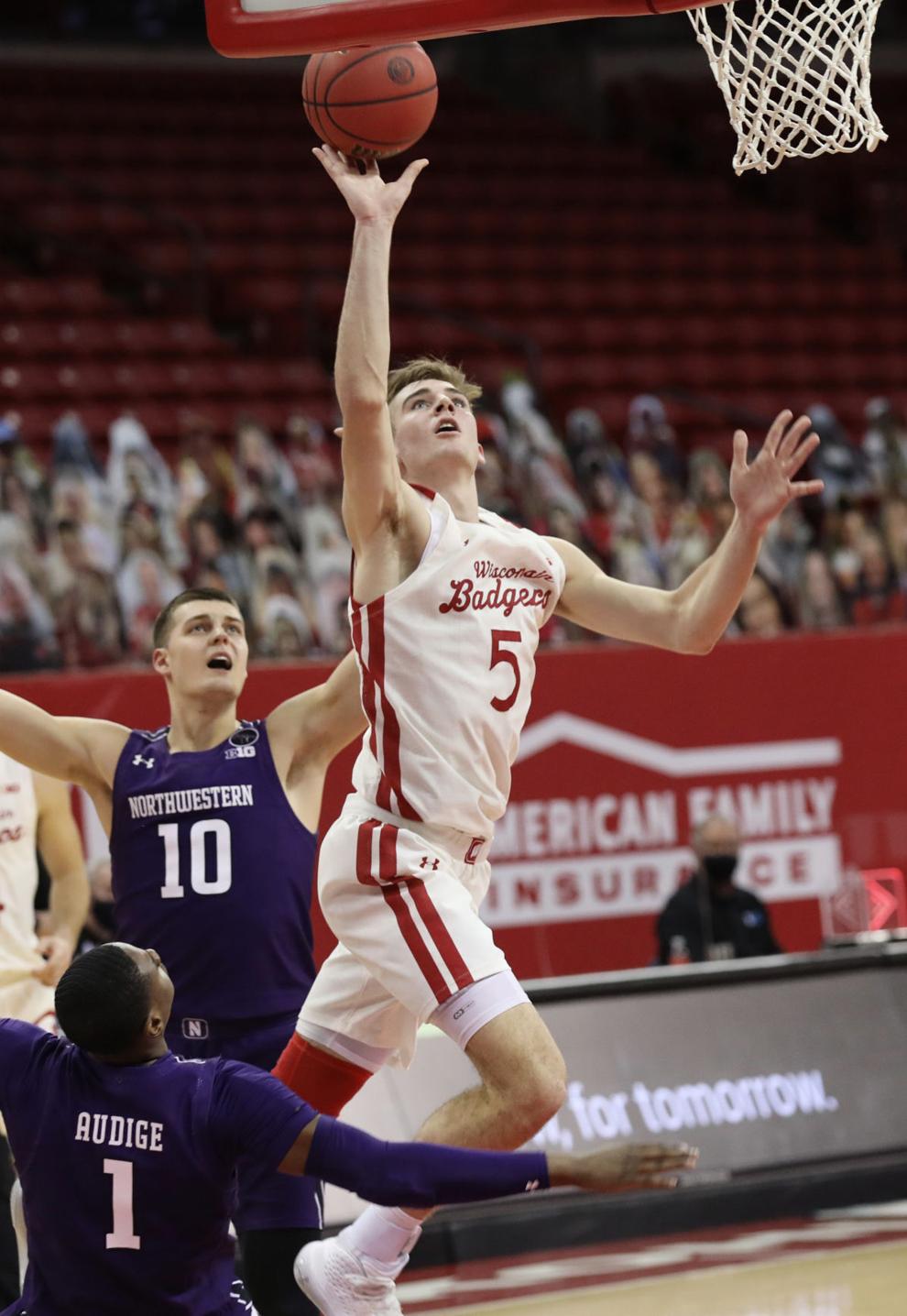 Where: Welsh-Ryan Arena, Evanston, Illinois
2020-21 season: Northwestern was one of only five Big Ten schools to not make the NCAA Tournament last season. The Wildcats finished 12th in the Big Ten with a 6-13 conference record. They finished 9-15 overall and lost to Minnesota in the first round of the conference tournament to end their season.
Series: Northwestern is one of the few Big Ten teams Wisconsin has an all-time series edge over, with 121 wins to the Wildcats' 65. Last season, the Badgers swept the Wildcats both home and away by at least 16 points.
Heading into 2021-22: The Wildcats return key contributors in redshirt junior guard Chase Audige and junior guard Boo Buie. Last season's second-leading scorer Miller Kopp transferred to Indiana after the season.
Jan. 21 | Michigan State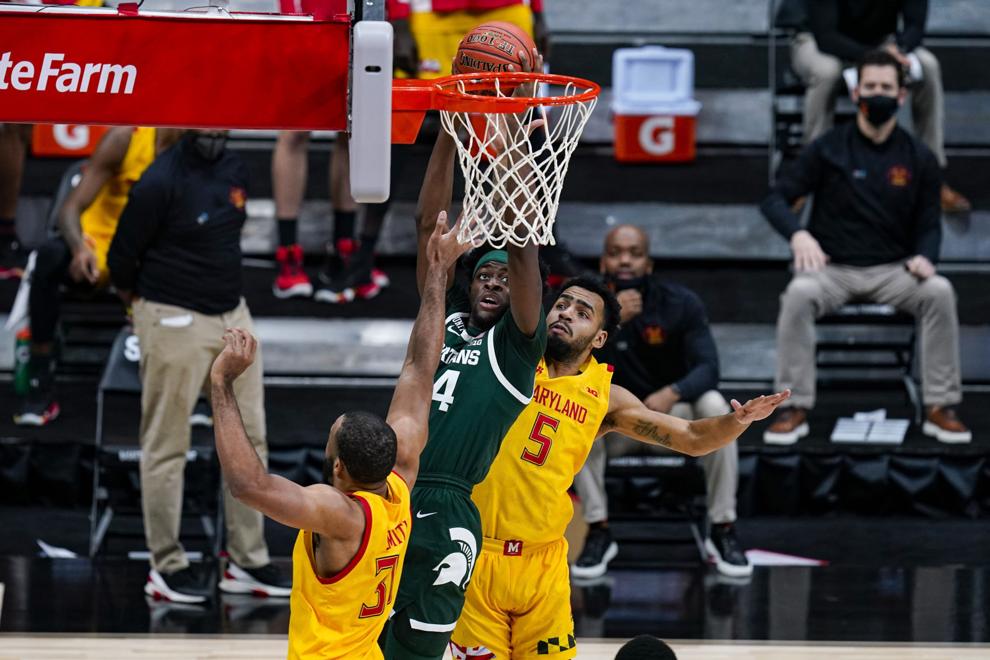 Where: Kohl Center, Madison, Wisconsin
2020-21 season: Michigan State finished 9-11 in Big Ten play and 15-13 overall, earning it a ninth-place finish in the conference. The Spartans just barely got into the NCAA tournament, but ended up losing in the First Four to eventual national runner-up UCLA.
Series: The Spartans hold a 83-66 all-time series lead over the Badgers. Last season, Wisconsin defeated Michigan State 85-76 on its home court.
Heading into 2021-22: The Spartans add in one of the top transfers in the country, Northeastern's Tyson Walker. Five-star recruit Max Christie could also add a scoring boost. Returning senior forwards Gabe Brown and Marcus Bingham aid with an veteran interior presence.
Jan. 25 | Nebraska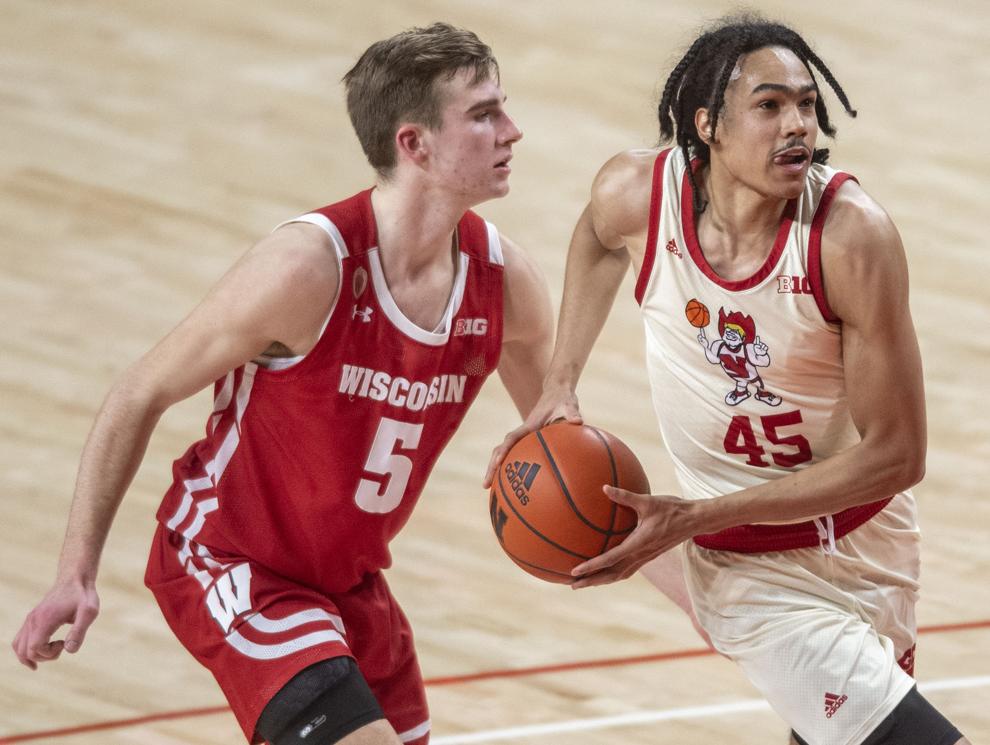 Where: Pinnacle Bank Arena, Lincoln, Nebraska
2020-21 season: The Cornhuskers finished in last place in the Big Ten after winning only three games against conference foes. Those wins were against Rutgers, Penn State and Minnesota. They did force then No. 6-ranked Illinois into overtime on Feb. 12.
Series: Wisconsin handed Nebraska two losses last season to widen their lead to 20-14 in the pair's all-time series.
Heading into 2021-22: Coach Fred Hoiberg is on his third season leading the Cornhuskers and has arguably his most talented team yet. Five-star recruit Bryce McGowens joins his brother Trey McGowens on the roster. Trey was one of two players to average double digits in scoring for the team last season. Junior forward Lat Mayen will step into more of a focal role this season as well.
Jan. 30 | Minnesota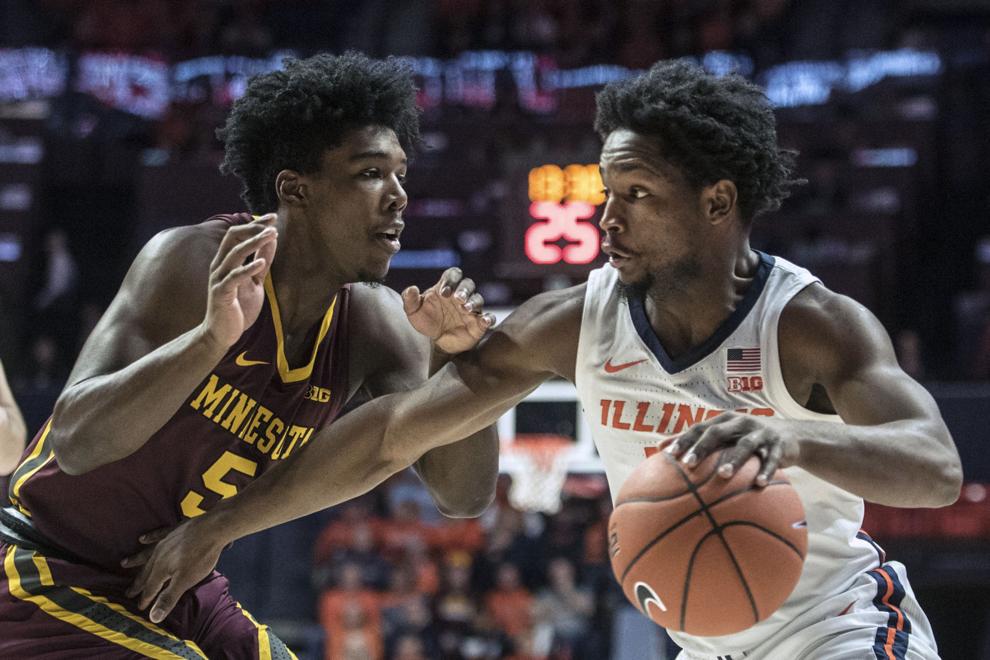 Where: Kohl Center, Madison, Wisconsin
2020-21 season: Despite being ranked early in the season, Minnesota didn't make it past Big Ten play. It finished 13th in the conference with a 6-14 record and was 14-15 overall.
Series: Minnesota holds a narrow 104-103 lead in the all-time series. However, the Badgers did defeat the then-ranked No. 21 Gophers 71-59 at the Kohl Center last season.
Heading into 2021-22: Coach Ben Johnson is in his first year at the helm. Ten players entered the transfer portal after former coach Richard Pitino was fired following last season, including leading scorer Marcus Carr. The Gophers have almost an entirely new roster and coaching staff heading into this season.
Feb. 2 | Illinois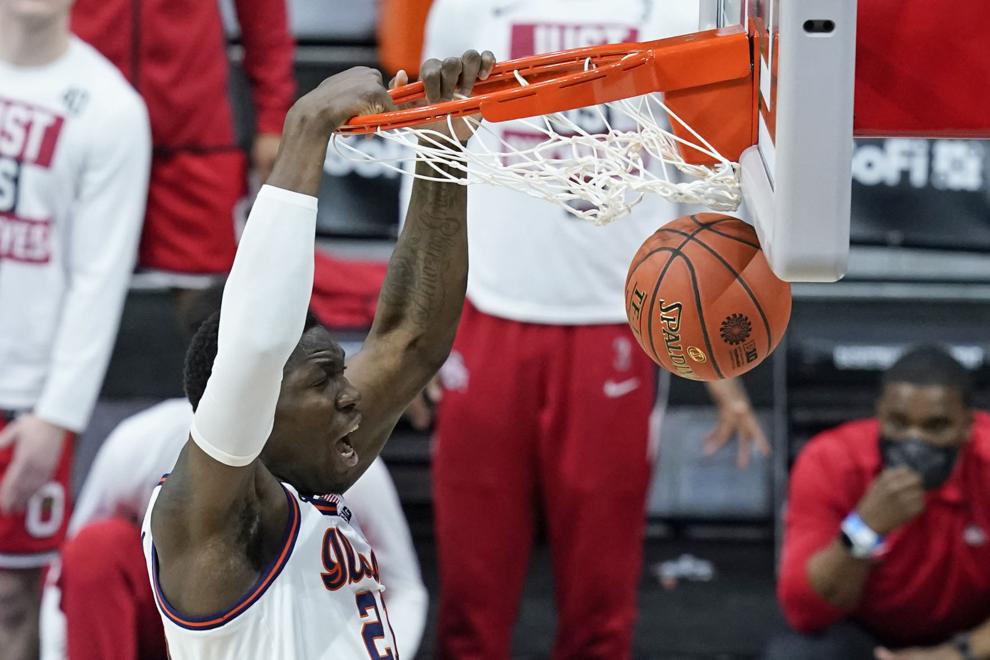 Where: State Farm Center, Champaign, Illinois
2020-21 season: The Fighting Illini finished sixth in the Big Ten but won the conference tournament and entered the NCAA tournament as a No. 1 seed. Their season ended with a second-round loss to No. 8 seed Loyola Chicago. Their final record was 24-7.
Series: Illinois bested Wisconsin twice during conference play last season. The two teams have played each other more than 200 times with the The Fighting Illini holding a 113-90 edge.
Heading into 2021-22: Illinois may have lost star guard Ayo Dosunmu to the Chicago Bulls, but junior center Kofi Cockburn returns. Cockburn was the Illini's second-leading scorer with 17.7 points per game. After dropping out of the NBA draft he considered other schools but ultimately decided to stay at Illinois. The Illini also have a solid guard presence in sophomore Andre Curbelo, senior Trent Frazier and senior Da'Monte Williams.
Feb. 5 | Penn State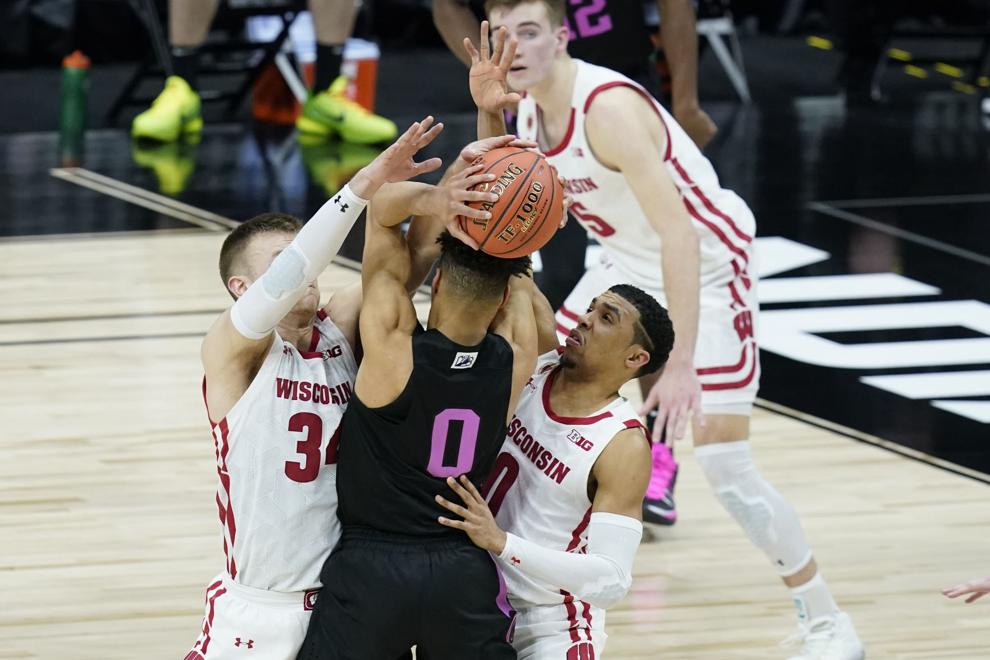 Where: Kohl Center, Madison, Wisconsin
2020-21 season: The Nittany Lions finished 11th in the Big Ten last season after a 7-12 conference record and 11-14 overall mark. They were knocked out of the conference tournament by Wisconsin, which won 75-74 in the second round.
Series: Wisconsin and Penn State split games during the regular season, but the Big Ten tournament win added to the Badgers overall lead making the all time-series record 41-11.
Heading into the 2021-22 season: Micah Shrewsberry took over after Pat Chambers resigned and returns a good number of talented players. The Nittany Lions lost leading scorer Myreon Jones, but retained Seth Lundy and Sam Sessoms, who averaged the third and fifth-most points per game for the team last season. Senior John Harrar also returns and Penn State added Siena transfer Jalen Pickett.
Feb. 8 | Michigan State
Where: Jack Breslin Student Events Center, East Lansing, Michigan
Feb. 12 | Rutgers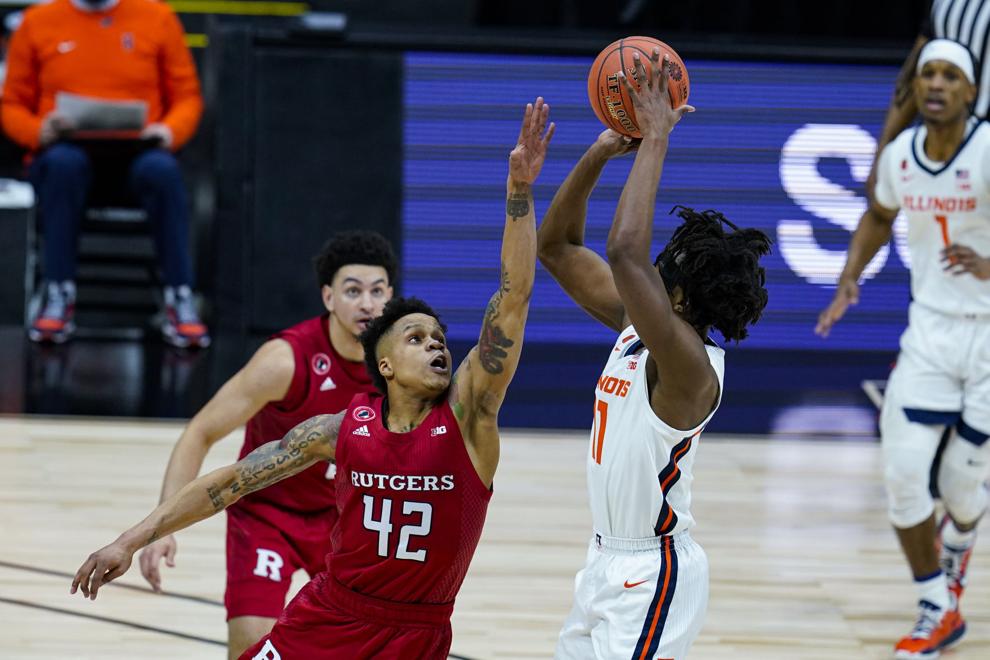 Where: Kohl Center, Madison, Wisconsin
2020-21 season: Rutgers made its way to the NCAA tournament, despite having an average 10-10 conference season. The Scarlet Knights lost to No. 2 see Houston in the second round and finished their season 16-12.
Series: Wisconsin and Rutgers had only met three times before the Scarlet Knights joined the Big Ten in 2014. The Badgers' 60-54 road win last season improved their overall series lead to 9-3.
Heading into 2021-22: Rutgers returns senior guard Ron Harper Jr. and fifth-year guard Geo Baker, who combined for an average of 25.3 points per game last season. The Scarlet Knights also lost two key players in big man Myles Johnson, who transferred to UCLA, and Jacob Young, who went to Oregon.
Feb. 15 | Indiana
Where: Simon Skjodt Assembly Hall, Bloomington, Indiana
Feb. 20 | Michigan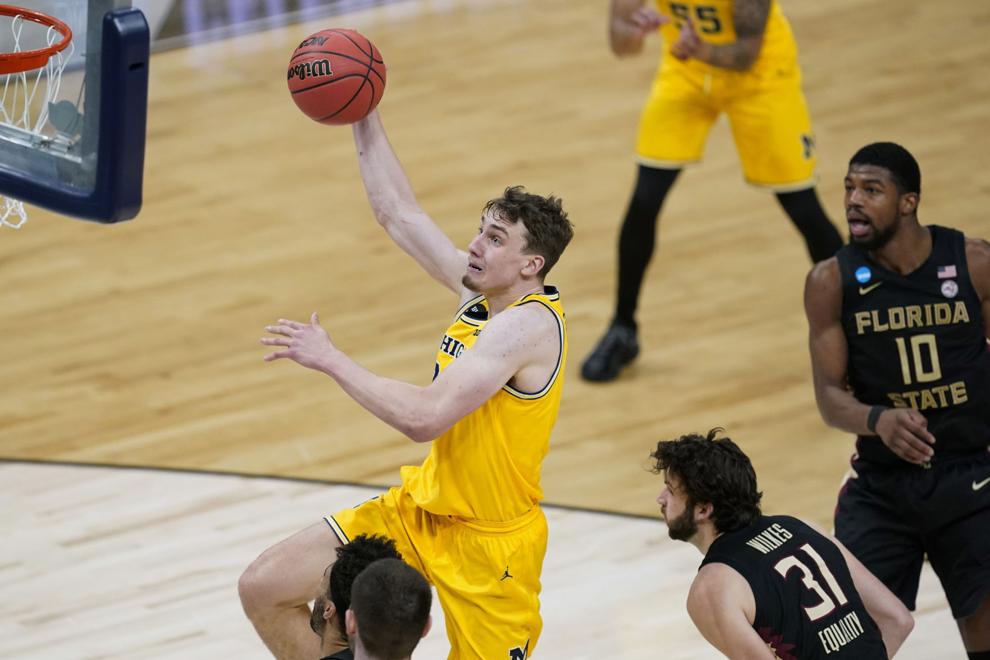 Where: Kohl Center, Madison, Wisconsin
2020-21 season: Michigan only lost three games to Big Ten opponents and earned a 23-5 overall record last season. The Wolverines won the regular season conference title but lost to Ohio State 68-67 in the semifinals of the Big Ten tournament. They were a No. 1 seed in the NCAA tournament but lost to UCLA in the Elite Eight.
Series: The Badgers dropped both contests to Michigan last season. The Wolverines have a 94-76 edge in the all-time matchup.
Heading into 2021-22: Sophomore center Hunter Dickinson and graduate guard Eli Brooks will lead Michigan again this season. Dickinson led the team as a freshman with an average of 14.1 points per game and earned the title of Big Ten Freshman of the Year. Joining the two is the No. 1 ranked 2021 class. per 247Sports, and Coastal Carolina transfer DeVante' Jones, who averaged 19.1 points per game last season in the Sun Belt conference.
Feb. 23 | Minnesota
Where: Williams Arena, Minneapolis, Minnesota
Feb. 26 | Rutgers
Where: Rutgers Athletic Center, Piscataway, New Jersey
March 1 | Purdue
Where: Kohl Center, Madison, Wisconsin
March 6 | Nebraska
Where: Kohl Center, Madison, Wisconsin