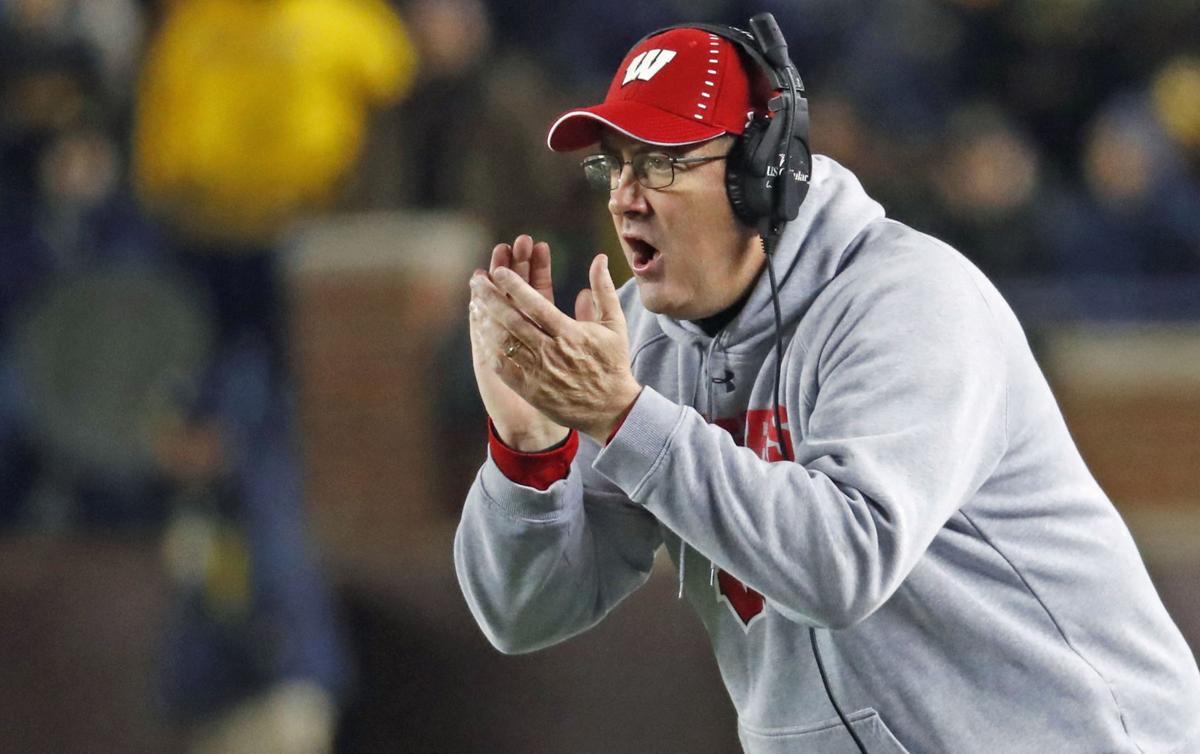 Paul Chryst saw an opportunity this offseason to bring to fruition an idea he's had for years.
The University of Wisconsin football coach has needed to shuffle his staff due to a pair of departures, but those moves allowed him to reconfigure how each position group will be coached.
The result of these moves is Chryst coaching quarterbacks and calling plays this fall, a dual role he's filled often in the past for UW.
"I thought I was an important part of finishing off all these pieces," Chryst told the State Journal on Friday. "And that we could really kind of do more, we can cover more, we have one more position group covered. And that was the best way (answer) who do we have and how can we best use everyone and their abilities?
"I've always loved coaching, the very hands-on coaching part, but that's not what drove any of this was to get back to that."
Chryst has been the QB coach and play-caller numerous times for UW, including his run as offensive coordinator for the program from 2006 to 2011. He called plays for UW over his first five seasons as coach as well. But Chryst was adamant his taking over play-calling was not in response to anything that occurred in 2020.
"Over the years, Joe and I have talked through a lot of things," Chryst said. "It kind of came down to … on the offensive staff, what's the best allocation, use of our resources and the guys that we have? It's not reactionary to what's happened as much as how do we want to be proactive and say, 'Here's an opportunity, what do we want to do?'
"I've always appreciated with Joe being able to have really good conversations, led by what's best for this program. What's best for this team and these position groups?"
Rudolph now is designated as the associate head coach, running game coordinator and offensive line coach. Outside linebackers coach Bobby April added defensive run game coordinator to his title.
Chryst's new role is the latest and presumably last in an offseason that has seen a handful of changes to the Badgers' coaching staff.
UW announced Thursday the hiring of Hank Poteat to coach cornerbacks, a position that previously had not had its own coach. Defensive coordinator Jim Leonhard coached the full secondary before Poteat's hire.
Budmayr left the Badgers to become the offensive coordinator at Colorado State, and former defensive line coach Inoke Breckterfield left for the same role at Vanderbilt. Chryst shifted strength coach Ross Kolodziej into the defensive line role and promoted strength and conditioning assistant Shaun Snee into the lead position.
That left one opening on the staff and allowed Chryst to pursue a cornerbacks coach, something he says he's thought about for years. When Chryst was hired as UW's coach, Poteat interviewed with then-defensive coordinator Dave Aranda to be a cornerback coach, but the timing wasn't right, Chryst said.
Leonhard joined the staff as the DBs coach in 2016 and kept that role when he was promoted to defensive coordinator in 2017. Chryst said splitting the defensive backs — the largest position group on the roster with 21 players — allows both corners and safeties to get more position-specific instruction.
"What you cover in a meeting or what techniques, skills and drills you're working on in practice can be very different for a corner or for safety," Chryst said.
Leonhard almost left this offseason as well after being offered the defensive coordinator position with the Green Bay Packers. He turned down the offer late last week.
The addition of Poteat allows Leonhard to hone in on coaching the safeties, the position at which he was a three-time All-American for the Badgers and played 10 years in the NFL. However, Chryst said making Leonhard's job a bit easier wasn't the impetus for bringing on board Poteat.
"I can't disagree with that statement, it does lighten his load a bit, but I don't think that really accurately describes what was kind of behind it," Chryst said.
"It's a residual, a side benefit to it. I think it's more what's best for the program, and oftentimes that's driven by what's best for our players. The more I'm thinking about it, the more excited I am for our corners and I get excited for our safeties. Jimmy will still spend the same amount of time in meetings and getting ready for meetings and coordinating responsibilities."
Chryst believes UW is heading in the right direction, with a revamped coaching staff and riding a wave of strong recruiting the past two classes.
"I get energized by the whole program, all the moves tied in. I think in the end, I do believe that we're in a great spot with it and (have) really impacted everything."
---
Offseason development crucial for Badgers' offense
Offseason development crucial for Badgers' young offense
QUARTERBACK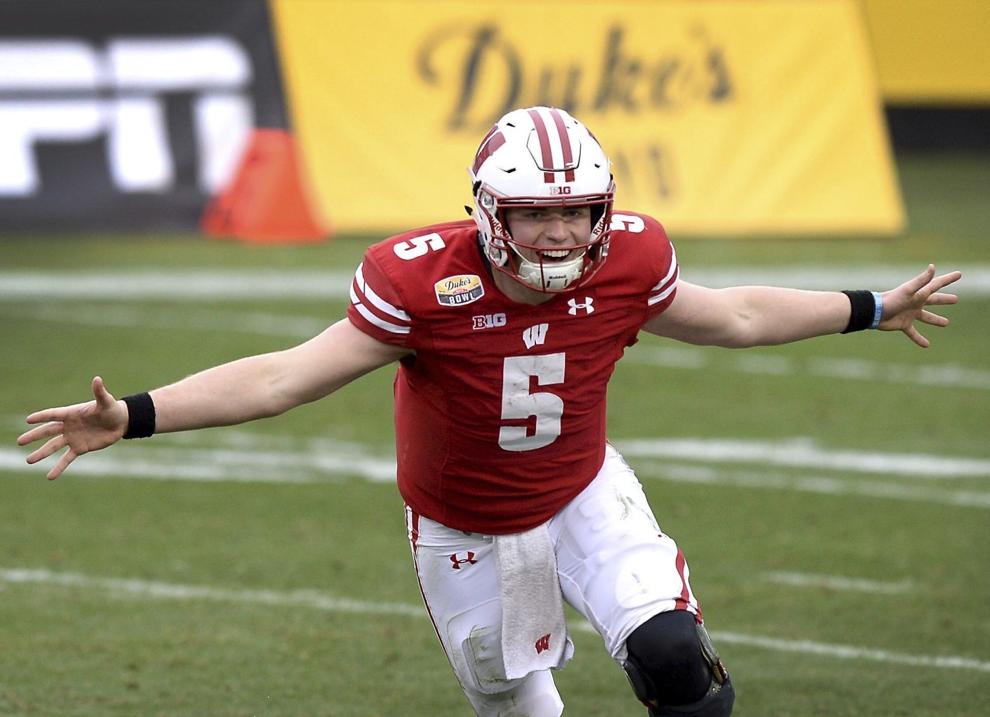 On the roster: Graham Mertz (RS Fr.), Danny Vanden Boom (RS Jr.), Chase Wolf (RS Soph.), Daniel Wright (Fr.)
Departing: Jack Coan (transfer)
Mertz (above) had moments of brilliance this season, but those were few and far between after his COVID-19 diagnosis and the outbreak the Badgers experienced. Not having his top two receivers certainly didn't help, but Mertz missed open receivers and had ball-placement issues against the tougher defenses he faced.
COVID-19 also wiped out the Badgers' typical offseason last year. How much the virus affects winter and spring workouts has yet to be seen, but Mertz and the offense would certainly benefit from getting spring practices in.
The backup quarterback spot is intriguing. It's likely Wolf's job, but outside of some designed QB runs, he didn't show much in his chances on the field this year. In three appearances, Wolf was 6 for 8 for 29 yards, a touchdown and two interceptions.
RUNNING BACK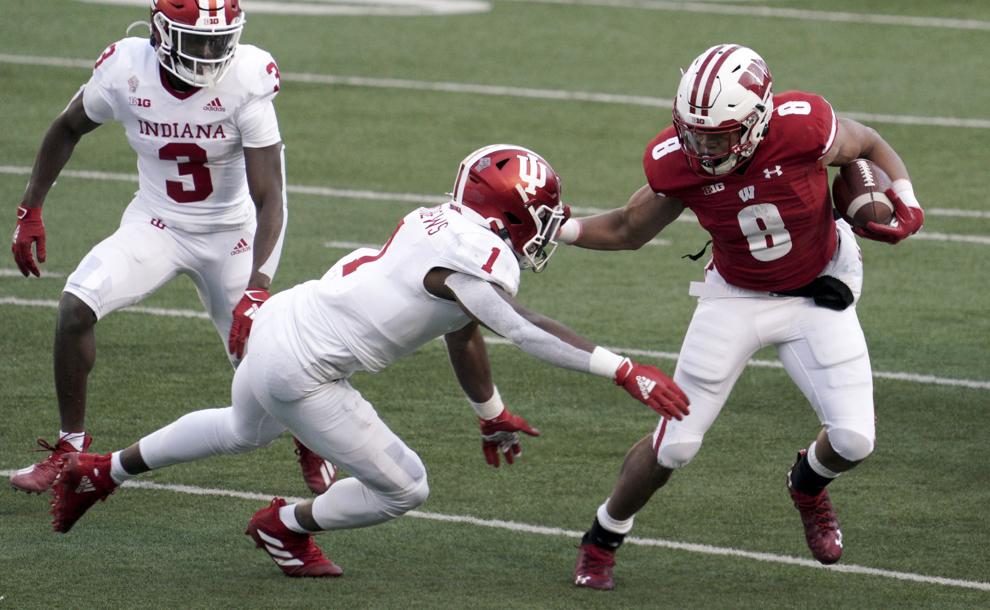 On the roster: Jalen Berger (Fr.), Julius Davis (RS Fr.), Garrett Groshek (RS Sr.), Isaac Guerendo (RS Soph.)
Incoming: Jackson Acker, Loyal Crawford, Antwan Roberts
Departing: Nakia Watson (transfer), possibly Groshek (graduation)
Projected starter: Berger
Berger emerged as the Badgers' top tailback this year, using an explosive running style to get through the holes quickly and challenge defenses. Two of his longest runs of the year were called back by holding penalties, but he led all backs in gains of 10 or more yards.
Berger (above) also contracted COVID-19 late in the year, which forced him out of the Iowa and Minnesota games. Groshek had the best day of his Badgers career against the Gophers, rushing for more than 150 yards and he remained a solid change-of-pace back. He must decide if he'll come back to the program for a sixth year.
If he doesn't, the Badgers will be thin on experience behind Berger, who only played five games this year. Davis and Guerendo each played in just one game in 2020. All three running backs in the Badgers' recruiting class are ranked as three-star players.
UW is rumored to be a front-runner to land Markese Stepp, a transfer tailback from USC. He'd add experience and a solid short-yardage option if he were to end up in Madison.
FULLBACKS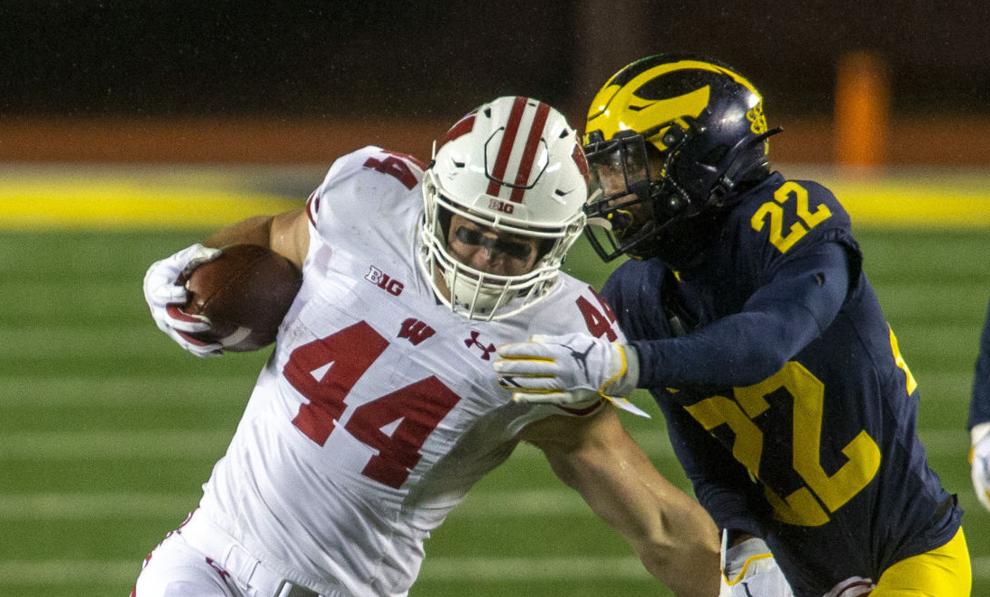 On the roster: John Chenal (Jr.), Quan Easterling (RS Fr.)
Departing: Mason Stokke (NFL)
Projected starter: Stokke or Chenal
Stokke became a go-to guy in the red zone for the Badgers this season, with three receiving TDs and one on the ground. He also split out and caught passes as a receiver when that unit was hit by injuries.
Chenal (above) should be able to handle the short-yardage running and blocking duties, but he hasn't shown the same versatility that Stokke had. Easterling didn't play in a game this season, but he'd be a playable reserve, especially in goal-line personnel.
It's also possible (read: likely) the Badgers move a player from another position to fullback heading into next season.
TIGHT END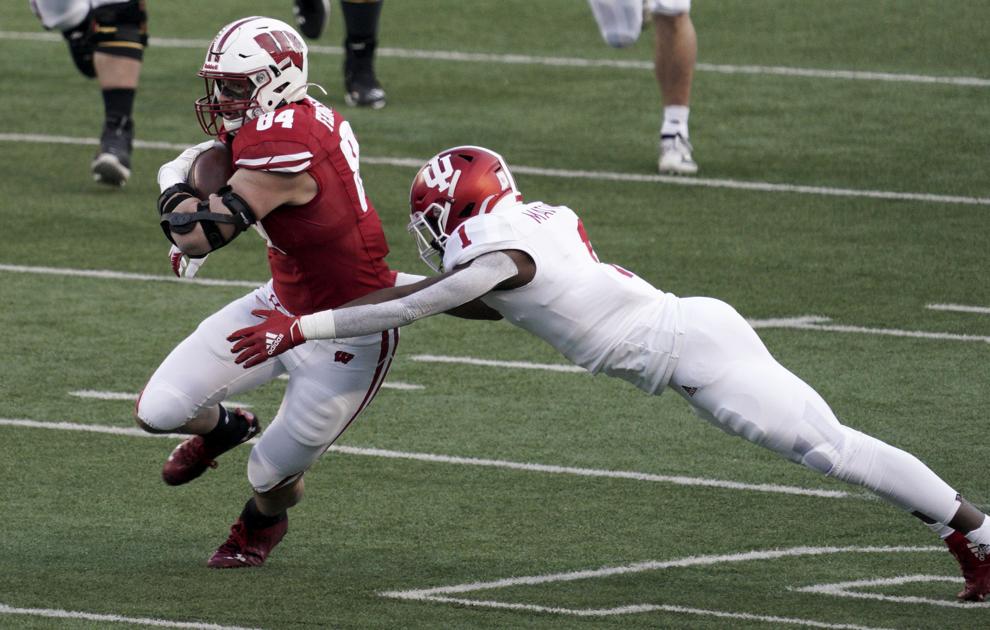 On the roster: Clay Cundiff (RS Fr.), Cole Dakovich (Fr.), Jack Eschenbach (RS Soph.), Jake Ferguson (RS. Jr.), Jaylan Franklin (RS Soph.), Cam Large (Fr.), Gabe Lloyd (RS Sr.), Hayden Rucci (RS Fr.)
Departing: Possibly Lloyd
Projected starter: Ferguson
Ferguson announced he would return for his senior season, which is a huge boost for the Badgers. Ferguson led the team in catches, receiving yards and touchdowns this season, and emerged as a leader of the young tight end group.
Bringing along another option at the position is crucial this offseason. Rucci and Eschenbach played the most as the No. 2 TE this season — Rucci is primarily a blocker at this point while Eschenbach had a few nice plays as a receiver. There's a lot of young talent in the room — Cundiff, Large, and Pugh were sought-after recruits — so getting them a full offseason would likely lead to more production behind Ferguson.
Franklin is an intriguing option to keep an eye on. Arguably the best athlete in the group, he made the switch to tight end last year after starting his UW career as an outside linebacker. Given an offseason to learn the position at a deeper level, he could be a mismatch for opposing linebackers and safeties.
WIDE RECEIVER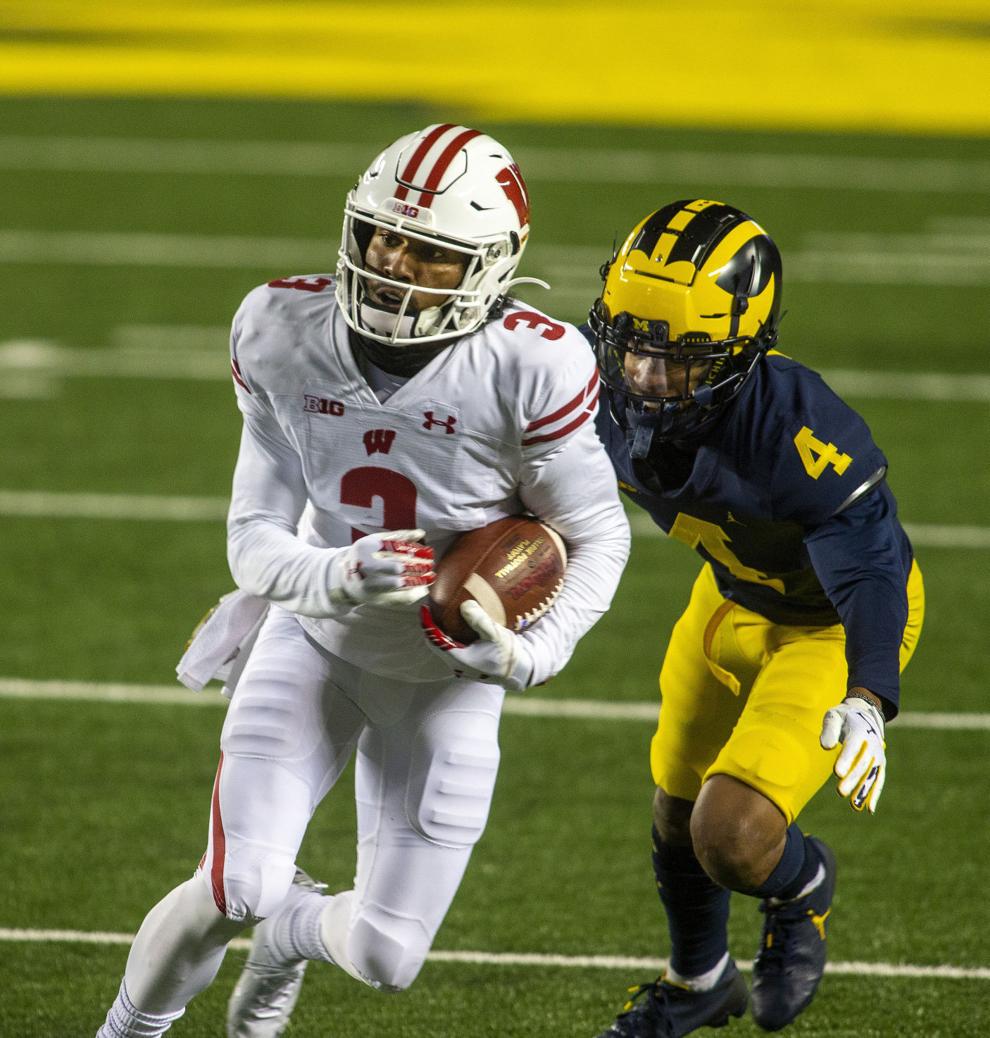 On the roster: A.J. Abbott (RS Soph.), Haakon Anderson (Fr.), Stephan Bracey (RS Fr.), Devin Chandler (Fr.), Danny Davis (Sr.), Jordan DiBenedetto (RS So.), Chimere Dike (Fr.), Jack Dunn (RS Sr.), Mike Gregoire (RS Soph.), Adam Krumholz (RS Sr.), Taj Mustapha (RS Soph.), Cooper Nelson (RS Fr.), Kendric Pryor (RS Sr.), Isaac Smith (Fr.)
Incoming: Markus Allen, Skyler Bell
Departing: Possibly Davis, Dunn and Krumholz
Projected starters: Davis, Pryor, Dike
Injuries depleted this group in 2020 and exposed the lack of readiness from the sophomore and junior classes.
Pryor (above) has already announced he'll return, but Davis has not yet made a public statement on coming back for another year. Dike became a starter with those two out, but had trouble consistently creating separation. He'll benefit from a real offseason as well, because even as an early enrollee last year he missed significant on-field reps with the cancellation of spring practices.
Allen and Bell are players who will "change the room," according to UW's director of player personnel Saeed Khalif, but the Badgers will need Bracey and Chandler to become more consistent threats next year.
If the Badgers dip into the transfer market again, expect them to try to find a receiver.
OFFENSIVE LINE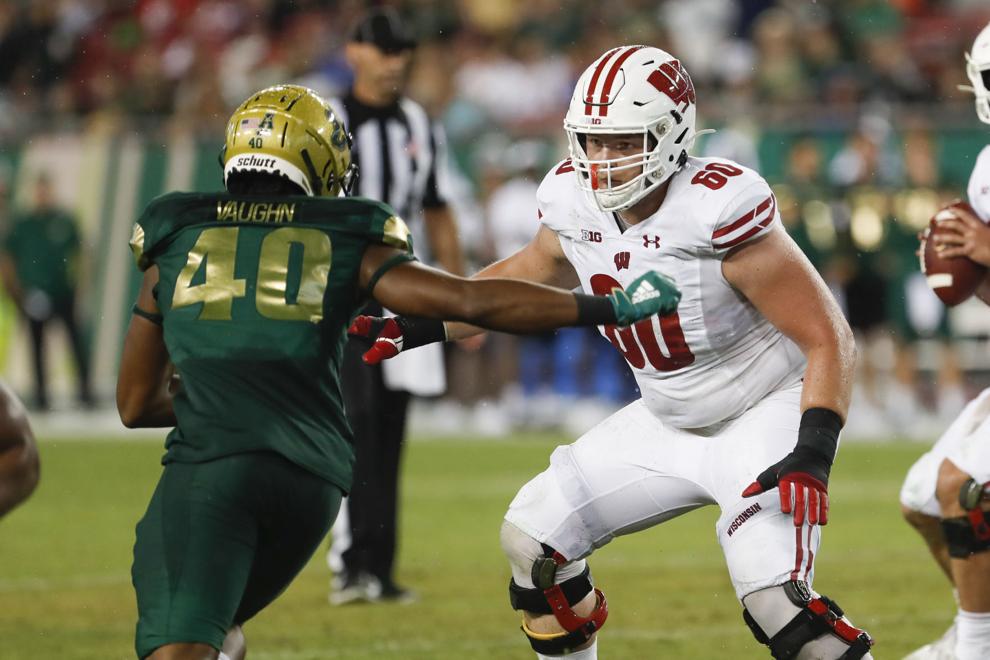 On the roster: Dylan Barrett (Fr.), Ben Barten (Fr.), Tyler Beach (RS Jr.), Tanor Bortolini (Fr.), Logan Brown (RS Fr.), Logan Bruss (RS Jr.), Jon Dietzen (RS Sr.), Michael Furtney (RS Soph.), Kerry Kodanko (Fr.), Kayden Lyles (RS Jr.), Jack Nelson (Fr.), Cormac Sampson (RS Soph.), Josh Seltzner (RS Jr.), Blake Smithback (RS Jr.), Sean Timmis (Fr.), Joe Tippman (RS Fr.), Cole Van Lanen (RS Sr.), Aaron Vopal (RS Jr.), Trey Wedig (Fr.),
Incoming: JP Benzschawel, Riley Mahlman, Nolan Rucci
Departing: Possibly Dietzen and Van Lanen
Projected starters (left to right): Brown, Seltzner, Lyles, Bruss, Beach
UW's offensive line will have as competitive of an offseason and preseason as any position group on the roster.
Outside of Bruss (above) at either right guard or right tackle, all of the spots might be up for grabs. Add in the fact that the past two recruiting classes have added standout talents like Nelson and Rucci, there will be battles across the board. Losing left tackle Cole Van Lanen, who's likely to make the jump to the NFL, will be a blow, but former five-star recruit Logan Brown played in all seven games this season, including a good showing in the second half of the Duke's Mayo Bowl against Wake Forest.
With a good amount of young talent, Rudolph could create a rotation at a number of spots to keep players fresh and keep from putting too much pressure on an inexperienced player.