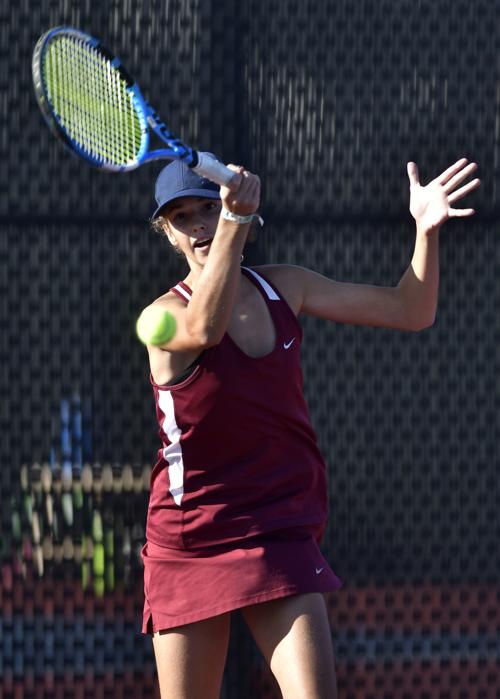 A total of 10 players from Kenosha County schools will hit the courts at Nielsen Tennis Stadium in Madison for the WIAA Division-1 State Girls Tennis Meet, scheduled for Thursday through Saturday.
In doubles, Tremper senior Olivia Valentine and junior Naomi Donkor received the No. 9 seed after capturing a sectional title in their No. 1 doubles draw.
Also for the Trojans, seniors Kara Clark and Bri Pacetti won the No. 2 doubles title at sectionals to qualify for state.
At singles, Indian Trail freshman Lainy Ristau placed fourth at No. 1 in sectionals to snag her first State Meet bid.
Central, meanwhile, didn't have anyone qualify automatically out of sectionals but received good news Friday night when the State Seeding Committee released its special qualifiers.
Sophomore Tristin Jantz got into the state singles field, while the teams of seniors Kenna Beth and Paige Wysiatko and junior Emily Wermeling and senior Janell Gillmore received doubles bids.
Here's a closer look at the matchups facing county players:
Singles
Ristau (25-5) faces a first-round match against Hudson senior Ella Diedrich (18-10) at 11:45 a.m. Thursday.
The winner advances to face either 14th-seeded Nicolet senior Miah Bohlen (13-4) or Fond du Lac freshman Melissa Petrinski (20-9) in a second-round match at 4:45 p.m. Thursday.
Jantz (20-6) opens against another special qualifier, Sauk Prairie sophomore Quinlyn Mack (13-8) at 10:30 a.m. Thursday.
The winner will play either 13th-seeded Eau Claire Memorial senior Haya Donin (27-4) or Kettle Moraine sophomore Faith Nosek (25-6) at 4 p.m. Thursday.
Third-round single matches begin at 10:30 a.m. Friday.
Doubles
The doubles field could possibly create an all-county matchup in the second round.
Valentine and Donkor (13-1) face a first-round match against a special qualifier in Hartland Arrowhead senior Meredith Maginot and junior Anna Long (27-4) at 1 p.m. Thursday.
In the adjacent bracket, Beth and Wysiatko (26-2) will play another special qualifier in Green Bay Southwest freshmen Allison Roever and Julia Tackmier (11-11) at 1 p.m. Thursday.
If Valentine and Donkor and Beth and Wysiatko each win their first-round matches, they would then face each other in the second round at 9 a.m. Friday with a trip to the third round — scheduled for 12:45 p.m. Friday — at stake.
Pacetti and Clark, meanwhile, enter state with a 10-2 record and have a tough first-round draw against the 10th-seeded Franklin duo of junior Sophia Dekker and sophomore Madelyn Dziubek (24-3) at 2:30 p.m. Thursday.
The winner advances to face either Stevens Point seniors Leah Olsen and Allison Rust (24-3) or Green Bay Notre Dame senior Caragan Olles and junior Rachel Van Hefty (13-8) in the second round at 10:15 a.m. Friday.
Division-2
No players from county teams qualified in the Division-2 singles or doubles draw, but Racine Prairie senior Andrea Palmen — a Kenosha resident — got into the doubles draw as a special qualifier along with sophomore partner Molly Cookman.
Palmen and Cookman (13-8) will face Ashland juniors Mara Pierce and Kalli Mikkonen in a first-round match at 7:30 p.m. Thursday.
Be the first to know
Get local news delivered to your inbox!