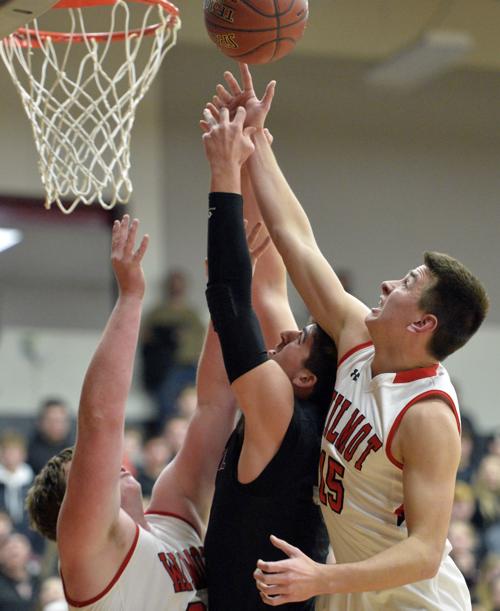 A pair of county rivalry doubleheaders highlights tonight's high school basketball action.
The Bradford boys and girls will play at Tremper in a Southeast Conference doubleheader, while Central will host Wilmot in a Southern Lakes Conference doubleheader in Paddock Lake.
Both girls games begin at 5:30 p.m., while both boys games are scheduled to tip off at 7 p.m.
The Bradford-Tremper boys game will be streamed on WGTD Live on Facebook at Facebook.com/WGTDFM and will also be broadcast live on WLIP-AM 1050 and wlip.com.
Here's a closer look at each game:
Wilmot-Central boys
This is a matchup between teams that have been on a tear lately.
The Falcons (11-1 overall, 6-0 SLC) have won five straight since their only loss of the season, a 54-53 defeat to Indian Trail on Dec. 27 in the Doctors of PT Holiday Classic. The Panthers, meanwhile, have won three straight and six of seven to reach 11-3 overall and 5-2 in the SLC.
Central leads the conference, while Wilmot is in third place. Elkhorn (6-1 SLC) separates the two, a half-game behind the Falcons and a full game ahead of the Panthers going into tonight.
Central, ranked fifth in Division-2 in the latest WisSports.net state coaches poll, ran its winning streak over Wilmot to five games with an 80-52 victory in Wilmot on Dec. 20. Dylan Anderson and Jaeden Zackery scored 23 and 22 points, respectively, to lead the Falcons.
Zackery is tops in the SLC at 21.4 points per game, while Anderson is tied for second at 12.9. Wilmot's Kevin Sandman ranks sixth in the conference with 11.4 points per game.
Bradford-Tremper boys
Unlike the Wilmot and Central boys, this game features a pair of teams in dire need of a win.
Bradford (4-10 overall, 2-5 SEC) has dropped five straight conference games after a 2-0 start in SEC play and has lost eight of nine overall. Tremper (5-9, 0-8) is still seeking its first SEC win and has lost four in a row following a four-game winning streak around the holidays.
In seventh and eighth place, respectively, the Red Devils and Trojans occupy the bottom two spots in the conference.
The teams did play an exciting game, however, in their first matchup of the season at Bradford Fieldhouse on Dec. 11, as the Red Devils withstood a rally for a 79-76 win and their third straight victory in the series.
Max Glass poured in a game-high 29 points for Bradford in that game, while Jake Gross scored 22 for Tremper.
Glass' 14.8 points per game ranks sixth in the SEC.
Like its boys team, the Wilmot girls team has been on a roll lately.
The Panthers have won five straight and seven of nine to reach 9-6 overall and 6-2 in the SLC. They're tied for second place in the conference with Lake Geneva Badger, two games back of 8-0 Waterford.
The Falcons (2-14 overall) are 1-7 in conference play, a game ahead of 0-8 Burlington for last place.
Wilmot has dominated the rivalry in recent years, winning 16 consecutive games against Central. One of those was a 67-35 decision at Wilmot on Dec. 20.
The Panthers feature the SLC's top 3-point shooter in Julia Hickey, whose 39 makes from behind the arc leads the conference. She also ranks sixth in the SLC at 11.1 points per game.
The Red Devils snapped their own lengthy losing streak to the Trojans, one that spanned 15 games, with a two-game sweep last season.
Tremper got back into the win column earlier this season, though, with a 65-50 victory on Dec. 11 at Bradford Fieldhouse.
The Trojans (8-7 overall, 4-4 SEC) are alone in fifth place in the conference, while the Red Devils (4-11, 1-6) are tied for sixth.
Bradford's Sydney Strelow is second in the SEC in scoring (20.4 points per game), while Tremper's Ayanna Ester is fifth (14.7).
Coming off a win over Greendale Martin Luther on Tuesday night that gave it sole possession of first place in the Metro Classic Conference, the Shoreland Lutheran girls team has another huge conference game when it hosts Racine Lutheran at 5:30 p.m. tonight.
The Pacers (14-1 overall) have won eight in a row to reach 9-1 in the conference and a hold a one-game lead over Martin Luther. Racine Lutheran (13-2 overall) is in third place at 7-2 in the conference.
Shoreland was ranked seventh in Division-3 in the latest WisSports.net state coaches poll, while Racine Lutheran was ranked eighth in Division-4. The Crusaders handed the Pacers their only loss of the season, an 83-64 decision at Racine Lutheran on Dec. 8.
This game also features two of the most prolific girls scorers in both the Metro Classic and the state, as Shoreland's Chelby Koker leads the conference at 30.9 points per game, while Racine Lutheran's Caroline Strande is second at 28.7.
They rank third and fourth in the state, respectively. Koker has committed to NCAA Division I Northern Illinois, while Strande has committed to Division I Bradley.
In the teams' first meeting, Strande scored 36 points and Koker had 35.
The girls game at Shoreland will be followed by the game between the Shoreland and Racine Lutheran boys at 7 p.m. The Pacers are 4-9 overall and 1-9 in the Metro Classic, while the Crusaders are 6-7 and 3-5.
For a full schedule of tonight's local prep and college action, see the Scoreboard, Page C4.