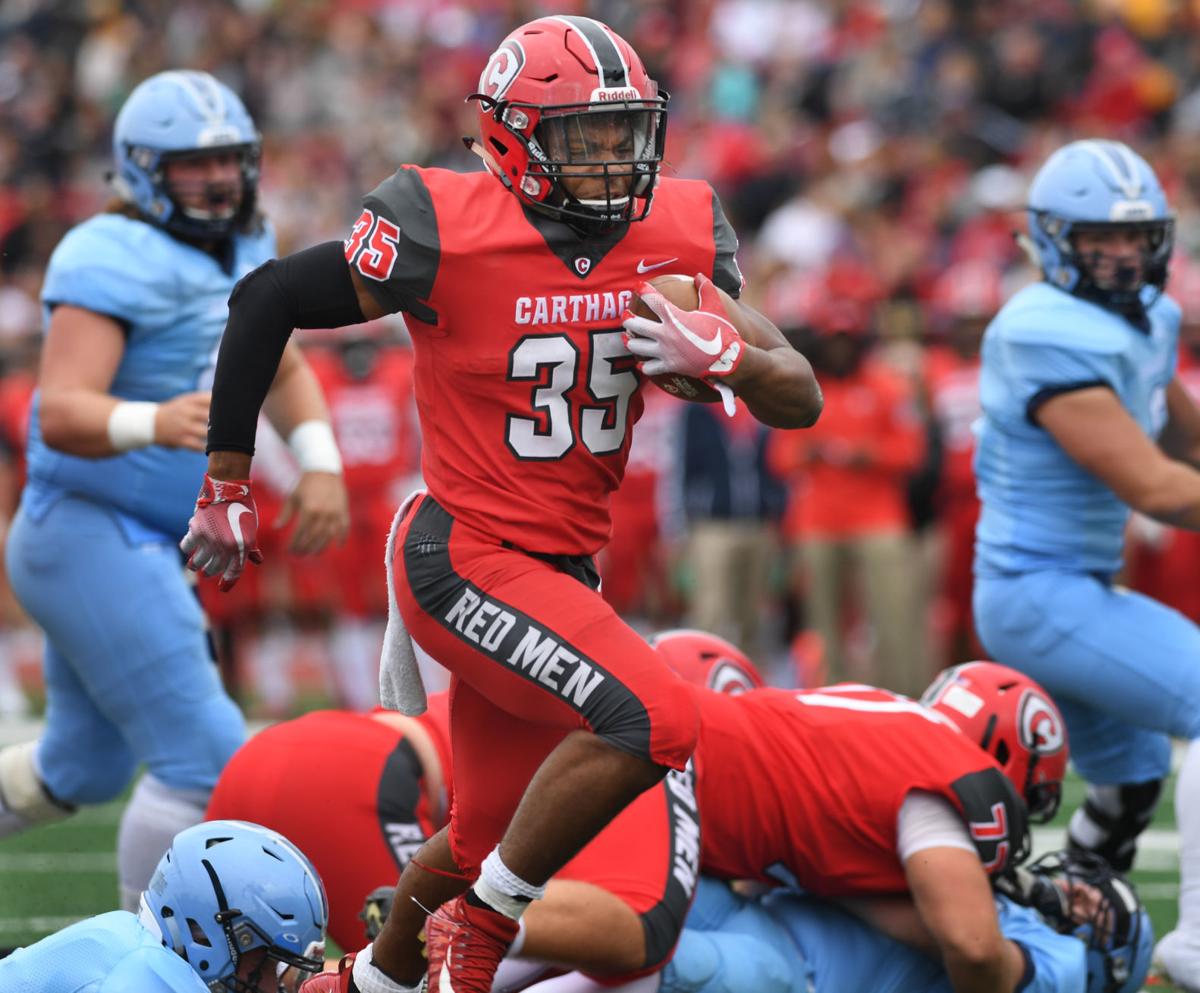 If anyone expects the Carthage football team to just go through the motions in its home finale today, they're sadly mistaken.
There's still too much to play for.
Carthage enters today's 1 p.m. kickoff at Art Keller Field against Wheaton looking to knock off the nation's 24th-ranked NCAA Division III squad. The Red Men enter play at 3-5 overall and 3-4 in the College Conference of Illinois and Wisconsin.
The Thunder are 6-2 overall and 5-2 in the CCIW, good for a third-place tie with Millikin and Washington (Mo.). Illinois Wesleyan leads the overall standings at 7-0, followed by North Central at 6-1.
Throw in "Senior Day" festivities, and the Red Men are a motivated bunch, Carthage coach Dustin Hass said.
"(Practice) has been good," he said. "The kids have been fired up. They've been excited. They've practiced hard, practiced well. They're ready to go."
For the seniors playing on the home field for the final time, today is a big day in their careers, Hass said.
"There's always emotions that go into it," he said.
"I don't think you fully realize it's your last one until they don't let you put the pads on any more. But they'll be juiced up, ready to go, and it will be a good day."
Stingy defense
Hass has been impressed with the Thunder's defense, which enters today allowing just 10.9 points a game.
"They're really good on defense," he said.
"They have great team speed, but they're really fast on defense. They have a couple Division I transfer defensive linemen who do a great job of getting off blocks and getting after people in the backfield.
"The biggest challenge is going to be moving the ball, establishing the run and getting some rhythm on offense."
If Carthage hopes to answer Wheaton's team speed, Hass said his team will have to be sure in its assignments and technique.
"Our running backs have to be patient, allow the blocks to take place and then hit it downhill," he said.
Balanced attack
Wheaton's offense is led by senior quarterback Curtis McWilliams, who has completed 129-of-194 passing attempts for 1,838 yards, 19 touchdowns and just six interceptions.
McWilliams has the potential to be a handful.
"He's a good quarterback," Hass said.
"This is his second year starting for them. He does a good job. They do a great job running the football and then taking their shots play-action wise. They have a good offensive line and a couple good wideouts.
"They do a good job of setting up the run and hitting those shots when they have a chance."
Senior running back Jacob Cretin leads the rushing attack (87 carries, 613 yards, three touchdowns), while junior wide receiver Phillip Nichols leads the receiving corps (51 catches, 719 yards, two touchdowns).
For Carthage, senior running back Lafayette McGary is nearing the 1,000-yard plateau with 186 carries for 921 yards and eight touchdowns. Sophomore Billy Dury has thrown for 1,390 yards and 10 touchdowns, while the top receiver is Evan French, who has 49 catches for 748 yards and three touchdowns.
Trost leading tackler
The Carthage defense continues to be anchored by senior linebacker Emmet Trost, who leads the way with 70 tackles — including nine for a loss — two sacks and an interception.
Trost has been a steady force on defense.
"He's having a great year," Hass said. "He's a kid who has worked really hard, played a lot of football for us. He's doing a great job leading the team, and you can see it on the field."
Carthage finishes its season on the road a week from today at 1 p.m. against Augustana in Rock Island, Ill.
Be the first to know
Get local news delivered to your inbox!