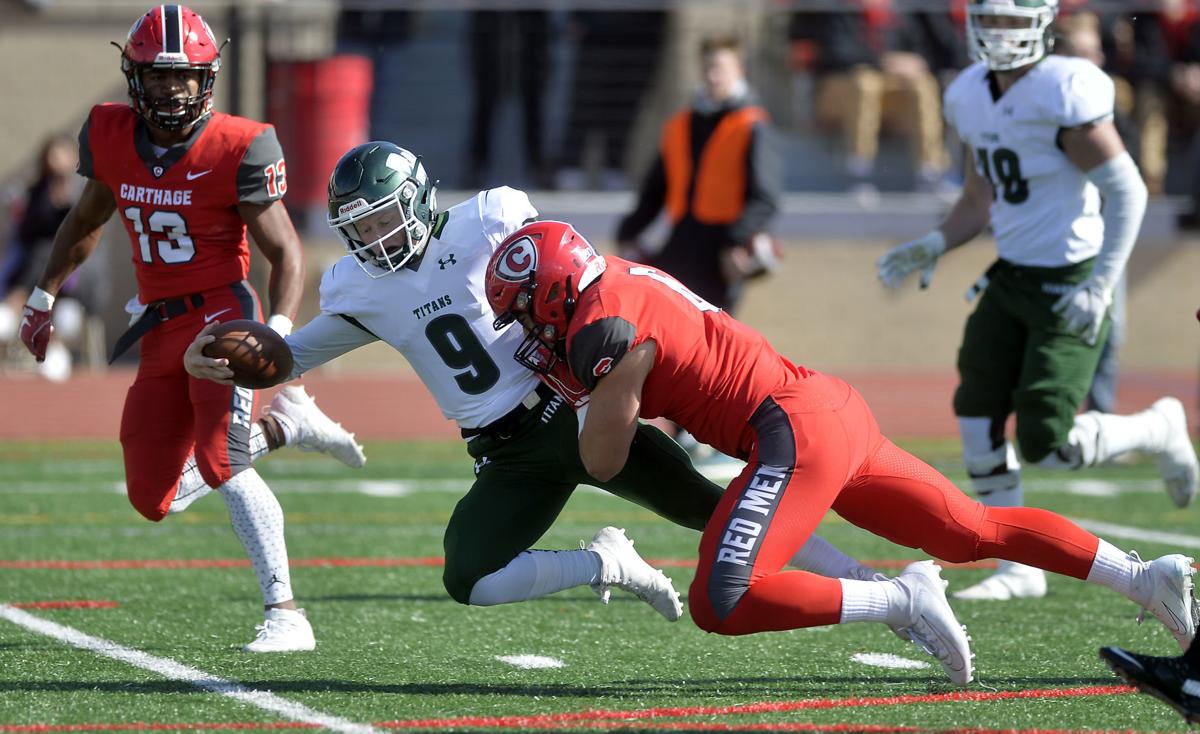 Everything about this week has been outside of the norm for the Carthage football team.
But at the end of the day, the end goal remains the same tonight when the Red Men take on Millikin in a College Conference of Illinois and Wisconsin game.
The 6 p.m. matchup at Frank M. Lindsay Field marks two distinct changes from the season's first five weeks — a longer-than-normal road trip of about four hours and a game under the lights instead of a noon or 1 p.m. start.
While the routine changes, however, the expectations remain the same, Carthage coach Dustin Hass said.
"Anytime you sit on the bus for four hours and have to go play a game, there's a bit of a concern with a sluggish start," he said. "But we're not the only ones to have to do that, so we'll make the best of it."
Playing a night game offers another new dimension to the work week, Hass said.
"You're on the bus, and everybody else is kicking off, and you have to wait," he said. "Internally, your clock is a little different."
On the field, the Red Men (2-3, 2-2 CCIW) are facing a Millikin team coming off a 30-7 win last week over Carroll that improved it to 3-2 and 2-2 in conference play.
Both Carthage and Millikin are very similar statistically as well. As a team, the Big Blue average 363 total yards of offense and allow their opponents 337 a game, while Carthage tallies 334 a game and allows 325.
"They're a very similar team," Hass said. "They graduated some key players from last year just like we did and kind of are going through that developmental phase (as well)."
Millikin's offense is led by quarterback Cal Pohrte, who has thrown for 1,180 yards and seven touchdowns — but he's also thrown six interceptions.
Hass said he's hopeful his defense can take advantage of any potential miscues by Pohrte.
"We would sure love to," he said. "I wouldn't stay he's a risk taker. He's been put in some situations where he's gotten a couple tipped balls that led to picks. He's a kid who runs their offense well, but that's part of our game plan.
"We have to make him beat us through the air and stop the run. We want to put the game on his shoulders, force some throws and take advantage of it."
Pohrte's favorite target is 6-foot-4 senior Jordan Smith, who comes into tonight's game with 25 catches for 539 yards and four touchdowns.
"He's a big target," Hass said. "He runs well and just makes plays on the football. He's a guy who goes up and gets it. He uses his size advantage. He's faster than the kid (Jack Healy) from Wesleyan last week. He still has that bigger body and is a little more of a deep threat. He's going to stretch the field."
Hass added the plan against Smith is a bit different than the one he used against Healy.
"We're going to double him a little bit more, play one guy under and one go over the top and force them to look another way," Hass said. "Hopefully, that gives our D-line time to get home and create some havoc."
Millikin's rushing attack is anchored by Ladavion Severado, who has rushed 78 times for 416 yards and four touchdowns.
Hass said in watching the game film from last week's 31-7 loss to Illinois Wesleyan, he came to a simple conclusion as to what happened.
In the end, it was just another step in the process.
"Last week was a combination of things," Hass said. "We didn't execute in really any phase like we're capable of. There were some distractions (with homecoming), and I think they tried to do a little too much. We had a lot of mental mistakes that we didn't have happen by guys who have played five games of football for us.
"They want to play the perfect game. We did too much of that, and against a good football team, you can't do that."
Tonight's game moves the Red Men past the halfway mark, which is significant, Hass said, for a group that continues to learn how to compete at the college level.
And with so many differences in the regular schedule and the challenge of a quality opponent, coming away with a victory will only aid in that development.
"It's a big game, (but) we don't like to put any more importance on one game than another," Hass said. "But we have a good chance to win on the road at their place. If we go out and do what we are supposed to do, we should win the game.
"We want to keep those kids growing up, get some of that momentum back and finish down the stretch with some good, competitive football."