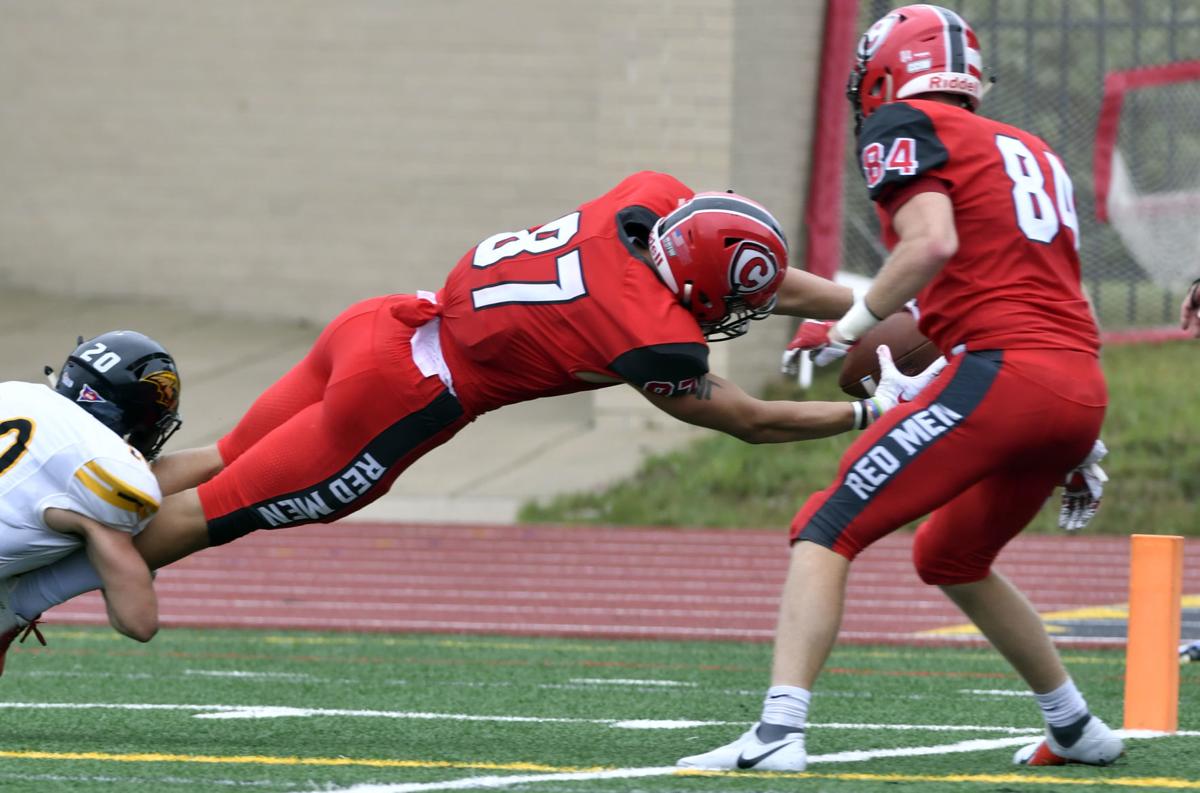 Just four minutes into Saturday's College Conference of Illinois and Wisconsin matchup, it looked like the Carthage and Elmhurst football teams may engage in an old-fashioned shootout.
In the end, that mostly came to fruition — although it was Carthage that had several more weapons at its disposal.
Carthage broke a 7-7 tie with 31 unanswered points to cruise to a 38-14 victory to improve to 2-2 overall and 2-1 in conference play.
The theme all week was for the Red Men to finish drives and to continue to play sound defensive football.
"They played well, they executed a lot of things and played extremely hard," Carthage coach Dustin Hass said.
"They put it all together. I'd like to see us finish a little bit with some of those younger guys who got an opportunity on some of those later drives, but we executed on offense, played hard and did our job on defense. It was a good team win."
Six different players accounted for points Saturday, beginning with Bret Patton, who caught an 18-yard touchdown pass from Colton Klein (23-of-32, 315 yards) a little more than four minutes into the contest.
Elmhurst needed two minutes to answer and knot things up at 7-7 before Carthage began to roll.
Dana Fontenot (22 carries, 120 yards) scored on a 1-yard run, followed by a 2-yard run by Payden Lingle (10 carries, 100 yards) and a 30-yard touchdown pass from Klein to Jovone Stricker (11 receptions, 196 yards).
Stricker was lights out all afternoon, Hass said.
"(He) made a ton of plays out there," Hass said. "He just played really well. We saw on film that (Elmhurst) was giving up some throws, and Colton stayed patient.
"At first a bunch of those were short, little 5-yard hitch throws that Jovone turned into some bigger gains, and that opened up some bigger stuff for them."
While the passing game was clicking, the Red Men also had things working on the ground, led by Fontenot, who punished several would-be Elmhurst tacklers throughout the game, Hass said.
"Our offense has to be set up through the run first," he said. "The (run-pass option) game doesn't work if you're not running the ball. I think the offensive line kind of took it upon themselves to accept the challenge, and they executed. They blocked really well all day long to open up some big holes.
"Dana runs hard. He runs behind his pads. He ran quite a few guys over. Those runs in the first quarter are three and four yards, and by the time the third and fourth quarter hit, they were five, six, seven yards, and that's exactly what we needed to have happen."
Lingle had been sidelined with an elbow injury early in the season, but definitely took advantage of his opportunity to give the Red Men another weapon at their disposal.
"He's just kind of getting back up to speed," Hass said. "... He got some carries early on and took advantage of it."
After Carthage kicker David Collins booted a 37-yard field goal, the Red Men closed out their scoring on a 5-yard pass from Klein to Patrick Murphy.
Elmhurst added a touchdown early in the fourth quarter.
Indian Trail graduate Jacob Simar led the defensive effort with eight tackles, including 21/2 for a loss and 11/2 sacks.
"He played really well," Hass said. "I know that coach (Mike) Muehling, the d-line coach really challenged him this week, and he responded.
"... He was in the backfield all day long, did a phenomenal job getting off blocks and disrupted their running and passing."
Jeremiah Baker, Josh Weyand and Joe Montoya each added five tackles for the Red Men.
Carthage dominated the final team statistics, as it piled up 554 total yards (228 rushing, 326 passing), compared to 254 for Elmhurst (88 rushing, 166 passing).
Be the first to know
Get local news delivered to your inbox!