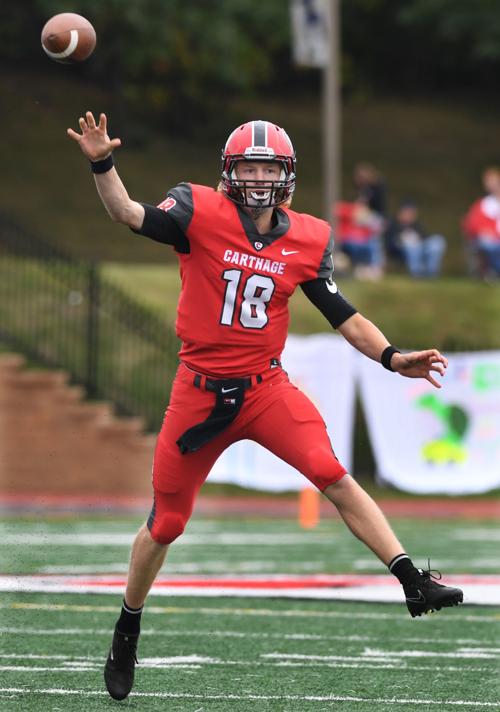 The Carthage football team's recent history with Illinois Wesleyan has not been kind.
But today is the day the Red Men hope to turn that around.
Carthage welcomes the Titans to Art Keller Field at 1 p.m. for its annual Homecoming game in a battle of College Conference of Illinois and Wisconsin foes that are both 2-2 overall and 2-1 in conference play.
The Red Men fell in a wild 40-34 overtime affair last year, its fourth straight loss to the Spartans, with the previous three by five points or less. Carthage's last victory over Wesleyan came in a 20-10 decision in 2014.
"We owe them a couple," Carthage coach Dustin Hass said Friday. "I think every game we've had the last five years has come down to the fourth quarter. We match up well against them. It's two teams that play super hard, that are fundamentally sound and have just gone to battle.
"It seems like the last four or five years, they've kind of had the things go their way when they've needed to and have come out on top. We'd certainly love to flip that script (today)."
Hass said motivation for his team has not been difficult to find during practice sessions this week.
The players and other coaches certainly understand the importance of today's matchup, he said.
"We talked about the things that have happened and that we just haven't made the plays we needed to make when it's come down to winning time," Hass said. "Every year is different and every team is different. We haven't dwelled a whole lot on that kind of stuff.
"They haven't needed a whole lot of motivation. They've been juiced up and fired up. We've had a good week of practice. They're ready to play a good football team at home."
Wesleyan enters today's game on the heels of a 42-14 win over Carroll last week. The Spartans racked up 539 total yards of offense, led by running back Hamid Bullie, who rushed 15 times for 156 yards.
Other leaders in that game were receiver Bryce Dooley, who had six catches for 99 yards, and quarterback Brandon Bauer, who threw for 261 yards.
Needless to say, Wesleyan has a lot of weapons at its disposal, Hass said.
"They're a very well-balanced offense," he said. "They do a good job of mixing it up (with the run and the pass). The Bullie kid is a transfer from Virginia State who has come in and fit in well. He's a quick kid who can make some people miss. And they have some weapons on the edge.
"... Their quarterback makes it go. He's an athletic kid who isn't afraid to rip it in there. He'll take some chances. He's a competitor who throws it really well. He can make you miss with his feet. Up front, they're pretty big on the offensive line. They do a good job of doing what they do."
Wesleyan held Carroll to a minus 5 yards rushing — and with Carthage's desire to run the football, something has to give today.
The Red Men are averaging 141.8 yards rushing per game and are led by Dana Fontenot, who has 76 carries for 344 yards and three touchdowns.
"We're going to have to establish the run," Hass said. "They have a good d-line and a linebacking corps that's going to be tough. But we definitely feel like there's probably some more things open in the air than in year's past.
"They graduated an all-league safety from last year and a couple really good corners, so they're a little bit more inexperienced back there. But still, our offense starts with the run. We have to run to open the pass. We have to get Dana rolling. We have to stay on blocks, execute up front and get into that rhythm."
In watching the film from his team's 38-14 win over Elmhurst last week, Hass said he was pleased to see another step forward in the overall maturation process.
That trend has continued through four games, something he hopes to keep building on each week, Hass said.
"It was good to see guys execute at a little higher level," he said. "We've been close as an offense, but really hadn't played our game yet. ... (Last week), we were a lot closer to that. We executed a lot better, and that resulted in a great day offensively."
Wheaton remains unbeaten at 3-0 and on top of the CCIW standings, followed by a traffic jam of teams at 2-1 — Carthage, Wesleyan, Augustana, North Central and Washington (Mo.).
Getting a victory today as the season nears the halfway point would be significant on many levels, Hass said.
"We feel like every game is important," he said. "But this one does kind of feel like it's more of a pivotal game just because of where we're at in the season and the quality of opponent we're playing.
"You'll feel good about the second half of the season if we're able to get one here. The season certainly isn't over if we don't by any means, but this one is a key game for our guys to come out and see that they have the ability to beat a good opponent."