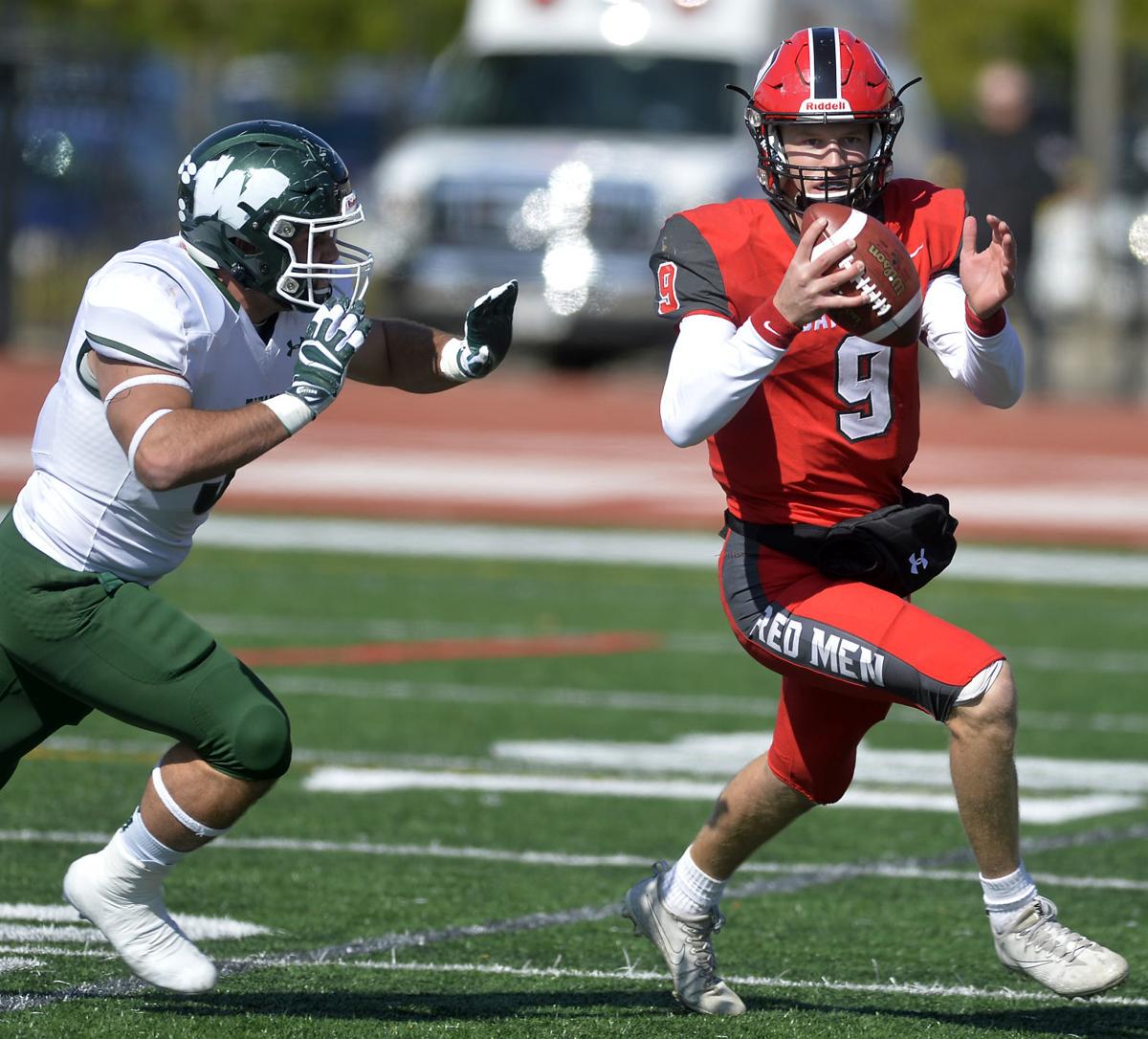 There isn't a playoff berth or a College Conference of Illinois and Wisconsin title at stake today when the Carthage football team hosts Augustana.
But that certainly doesn't mean the game doesn't have plenty on the line.
The Red Men enter the 1 p.m. matchup at Art Keller Field with several goals on their to-do list.
A victory over the Vikings will push Carthage to .500 for the season and give it five CCIW victories — which has only happened three previous times since 1982 — and it's also Senior Day, a chance to send those players out on a high note.
So yes, there's plenty to play for.
"They're a good football team (that's) coming in," Carthage coach Dustin Hass said. "They have a lot of seniors. We have a bit of a younger football team. Obviously, it's a big day for our kids, for our seniors.
"A lot of those guys have been playing football since they were 7, 8, 9, 10 years old, and they've gone through 13, 15, 16 years of playing football. This is the culmination, the last game. I think a lot of it is managing their expectations, managing their emotions, keeping the team focused that it's still a football game that we have to go win."
Hass added that he expects the 20 seniors on the roster to have some extra pre-game jitters, but that doesn't change the preparation that's been in place all week.
There's still business to attend to.
"We approach it the same," he said. "We've talked to the kids all week that it is special because it's their last game. But at the end of the day, it's still a football game that they have to prepare the same way and execute the same way if they want to be successful."
Augustana (5-4, 4-4) has outscored its opponents, 31.8-19.3, through nine games. The Vkings' offense is led by senior running back Bobby Jarosz (180 carries, 928 yards), senior quarterback Zachary Fuller (1,669 yards passing, 17 touchdowns) and senior receiver Tom Dolis (28 catches, 550 yards, seven touchdowns).
The Vikings rank third in total offense behind North Central and Wheaton. Jarosz is second in rushing yards to only North Central's Ethan Greenfield.
"Offensively, they're very tough," Hass said. "They run the ball very well. They have a senior quarterback that throws it well. They're very balanced offensively. We're going to have to do a good job up front stopping the run and getting after the passer a little bit."
Augustana appears determined to slow down the opponent's rushing attack, Hass said, and that's been a fairly successful venture as well, as the Vikings have allowed 93.3 yards on the ground per game.
But that doesn't necessarily change the Red Men's focus, as Hass said he still wants to move the ball on the ground when possible.
Carthage junior quarterback Colton Klein is making his return to the lineup after he tore ligaments in his foot Oct. 19 against Millikin.
"We have to be able to throw it and throw it well, which is always tough in November when it's cold out," Hass said. "That's what they're going to do, so we have to take advantage of what we do.
"... Our offense is all based on what they give you, and it all looks the same. If they're going to stack the box and keep those guys in there, we'll throw it. If they're going to bail out, we'll hand it off. It doesn't change a whole lot of what we do. We might just throw it more than we have in the past."
Hass reiterated the importance on many levels of today's game, which could be used as a springboard to both the offseason and 2020.
"It's a huge game for a lot of reasons," he said.
Today's game will be broadcast live on WLIP-AM 1050 and also streamed at www.carthage.edu. ... The Red Men won last year's game, 38-9, and are 4-6 against Augustana the last 10 years. ... On offense, Klein's toughness and willingness to return in the finale has been impressive, Hass said. ... "What it says more about him is him as a leader and as a teammate," Hass said. "He's going to go do what he thinks is best for the team and fight through some pain to go out there with his guys." ... On defense, Hass is looking for a big game from senior Josh Weyand, an Indian Trail graduate, who also is coming back from an injury he suffered Oct. 12 against Illinois Wesleyan. ... "He's a little bit banged up, but he's going to play," Hass said. "I think he'll have a good game for his last game." ... Senior kicker David Collins is another returnee from the injury list after he missed the last two games because of a concussion.
Be the first to know
Get local news delivered to your inbox!