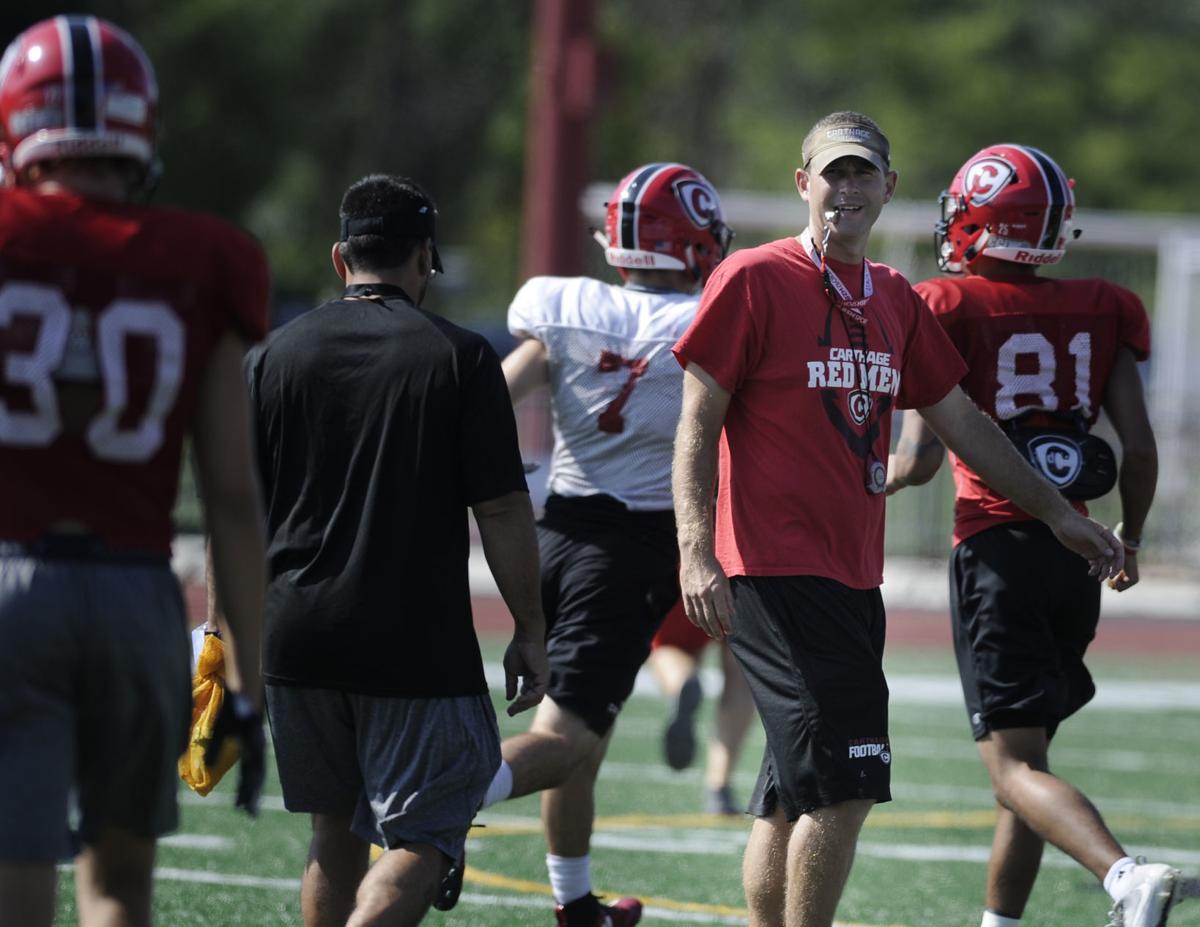 An early bye week gave Carthage football coach Dustin Hass and his staff a little more time to digest a one-point loss to UW-Oshkosh in the season opener.
And as they looked at the film, there was plenty to like.
But as always, there also was enough things to clean up — and today, the Red Men get their chance to put into action in front of the home fans for the first time in 2019.
Carthage hosts Carroll in a noon kickoff at Art Keller Field. The Red Men blanked the Pioneers, 31-0, last year.
Hass said he felt a lot of what the 20-19 loss to Oshkosh came down to simply was a lack of overall playing experience in key moments by his team, which features a number of new starters this season.
"Our kids played with great effort," Hass said. "They played well. We watched the film, and we kind of shot ourselves in the foot a bit at some critical times, especially defensively. Some of the big-hitting plays they had in some critical situations were based on a couple missed assignments by our guys.
"A lot of it had to do with guys playing in their first-ever collegiate game or starting their first-ever collegiate game. A lot of that was up front on the offensive line. Their d-line kind of got after us a little bit. It was a good learning experience."
The Red Men put the time off between Weeks 1 and 2 to good use, Hass said.
"We had some really good practices last week," he said.
"We had some guys that you could really see took that step of being able to understand what game speed really is. You could see it with the intensity they practiced with. We got better."
Pioneers put up points
Carroll, which also was idle last week, enters today's contest at 1-0 after it prevailed in a 44-34 shootout over Lakeland in its opener.
The Pioneers racked up 454 total yards in the victory, including 296 passing from quarterback Michael Johnson, a converted wide receiver.
Other offensive leaders for Carroll were Isaac Allen (103 yards rushing), Alex Kujawa (eight catches, 112 yards receiving), David Meza (three catches, 92 yards) and Tyler Elmer (three catches, 72 yards).
"They're an explosive offense," Hass said. "They've been an explosive offense for a while. Coach (Tony) Aker does a really good job with his schemes up there. He dictates to the strengths that they have.
"(Johnson) is a good athlete, a kid who throws it well. They have a receiver (Kujawa) who does a lot of good things, and they're tight end is a really good player. They do a good job of getting the ball in those guys' hands as much as possible. They scored (44) points, and that's never easy to do."
Different looks
Defensively, Carroll allowed 553 total yards to Lakeland, including 370 on the ground.
The Pioneers likely will throw some different looks at Carthage in an attempt to slow down the Red Men, Hass said.
"They'll do some four-down sets and mix in some three-down as well," he said. "They started off in three-down against Lakeland, gave up some points early and switched to their four-down stuff and shut them down a little bit, in the second half especially.
"I imagine they'll come out in their four-down stuff, but they're never afraid to mix it up."
While the opener gave many players on the roster their first taste of college football, today will provide another new experience — the first time they get to play on the home turf.
There's always a little more excitement surrounding the home opener, Hass said, and he expects the same thing today.
"It's awesome, especially for our young guys," he said.
"They get to play in a college game at home and see that kind of atmosphere. ... You always get a turnout of fans in the home opener. It should be an exciting atmosphere."