That's because the unrestricted free-agent tight end is headed to the Chicago Bears after signing a one-year deal with the Packers' NFC North division rivals Thursday. A source confirmed Tonyan's departure and that he is indeed headed to the Windy City.
Tonyan becomes the third Packers free agent to sign elsewhere, joining wide receiver Allen Lazard (who signed a four-year, $44 million deal with the Jets) and defensive tackle Jarran Reed (who signed a two-year, $10.8 million deal with the Seattle Seahawks).
Tonyan's departure leaves a troubling void at tight end, where another of Rodgers' favorites, 38-year-old veteran Marcedes Lewis, is also a free agent and seems likely to join Rodgers with the Jets — if and when a trade is actually consummated.
As of now, the Packers' tight end depth chart consists of Josiah Deguara, who played mostly as a fullback last season; Tyler Davis, who was re-signed Wednesday after the team didn't make him a qualifying offer as a restricted free agent; and ex-practice squadders Nick Guggemos and Austin Allen.
The Packers, who currently hold the No. 15 pick in the first round and the No. 45 overall pick in the second round of next month's NFL Draft, may take a tight end early to fill the void. The team tried to acquire now ex-Las Vegas Raiders tight end Darren Waller at last season's trade deadline but couldn't get the deal done.
Waller was traded earlier this week to the New York Giants in exchange for a third-round pick.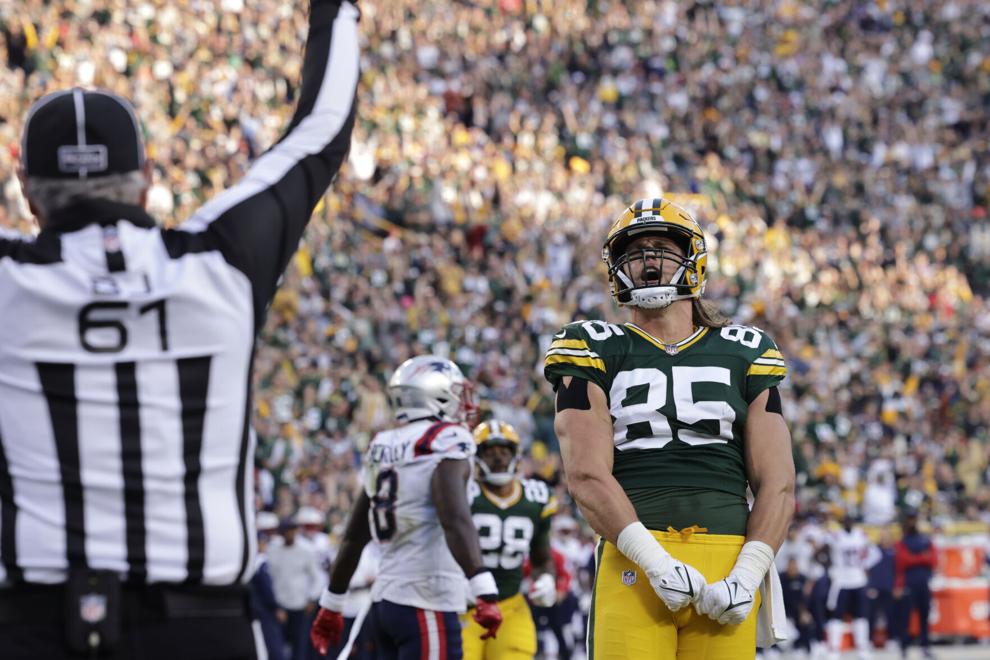 That he left for a one-year deal with the Bears seems to confirm those suspicions.
"Hopefully, they want me here. I've been pretty thankful to be here and grateful to be here," Tonyan said as he cleaned out his locker one day after the Packers' season-ending Jan. 8 home loss to the Detroit Lions. "(We'll) see what happens. That's what agents are for."
Asked if he would prefer to stay in Green Bay, Tonyan replied, "I mean, I really have no idea. I have zero. I love everyone in this locker room. I'm close to home (in Illinois), my family gets to come to every home game. We'll see. I just have no idea. Zero idea."
Coming off a torn ACL in his left knee suffered midway through the 2021 season, Tonyan ended up playing in all 17 games in 2022 and caught a career-high 53 passes on 67 targets for 470 yards and two touchdowns. Against the Lions, Tonyan played 37 of the Packers' 60 offensive snaps and caught all three passes he was thrown for 29 yards.
But he never regained the role he had during his breakout season in 2020, when he caught 52 passes for 586 yards and 11 touchdowns — tied with Kansas City Chiefs perennial All-Pro Travis Kelce for the most TDs at his position that season.
The injury in 2021 came after he got off to a slow statistical start (15 receptions for 155 yards and two touchdowns on 25 targets in the first seven weeks) and just as he appeared to be getting more involved in the offense. He was injured at Arizona on Oct. 28, 2021, at the end of a 33-yard catch-and-run — his longest play of the season — late in the third quarter.
Tonyan had played the 2021 season on a second-round restricted free-agent tender worth $3.384 million, so the injury cost Tonyan on the unrestricted free-agent market. He settled for a one-year, $2.45 million prove-it deal to return to the Packers last year, a deal that also included per-game roster bonuses that would be worth a total of $1.5 million.
"My goal was to play all the games and that's what I did. I'm happy I was able to be out there fighting with the team for all 17 games, but wish it was more for sure," Tonyan said. "It's just a disappointing finish. Obviously, we have higher expectations for this locker room and the team."
Tonyan seemed to be frustrated at times during the season, both with his role and with his impatience about returning to his pre-injury form.
Having worked his way up from being a late-season practice-squad addition in 2017 to one of Rodgers' top targets during the first of the quarterback's back-to-back NFL MVP seasons in 2020, Tonyan now heads to Chicago, where former Packers quarterbacks coach/passing-game coordinator Luke Getsy is the offensive coordinator.
Asked after the season what he expected from free agency this time around, Tonyan shrugged.
"There's so many people in this locker room with the same situation as me. Where the chips may fall is not up to us," Tonyan said. "The talent that we have in this locker room, to not even get in the playoffs, that's definitely the tough part.
"There's a lot of people that we might not ever play with again. That's the reality of an NFL locker room. Human nature, it's kind of always in your mind at some percentage, but I just tried to be present and thankful.
"It is disappointing and frustrating, because as a team you think you can do more, and as an individual you think you can do more."