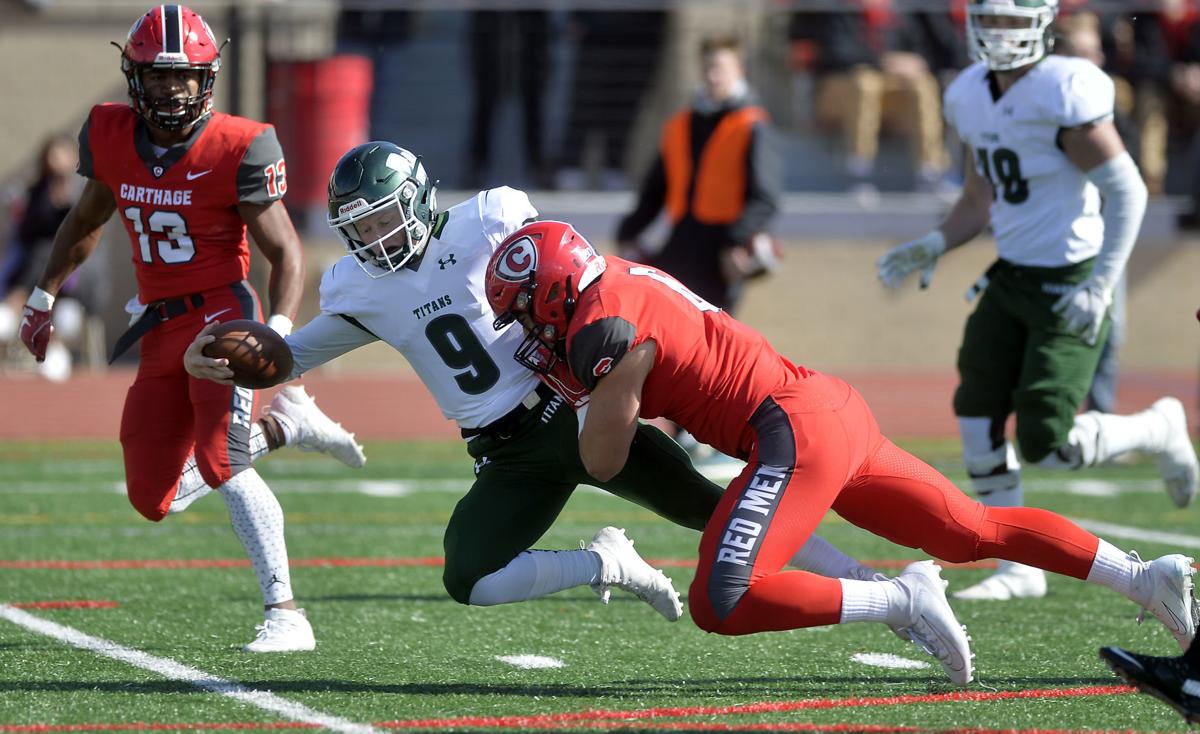 Almost from the beginning Saturday afternoon, it felt like the Carthage football team could virtually do anything it wanted in its College Conference of Illinois and Wisconsin matchup with winless North Park.
Both the final stats — and more importantly, the score — seemed to indicate that was the case.
Carthage raced out to a 25-0 lead and never was in jeopardy in a 46-14 victory at Art Keller Field that improved the Red Men to 4-4 overall and 4-3 in conference play. North Park fell to 0-8 and 0-7.
Coming off a tough, 49-6 loss to nationally-ranked North Central the previous week, it went without saying how badly Carthage needed to rebound, coach Dustin Hass said.
"It's a huge team win," he said. "Any time you can get one in conference, it's big. The guys played really well. I thought we had some guys who stepped up. We had eight or nine starters out (because of injury), and we saw some guys step up, which was good to see.
"It was probably one of our best games in terms of execution all across the board. Today was a little bit more of a complete game in terms of execution."
The Red Men put three passing touchdowns on the scoreboard in the first quarter to firmly take control.
Billy Dury (21-for-40, 272 yards) completed three of his four passing touchdowns on plays of 11, 7 and 8 yards to Jalen Dennis (five catches, 79 yards), Jovone Stricker (five catches, 94 yards) and Sam Limbaugh (five catches, 48 yards), respectively.
Dennis, who split time at quarterback with Dury, then got into the act, as he completed a 6-yard touchdown pass to Stricker with 9 minutes, 8 seconds left in the first half to build Carthage's lead to 25-0.
The first play of that scoring drive had an odd start, as Dennis (6-for-6, 125 yards, three touchdowns) appeared to score on a 72-yard run through the North Park defense, but the official on the Vikings' sideline accidentally blew the play dead.
So instead of a big gain, Dennis was credited with an 8-yard run.
"Some of (our offense) is zone-read stuff and a little option football," Hass said. "You see inadvertent whistles in option football every once in a while. ... It's tough to take a touchdown run away from Jalen, but we ended up marching down the field and scoring any way."
While it may have seemed the focus was on his team's aerial attack Saturday, that's just how things happened to work out.
"It was just kind of what they were giving us," Hass said. "They were loading up the box. If they're going to do that, we're going to throw it."
North Park, coached by former Carthage assistant Kyle Rooker, got on the scoreboard with 8:14 left in the half on a 20-yard pass from Grant Borsch to Na'Im Smith.
But the Vikings never got any closer.
Carthage added its fifth touchdown of the half on a 24-yard pass from Dennis to Limbaugh, followed by a 50-yard screen pass from Dennis to Dana Fontenot (15 carries, 63 yards).
Fontenot, who also caught three passes for 78 yards, appeared to escape serious injury in the first half on a late hit out of bounds. His left ankle was looked at by the training staff, and after the intermission, was back on the field.
"He's a tough kid," Hass said. "They taped it up and gave him some ibuprofen. It was kind of a dirty game. They had a lot of late hits out bounds, a couple called, a couple that weren't. That one, in particular, I was pretty heated about. Not only was it late, it was out of bounds, it was a horse collar.
"I was disappointed to see that team play that dirty. But a credit to our kids that they didn't respond to it. They didn't get hot headed. They kept their cool and composure, which was great to see."
The Red Men's final score of the afternoon came on a 22-yard pass from Dury to Stricker early in the fourth quarter. North Park added its second touchdown on an 8-yard strike from Borsch to Smith to close out the scoring.
Other offensive leaders for Carthage were Jacob Boucher (seven carries, 54 yards), Payden Lingle (10 carries, 31 yards) and Eddie Ell (seven catches, 71 yards).
Be the first to know
Get local news delivered to your inbox!