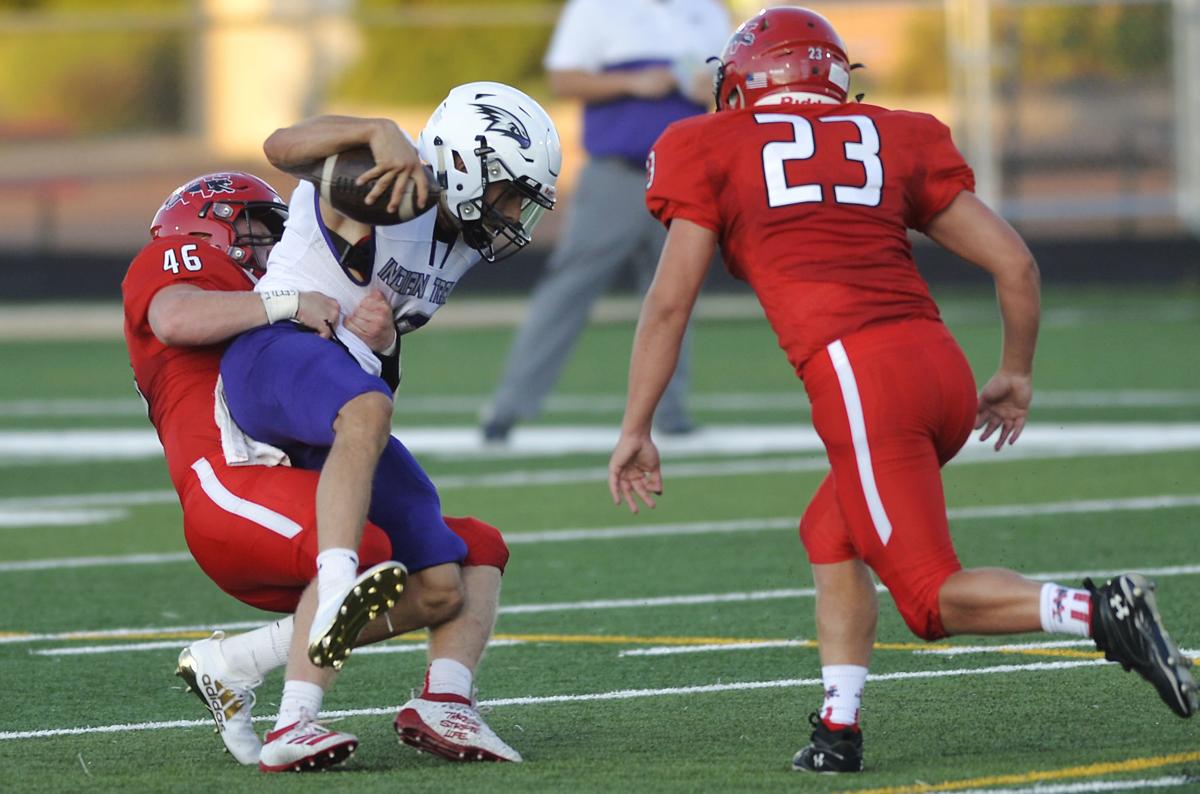 WATERFORD — Four plays into Friday night's Southern Lakes Conference showdown between two unbeaten squads, the Wilmot and Waterford football teams each had a turnover.
From there, however, the rest of the game belonged to the Wolverines.
Waterford turned an interception into the game's first touchdown three plays later when Dominic Miller took a pitch and sprinted 45 yards to the end zone and rolled from there in a dominating 47-14 victory.
The win improved the Wolverines, ranked ninth in the latest WisSports.net Division-2 poll, to 4-0 overall and 2-0 in the SLC, while Wilmot fell to 3-1 and 1-1.
Wilmot missed out on a golden opportunity right from the start, coach Keiya Square said, after junior Caden Mulhollon recovered a fumble on Waterford's second play.
The Wolverines quickly returned momentum on an interception by Lucas Winski on Wilmot's second play that gave Waterford possession at its own 43-yard line.
"This is a team you really don't want to give a short field to," Square said. "Defensively, we did a great job and forced a turnover. Then offensively, we gave it back. That hurt us a little bit right away. Defensively, we made a huge play and two plays later had to get back on the field."
Waterford coach Adam Bakken had plenty to be pleased with.
"It's a great win," he said. "They looked real good on film in all three of their games. They play hard, their quarterback is quick, their scheme is tough to prepare for because there's not a lot of teams that run that style of offense any more. Our kids came to play, bottom line."
As it turned out, Miller, who rushed seven times for 134 yards, was only getting started.
By the time the first half came to a close, Miller added two more touchdowns on runs of 17 and 56 yards, sandwiched in between a 2-yard run by Waterford's other senior standout back, Tanner Keller, as the Wolverines took a commanding 27-0 lead at the intermission.
Keller (20 carries, 113 yards) scored on a 1-yard run late in the third quarter before the Panthers finally got on the scoreboard.
"Those two guys (Miller and Keller) are phenomenal backs, bottom line," Square said. "They're fast, they're big, they're physical, they're strong. They're the total package. To have two of them on one team makes it really tough. They kind of beat us up a little bit."
Senior quarterback Zack Watson broke the drought with a 6-yard scramble to the end zone just one minute into the fourth quarter. Watson connected on a 3-yard touchdown pass to Korik Klein to account for the Panthers' final points of the night.
The Panthers aired things out a bit offensively after the outcome was decided, as Square wanted his team to come away with something positive moving forward.
"We were just working on stuff, trying to get things rolling and get people comfortable," he said. "If you play a big, physical team like this and you can't anything going in the running game, we might have to step back and throw the ball a little bit more. We wanted to see what we have and get some things on film."
Waterford added two fourth-quarter scores, the first on a 71-yard touchdown pass from Logan Martinson to Jack McCormick, followed by a 25-yard run by Ryan Michalik.
Whether the lopsided victory sent a message wasn't a priority for Bakken.
He was more interested in how his team played and how it prepares for its next game Friday against Central.
"I don't think about does it send a message, I don't know," he said. "Maybe right away, people see the score and go, 'Wow,' but by tomorrow, that's gone. Westosha is going to get ready for us, just like we're going to get ready for Westosha.
"Regardless of record and who we're playing, we'll prepare the exact same way. It's fun being 4-0. I don't know if we've actually been 4-0 since I've been here. We're going to try and keep things going."
Be the first to know
Get local news delivered to your inbox!