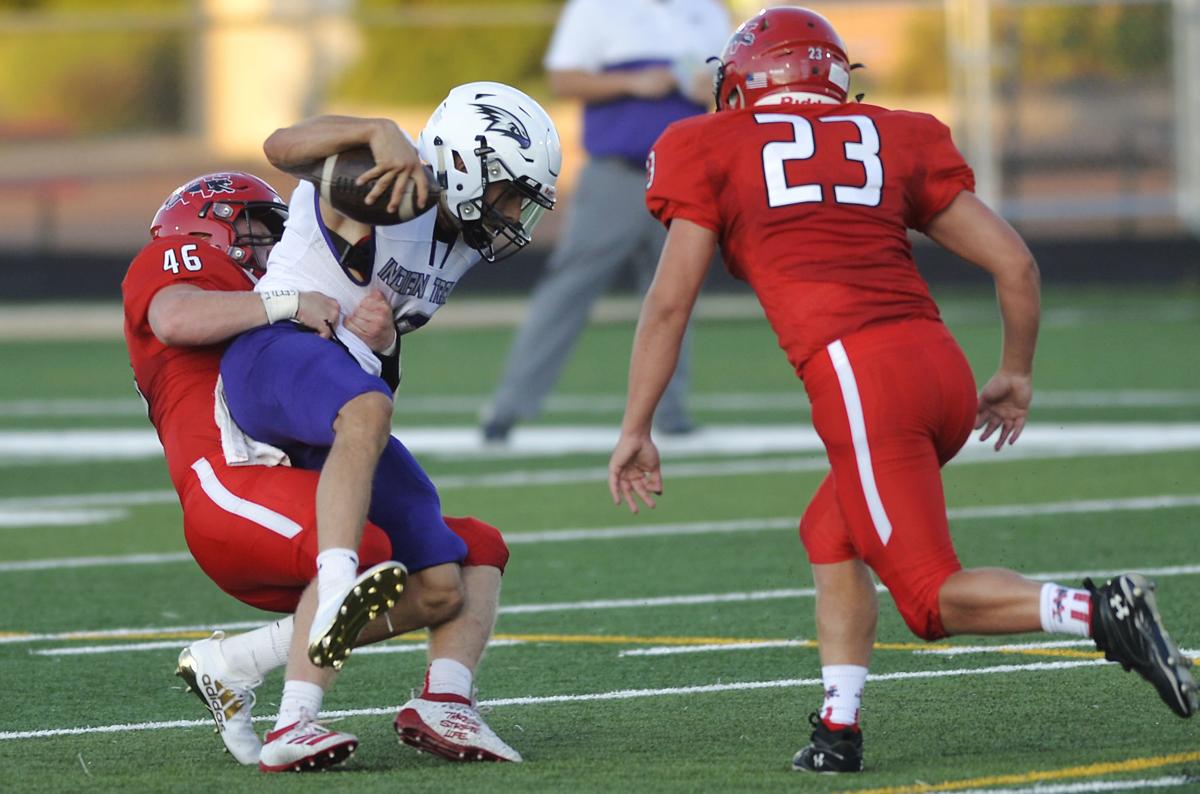 MOUNT PLEASANT — Big-armed quarterback Ben Brawner dropped back, found his man and let loose Friday night.
Lofting a beautiful pass into the darkness, the ball landed into the hands of a streaking Nick Fugiasco for a 51-yard touchdown. At that point, the Racine Case football team was in position to make a bold statement against a quality opponent.
But that's where it ended for the Eagles, who went on to lose 35-20 in this non-conference game at Hammes Field.
This has been projected to be a breakthrough year for Case, which returned most of its starters. And there's still plenty of time for it to be just that. But after Friday's loss, it's clear that the Eagles still have some work to do, both from a physical and mental aspect.
There were two interceptions and three fumbles, one of which was lost. There were eight penalties for 88 yards, many of which killed rallies. The Eagles controlled the ball for just 21 minutes — 10 minutes fewer than Wilmot. Take away Kobe Brown's 55-yard touchdown run in the first quarter and the Eagles managed just 25 rushing yards on 18 carries.
And as all this added up, Case coach Bryan Schredl noticed his players gradually losing their edge.
"As a team, we need to fight through adversity better and just be mentally tough in that aspect," he said.
There was certainly plenty of adversity for Case (1-1) after Brawner and Fugiasco connected on that touchdown pass.
After allowing Wilmot to take a 14-13 lead on Zack Watson's 28-yard touchdown pass to Joseph Tanski, the Eagles fumbled away the ensuing kickoff. Watson quickly capitalized to throw a 10-yard TD pass to Kaleb Gendron with 6:43 left in the second quarter as the Panthers (2-0) took a 21-13 lead.
When it rained, it poured for the Eagles. Less than a minute later, Tanski intercepted Brawner and returned it 31 yards for a touchdown. Within three minutes in the second quarter, Wilmot (2-0) scored three touchdowns to all but put the game away.
"We've never played them before," said Wilmot coach Keiya Square, whose team was runner-up in a strong Southern Lakes Conference last season. "I think we wanted to just continue getting after them on defense, keep giving them pressure and make them drive the ball. And then, offensively, we were able to make some big plays in the passing game."
Watson was responsible for that. One week after rushing for 157 yards and two touchdowns in a 21-13 season-opening victory over Indian Trail, Watson passed for 140 yards and two touchdowns.
"He runs our offense," Wilmot middle linebacker Austin Videlka said. "Even when there's bad blocking, he can make a play out of it. Zack's a straight player. He can make plays that no one else can."
If there was a silver lining for the Eagles, it's that they showed some life late in the game, after Wilmot had taken a 35-13 lead on Caden Mulhollon's 11-yard touchdown run midway through the fourth quarter.
Brawner shook off his two interceptions to find Fugiasco for a 35-yard touchdown pass with 4:43 to play. Fugiasco, a senior who did not play football last season, caught four passes for 102 yards.
"He can go up for the ball," Videlka said of Figiasco. "He had a one-handed catch and he's just a playmaker. We had to play off because we were expecting the deep ball. That's a hell of a player right there."