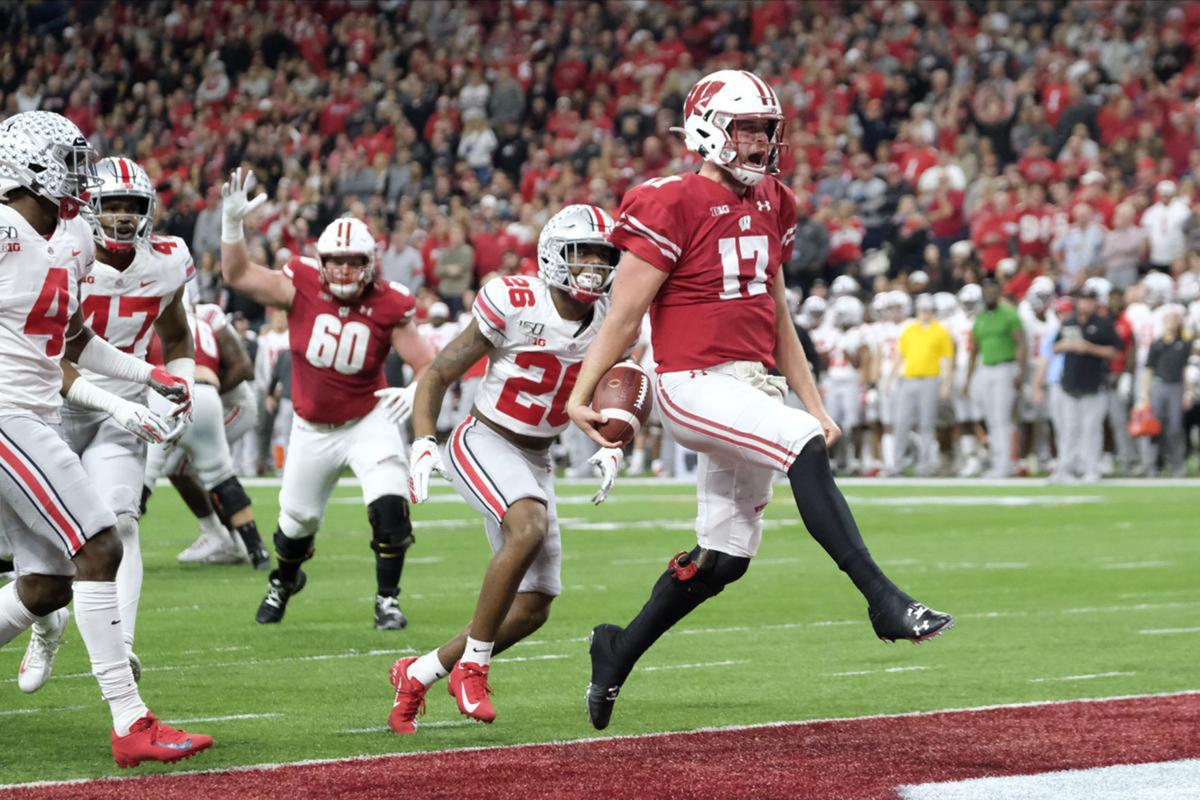 LOS ANGELES — Jack Coan dropped back to pass on the final play of the Big Ten Championship Game and didn't see an open target.
The game was already over — the University of Wisconsin football team was down two scores with the final seconds ticking off the clock — but Coan, a junior quarterback, was still trying to make a play. He scrambled to his right and tried to make his way to the end zone. He was stopped 3 yards short by a walloping hit from Ohio State safety Josh Proctor.
It was the kind of hit few quarterbacks can take in stride, and it sparked some discussion online about whether Proctor should've been penalized for targeting.
Coan was only down for second or two before getting back to his feet.
Christian Doller didn't see the play in question, he but wasn't surprised to hear about it. Doller, the Sayville (N.Y.) High School lacrosse coach, knew about Coan's toughness well before Coan was the quarterback getting ready to lead his team to the Rose Bowl on Wednesday against Oregon.
"When he played, he was younger. He started for me in ninth grade on the varsity team. We had a good, physical team. And he was tall. People didn't want to see him getting his, or do well," Doller said. "If you can't get the ball from them, then they're just trying to hit people. He got his share. He was younger than everybody, he'd get knocked down, but he bounced back every time. That's where the physicality in football helps, because mentally, you just don't stay down."
Coan becoming a Division I quarterback was unheard of in his hometown of Sayville, a hamlet on the southern end of Long Island. Like the majority of the boys his age, he grew up playing lacrosse and football, and his lacrosse skills developed quickly.
After Coan's freshman lacrosse season, he was garnering college programs' attention, and he orally committed to play at Notre Dame.
"It was good to be running around and making plays. Lacrosse is just a really fun game. I feel like it's a combination of all different sports, and playing with a bunch of guys that I grew up with, it was pretty fun," Coan said.
Coan said football was always his greater passion. But a substantial factor in Coan's decision to commit to a college lacrosse opportunity was that football recruiters rarely, if ever, came to Long Island to find players.
His football coach at Sayville, Rob Hoss, hounded college football coaches to watch tape on Coan, whose size, intelligence and arm talent were worthy of a scholarship.
One can see the evidence of Coan's lacrosse roots on the football field. Coan has shown toughness when hit, and the ability to take a hit in order to deliver a pass when he needs to. Even his quick throwing motion is similar to the mechanics of a lacrosse shot, Doller said.
"I'd say it's similar in the way that a quarterback distributes the ball to other guys, and sometimes has to run around and make plays. Lacrosse, that's all it is, just running around and finding open guys or scoring yourself," Coan said.
Doller has seen the crossover between quarterback and lacrosse player be a successful one throughout his tenure at Sayville. Coan set scoring and assist records while at Sayville, and they've since been broken by other quarterbacks who hit the lacrosse fields in the spring.
"I tell the football guys, all the guys really, the most successful lacrosse players are all quarterbacks at heart. Their minds have to work like a quarterback, because things are moving so fast. While you're running with the ball, people are coming at you, you have to see the field," Doller said.
Doller put Coan in what he called the 'X' position on the lacrosse field — a spot where he'd get the ball behind the goal, read the defense and decide whether to attack with a shot or draw defenders to him before making a pass.
"The guys are coming to crush you, and you've got to get the ball and pass it quickly," Doller said.
Coan passed on his senior year of lacrosse to enroll early at UW. He earned the starting job this season after getting his first handful of starts last season when Alex Hornibrook suffered a concussion.
Now, days away from taking snaps at the Rose Bowl, Doller said he never could've imagined he'd see Coan at this level.
"It's a little surreal. I've known the kid since he was like 6 years old. Then to see him on that stage … and honestly, I'll say it again, a stage I didn't think our guys from Long Island obtain. It just didn't happen," Doller said. "When I see him, I'm rooting for him and I'm proud."