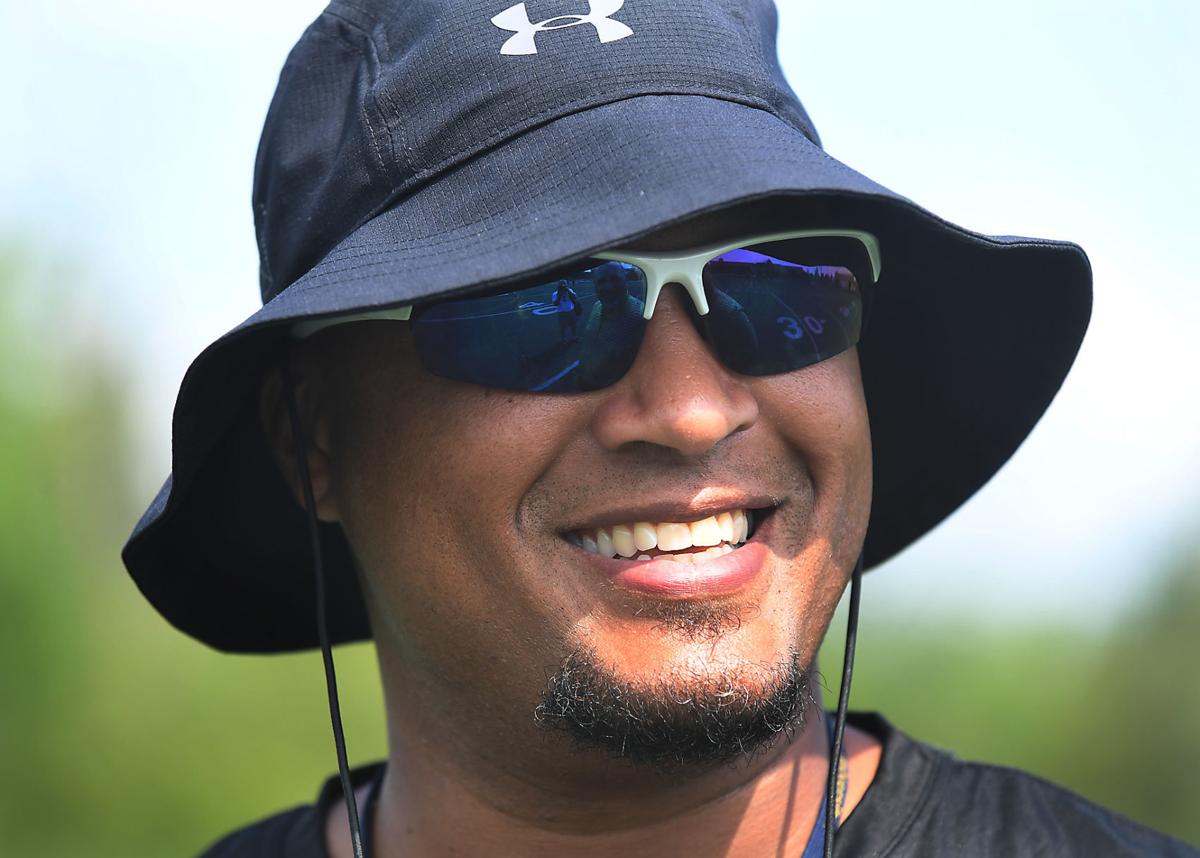 BURLINGTON — Just three yards of muddied Don Dalton Stadium turf separated the Wilmot football team from finishing off an epic drive and securing automatic postseason eligibility Friday night.
Fourth-and-goal. Twenty-four seconds left. Down by six points. Win or lose.
Apparently, it was just the opportunity quarterback Zack Watson and receiver Joey Tanski wanted.
Perhaps they haven't done it with the stakes so high, but the Panthers' savvy seniors looked like they've run the play that won the game dozens of times before.
Watson sprinted to his right, stopped in his tracks with Burlington defenders bearing down on him and fired a strike to Tanski just inside the back line of the end zone with 17 seconds left.
Not to be overlooked, sophomore Blake Weaver drilled the extra point — his fifth in as many tries — as Wilmot edged Burlington, 35-34, in a Southern Lakes Conference thriller.
According to Watson, the play called for Tanski to keep running left and clear the defensive backs as Watson rolled right. But Tanski read the defense, halted his route almost directly under the goal post, and his quarterback threw the ball right on time.
"The play call was to have Joey run all the way across the field, because we saw something earlier in the game," said Watson, who accounted for 248 yards and four touchdowns rushing and passing.
"... But there were guys on the left, and Joey made a great, great play, just stopping right there, and I just threw it to him. I have so much trust in Joey. He's been my receiver since eighth grade. Him and I have great chemistry."
The Panthers called a timeout to dial up the winning play.
"They were playing outside on me the whole time, so (Wilmot coach Keiya Square) was like, 'Get across the field and go all the way across,'" Tanski said. "But the guy was waiting over there, so I just stopped and found the open grass, and Zack just threw it to me.
"He trusted me and just threw it to me, and I caught it."
The score capped a 16-play, 65-yard march that lasted 6:52 and drained almost the entire clock after Burlington had taken a 34-28 lead — its first of the game — with 7:15 remaining on senior quarterback Dalton Damon's 1-yard sneak.
But senior linebacker Skyler Danielson — who was perfect on his first four extra points filling in for senior Cora Anderson — missed the point-after attempt to the right to keep the Demons' lead at six.
The victory pushed Wilmot (6-1 overall) to 4-1 in the SLC, assuring the Panthers of their 10th consecutive playoff berth.
"It says a lot for our kids and our program," Square said. "We've had three different head coaches (during the playoff streak), and we've been able to kind of keep the train rolling from what Mike Greinke put in place and then when (Erick) Kaiser was going.
"I give these kids a ton of credit. We've lost some big-profile seniors the last two years, and these kids continue to grind and continue to work and pick each other up.
Burlington (6-1 overall) was knocked from the ranks of the unbeaten and is now tied with Wilmot for second place in the conference at 4-1, a game behind 5-0 Waterford, which defeated Delavan-Darien 41-6 on Friday.
But the Demons get a chance to pull right back into a tie with the Wolverines when they host them Friday.
"We know that we follow this with Waterford," Burlington coach Steve Tenhagen said. "We know they're a good football team, but I think we're a pretty good football team, too.
"We'll see. … We'd have loved to be going into that game 7-0, but we can only control what's ahead right now."
Wilmot rushed for 341 yards on 53 attempts against the Demons, with junior burner Leo Falletti going for 110 yards — including a 52-yard touchdown on a toss to the left for game's opening score — on nine attempts.
Watson threw scoring passes of 4 yards to Falletti and 5 yards to freshman Asher Schroeder, in addition to the game-winner to Tanski, and Wilmot fashioned three scoring drives of at least 10 plays.
The Panthers went 6-for-6 on fourth down — including one via penalty — during those drives, with the conversions coming in short-yardage situations.
"They converted on big third and fourth downs all night long in our territory," Tenhagen said. "It was a difference of about five yards on about three different drives. ... You've got to credit them. They made plays when the game was on the line."
While Wilmot was grinding the clock, Burlington countered with quick strikes. Junior running back Zach Wallace racked up 213 yards on 11 carries (19.4 yards per carry) and had second-half scoring runs of 72 and 76 yards.
The second tied the game at 28-28 with 10:16 remaining, then Watson made his only big mistake of the night.
On third-and-5 from his own 40-yard line on the ensuing possession, Watson was intercepted by Burlington senior Jake Klug, whose 26-yard return to Wilmot's 29 set up the Demons' go-ahead touchdown.
"I felt like I owed the team big-time after that one," Watson said. "That was just … I don't know what I was thinking there."
Square didn't doubt his quarterback would bounce back.
"He's one of those kids that's a three-sport athlete, and he does a lot of different things," Square said. "When you play point guard (as Watson does), it's kind of the same thing. You're going to make a bad pass.
"... Being a three-sport athlete and always being competitive in different situations, I think he's kind of learned how to deal with adversity and be able to kind of just let things go and then step up and make plays."
Wilmot led 21-14 after a first half that was overshadowed by a scary moment.
On a 21-yard run by Wallace early in the second quarter, Wilmot junior defensive back Jared Camp appeared to be inadvertently kneed in the head by a teammate while trying to make the tackle. Camp stayed down, and an ambulance had to be called.
After a delay of around 30 minutes, Camp was strapped to a board and taken off the field on a stretcher. Fortunately, Square said, Camp was lucid and talking, and the paramedics said they were just taking precautionary measures.
"He was talking, he was fine (during) a lot of it," said Square, who planned to visit Camp after the game. "... It was hard to tell if he was more upset that he couldn't play anymore, or what it was.
"It was more precautionary. I think he's going to be fine, and I'm going to go check in with him."