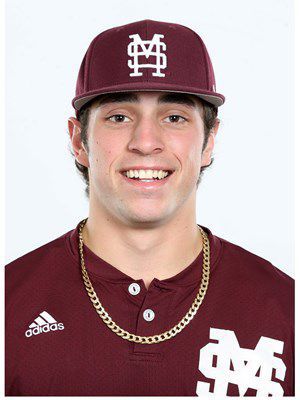 Two former Kenosha County products will take their baseball talents to a much bigger stage later this week.
In fact, in the world of college baseball, it doesn't get any bigger.
Tremper graduate Justin Lavey and Central graduate Marshall Gilbert helped their Louisville and Mississippi State teams to the final step toward a national championship over the weekend.
Louisville, ranked 11th in the final Division I poll, rolled past East Carolina, 12-0 and 14-1, in the Super Regional to earn its fifth World Series berth. Mississippi State, ranked third, advanced with victories of 8-1 and 6-2 over Stanford.
The World Series kicks off Saturday in Omaha, Neb.
For Lavey, the trip is his second during his college career, as he was a member of the Louisville team that advanced in 2017.
"Knowing what it's all about and being able to get there again is very special," he said in a telephone interview Monday. "We're super excited."
Lavey had a limited role during his freshman year with a pinch-hit appearance in one game and a start as the designated hitter in another.
But as a junior, Lavey is a key member as the team's starting second baseman, and having that increased role makes this trip even more exciting, he said.
"This year, just going there and being able to play in the field and hit every game, being able to contribute every game, is going to be special," he said.
Lavey was 3-for-3 with a run scored and three RBI in Sunday's Super Regional-clinching victory, which came on the heels of a 1-for-4 effort with an RBI the previous day.
Louisville (49-16 overall) brought a balanced attack to both games, Lavey said.
"It all started with our pitching," he said. "Our pitching was super dominant. Our offense got out to an early lead in both games, and once we have a lead, our pitching is just incredible. Everything was clicking, and we took off with it."
Jumping out quickly, which seems to be a bit of an obvious statement, is a key, especially against a quality opponent, Lavey said.
"You know every team in the postseason is going to be very good, talented, and their pitching is going to be good," he said. "Getting out to an early lead is super nice, to give your starters some cushion. It's just a lot better playing from ahead."
Heading into the World Series, Lavey is batting .298 (64-for-215), with 32 runs scored, eight doubles, three home runs, 31 RBI and is 19-for-22 in stolen-base attempts.
After a bit of a slow start to the 2019 campaign, Lavey said he made some adjustments, which seem to have paid dividends.
"That's really helped me a lot," he said. "I've taken off with it. It's been a fun year. There have been a lot of ups and downs, but this team is very special. I'm honored to be a part of it."
Having the chance to share the stage with Gilbert is an added bonus, Lavey said, as the two have been longtime friends who played together with Hitters Baseball during high school.
Whether the two meet up in opposite diamonds during the World Series remains to be seen, but Lavey said he's looking forward to catching up with Gilbert once they arrive in Nebraska later this week.
"We're super close," Lavey said. "I texted him after the game and said, 'See you down there.' We're both super excited to be able to share a field together.
"(Playing against him) would be awesome. Obviously, we want to go down there and win the whole thing, but seeing a familiar face down there, it's special to share that moment, especially with someone that you care about. Seeing his hard work pay off (too) is going to be awesome."
Gilbert on a roll for Bulldogs
Gilbert, a 29th-round draft pick of the Pittsburgh Pirates last week, collected three hits in six at-bats with two runs scored in Mississippi State's two Super Regional victories.
For the season, he's batting .317 (39-for-123), with 24 runs scored, six doubles, five home runs and 16 RBI in 52 games.
Mississippi State enters the World Series at 51-13 overall.
As for how Lavey envisions the World Series playing out?
For Lavey and his teammates, it's all about staying focused on the task at hand — from there, the results will fall into place.
"(Louisville coach Dan) McDonnell really hits on just being where your feet are, being in the present moment, (and not) making it bigger than it is," Lavey said.
"We're going down there to play baseball. Everything else is fun. We're just worried about getting down there, playing our game and winning each inning."