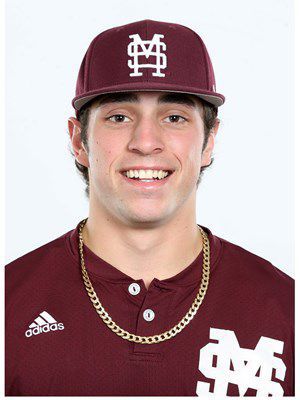 Ask any young baseball player what their ultimate dream is, and you would be hard pressed to find one that didn't aspire to play professionally.
Central graduate Marshall Gilbert certainly is in that group.
But he's just a bit busy at the moment to worry about what's next.
Gilbert, a senior at Mississippi State, will play this week at the NCAA Division I World Series in Omaha, Neb., and when the dust settles on the Bulldogs' bid for a national title, then he can turn his attention to his first post-collegiate job.
And that's as a member of the Pittsburgh Pirates, as Gilbert was selected in the 29th round earlier this month.
"It's super exciting (to get drafted)," Gilbert said by telephone Tuesday. "As far as I can say right now, it's been kind of on the back burner. I really appreciate the way the Pirates have kind of (understood that).
"When they called me and told me they drafted me, I was with one of my buddies at a restaurant, and I had to call my parents, my grandparents, my brother, my uncle, all the friends that had called me. I wasn't really paying too close of attention (to the draft)."
Gilbert said the Pirates had a message for him when the call came.
"They said, 'We'll talk in two weeks, go win a national championship,'" Gilbert said. "I've kind of just been focused on what's been going on, but it's definitely easier to go out there and play, being able to know that I'm going to have an opportunity (after college)."
One of Gilbert's Mississippi State teammates, left-handed pitcher Ethan Small, was the Milwaukee Brewers' first-round draft pick.
Gilbert weighs in on Brewers' pick
And even though Gilbert is now a third baseman, he came to Mississippi State as a catcher, so he definitely has a scouting report on the Brewers' top pick.
"He's a new-age guy," Gilbert said. "He's intelligent like no other. He really looks at spin rate, which is what he's known for. He can put that ball letter high, and he can make it just rise up a little bit due to his release point and (that fact) that he hides it so well.
"He's got the ability to throw off-speed pitches for strikes. It keeps you off the fastball just a hair. He's very accurate."
And it's not just what Small does on the field that's impressive, Gilbert said.
It's how he prepares and focuses on the task at hand.
"He's just a big leaguer as far as how he goes about his business," Gilbert said."He's always doing the right things. He's always making sure he gets his rehab when he needs it. He's as consistent as they come, and he's going to be a big leaguer for sure."
There may come a time down the road when the teammates face off in opposite jerseys, and Gilbert knows he has some work to do to pay back Small from previous battles.
Unofficially, Gilbert said he has one, maybe two hits off Small.
"I think I've maybe faced him 11 or 12 times," Gilbert said."I have one infield hit that you could argue was a hit and the other was a home run. Other than that, he definitely has the upper hand. He's really good. He doesn't mess up, and he doesn't give up many mistakes."
Be the first to know
Get local news delivered to your inbox!