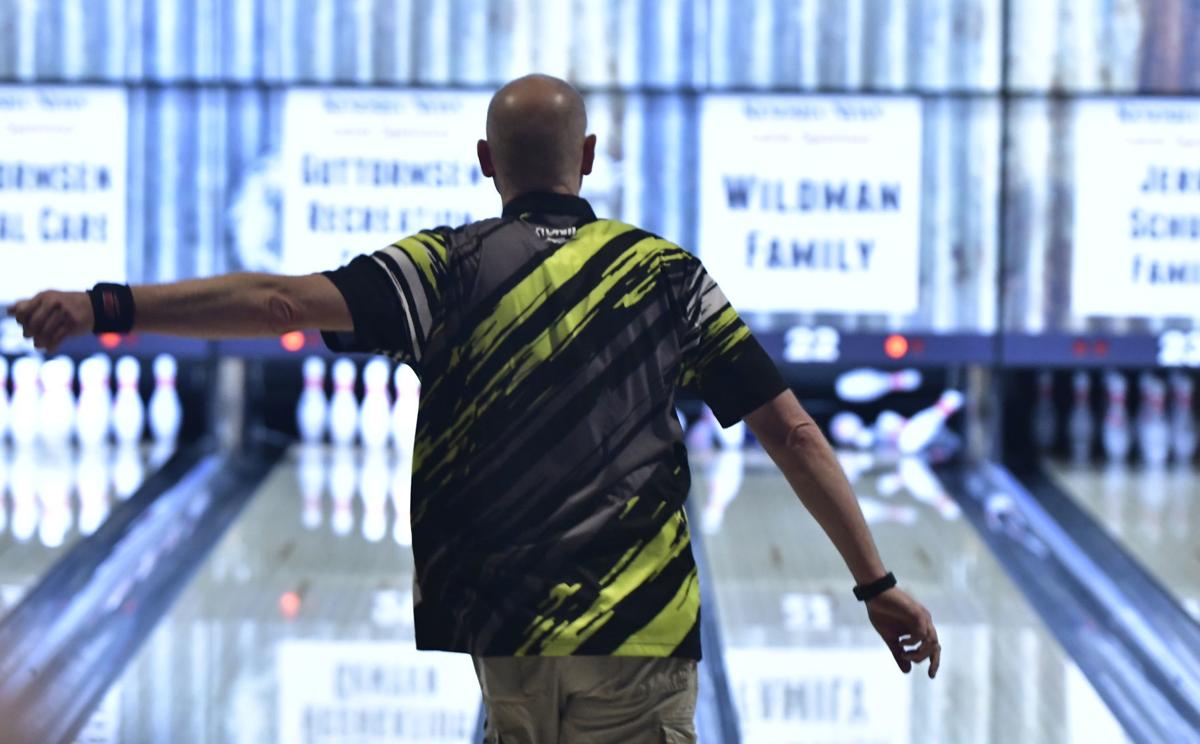 Editor's note: Due to press time, this story did not appear in Friday's edition of the News but ran online at www.kenoshanews.com.
If Biofreeze is looking for a new athlete spokesperson for its pain relief product, the company might want to take a look at Rich Beltoya.
The 54-year-old rolled on the gel numerous times to keep his left knee limber enough Thursday to once again capture the championship of the Senior Men's Division in the 56th annual Kenosha News Match Game Tournament held at the Guttormsen Recreation Center.
It was Beltoya's third title in three years, including a defense of his victory last year captured at Surfside Bowl.
Beltoya posted a 6-1-1 record in his eight matches Thursday for a final record of 13-2-1 and a 16-game pin total of 4,055. He finished with 1,260 points and a 253 average.
Bowlers in the event are awarded 30 points for each match victory and either gain or lose a point for each pin over or under 200.
"I usually use (Biofreeze) when I have to bowl three or more games, and it really works for me," Beltoya said. "The knee hurts sometimes, but I guess that's why I play in the Senior Division."
Despite the knee aches, Beltoya finished up the night strong with a 279-238 victory over second-place Dave Sjuggerud in his final match of the tournament.
He rolled six consecutive strikes to start the match, and finished with strikes on 11-of-12 attempts in the win.
"It felt good to bowl so well at the end of the night," said Beltoya. "Dave and everyone else was bowling great so I knew I couldn't let up.
"It was a really talented field so to win this tournament again is special."
Sjuggerud (1,092 points, 3,962 pins) also had a solid final night with a 6-2 record in his matches.
A runner-up for the second-straight year, Sjuggerud was pleased with his consistency over the two-night match-play finals.
"I did not have an open frame in the two nights, so that's a big accomplishment for me," said Sjuggerud, who had the best pin-total of the 20 competitors on Thursday at 2,033.
"I knew it was going to be tough to catch Rich, but I gave it my best shot," he said. "I will give it another go next year to try to win this thing."
Don Kirschbaum placed third with 886 points, including a 235-203 victory over fourth-place Dave Wildman (846 points) in his final match. Kirschbaum finished with 3,817 pins in his 16 matches, while Wildman knocked down 3,806 pins.
Gene Pobloski was fifth with 842 points, with Gary Wolf taking sixth with 763 points.
"There was a lot of good bowling going on in this tournament," Beltoya said. "It was tougher to win this year compared to last year because the competition was so strong."
The Men's Division wrapped up the two-week event Friday night. See www.kenoshanews.com for more details.
Be the first to know
Get local news delivered to your inbox!