Joseph Tanski does a lot of things for the Wilmot football team.
The 6-foot-1, 161-pound senior is a ball-hawking free safety — he tied for the county lead with five interceptions last season — a punter and on Friday in the Panthers' non-conference season-opener at Frank Bucci Field against Indian Trail also caught a pass for 11 yards.
So given that he's on the field almost all the time, it was no surprise that Tanski was a key participant in three major fourth-quarter sequences during Wilmot's 21-13 win over the Hawks.
Early in the fourth, from his own 47-yard line, Tanski lined up to punt with the Panthers protecting their eight-point lead. Indian Trail senior Curtiss Tolefree III exploded through the line and stuffed Tanski's kick, and the ball went skittering inside Wilmot's 20.
Both Tanski and Tolefree frantically chased after the ball, and Tolefee kicked it. The officials ruled it was intentional — something impossible to tell from a distance — which is a 10-yard penalty.
The penalty was marked from the original line of scrimmage — a confusing decision that even those who've been around high school football for decades didn't understand — which gave the Panthers a first down.
Nonetheless, after all the confusion, the Hawks quickly forced another punt, this time from their 42.
Tanski made sure that one wasn't blocked and got off a majestic 34-yarder that Indian Trail junior Clayton Bishop caught over his shoulder at the 8.
Bishop turned to his left and seemed pinned near his own sideline. But Bishop is no ordinary athlete.
He slipped a couple tacklers near the sideline, cut back to the middle and weaved his way all the way out to the Indian Trail 48, a splendid 40-yard return.
"We just didn't break down (in coverage), and he just made some plays," Tanski said. "He's athletic. He just made some cuts and (we) missed some tackles, and the next thing you know it was a 40-yard gain."
The Hawks marched down to the Wilmot 3, but Tanski and his teammates made a stand.
A holding penalty pushed Indian Trail back to a third-and-goal at the 20, and junior quarterback Argjent Ismaili launched a rocket on a post-corner for Bishop in the end zone.
For a moment, it looked like the ball would land right in Bishop's hands, but Tanski again was in the middle of the play.
He read it, jumped at the goal line and plucked the ball out of the air for a game-sealing interception.
Offensive miscues
With an all-junior offensive line, a junior quarterback, two junior receivers and a sophomore running back figuring prominently into the gameplan, Indian Trail coach Paul Hoffman knew before the season started that his offense would suffer some growing pains.
That was apparent right away in Friday's game at Wilmot.
The Hawks had a short field on their first possession and drove from the Panthers' 48 to the 17.
On second-and-9, Bishop zoomed around the right side and into the end zone on a jet sweep, but a holding penalty brought it back.
On third-and-19 from the 27, the Hawks committed a false start. On 3rd-and-24, a high snap chased Ismaili back to the 48, where he fell on the ball for a 14-yard loss.
So, the Hawks started at the 48, drove to the 17 and wound up back at the 48.
After a scoreless first half, Indian Trail found some offensive rhythm in the second half, but a critical holding penalty on the final drive devastated the Hawks' chances to tie the game.
"We have a really young offense," Hoffman said. "Did I expect some of those things to happen tonight? Without a doubt. We just needed to weather them and hit a rhythm. We finally hit a rhythm in the second half.
"... We've just got to keep getting better at the fundamentals so we can play as disciplined football as possible."
Big leg
Prior to his team's season-opening 15-0 loss at Waterford, Bradford coach Troy Bowe already had been impressed with senior kicker Arjan Osmani's improved leg strength.
And that certainly was on display — even with a near miss.
Facing a fourth-and-7 from the Wolverines' 27, Bowe sent Osmani out to try a 44-yard field goal attempt that would have knotted the score at 3-3 late in the first half.
And off his foot, the kick appeared to have plenty of distance, but it collided with the right upright — even so, an impressive effort off the foot of a high school kicker.
"That's about the farthest I've ever seen him kick the ball," Bowe said. "That's about the edge of his range right there, 44 or 45 (yards). That would have been good from 50 if he had it in the middle.
"That maybe changes the game, too, because we would have been 3-3 at half instead of 3-0. He's gotten a lot stronger."
Osmani took a shot at a 48-yard field goal in the fourth quarter, but that attempt fell short.
Rule change
Bowe had a bit of an interesting and light-hearted exchange with the game's head official in the first quarter regarding a rule change that went into place this season.
New in 2019 is the 40-second play clock, which begins as soon as a player is tackled to the ground and not when the official spots the football.
Early in the opening period, Bowe seemed a bit surprised at how much time appeared to elapse without the Wolverines drawing a penalty. Waterford coach Adam Bakken burned a timeout late in his team's opening possession as the back judge began his countdown to indicate five seconds remained on the play clock.
"(The new rule) takes out crews taking different amounts of time to blow the play in," Bowe said. "It takes that out of the equation. Unless it's a dead-ball situation, change of possession, something like that. (When that happens), they'll blow it in and it's 25 seconds.
"It seemed like, at the beginning of the game, they were taking forever, and it never was, but that's when I told (the official), '(Bakken) thought it was, too, because he took a timeout.'"
IMPRESSIVE DEBUT
In his first varsity start, Tremper's Ryan McGonegle acquitted himself quite well.
In the Trojans' 43-7 blowout of Milwaukee Pius XI at Wisconsin Lutheran College, the 6-1, 170-pound junior went 11-of-15 for 168 yards with a touchdown and an interception.
He spread the ball nicely, hitting junior Raymone Jones, senior Justin Dierckens and senior Brennan Eckert four times apiece. Jones had the most yards receiving with 80.
And all this came after the Trojans spent about three hours stuck on their bus in traffic due to an accident.
Tremper plays its homer opener Thursday night when Milwaukee King visits Ameche Field at 7 p.m.
IMPRESSIVE DEBUT, II
Another county quarterback had a nice varsity debut in Week 1.
In Thursday's 34-8 win over Milwaukee Bradley Tech at Ameche Field, St. Joseph 6-0, 165-pound sophomore Jacob Ashmus went 9-of-14 for 71 yards with two touchdowns and no turnovers.
He also ran six times for 20 yards and another score.
St. Joseph coach Matt Rizzo and his staff kept Ashmus comfortable by dialing up mostly short rhythm throws, but the sophomore showed off his arm strength and accuracy on some deeper shots.
Late in the first quarter, he fired a seed to streaking senior Jake Gessert up the right hash marks for a 16-yard touchdown.
"That was kind of in our gameplan," Rizzo said. "We saw it on film (and) we ran it in our scrimmage. We run that pretty well in practice. We (got) Jake up the seam, and Jacob made a nice throw.
"We call it a two-ball, right over the outside linebacker's head. (Ashmus) made a beautiful throw, and Jake Gessert made a beautiful catch."
Then in the fourth quarter, Ashmus tossed a fade to Gessert for a 10-yard score on a ball that couldn't have been dropped in any better.
"I wanted to get him in some rhythm throws early on, just get him short, intermediate (passes), really our three-step game," Rizzo said. " ... He's got it."
CLOSE CALLS
For entertainment's sake, the Shoreland Lutheran and Milwaukee Hamilton football teams should play each other in Week 1 every year.
The games certainly come down to the wire.
In 2017, the visiting Pacers prevailed, 21-12, when Noah Ahles' 13-yard touchdown run and Jared Landreman's extra point with 5:48 left made it a two-score game.
In 2018, Hamilton came to Shoreland and took a 20-0 lead before hanging on for a 26-21 victory.
On Thursday night, Shoreland won the rubber match at South Stadium in Milwaukee, this time by a 21-20 final.
The winning points came when sophomore defensive lineman Michael Reed returned a fumble 30 yards for a touchdown with 9:22 left and senior Sawyer Smith made the extra point.
FOOTBALL WILMOT INDIAN TRAIL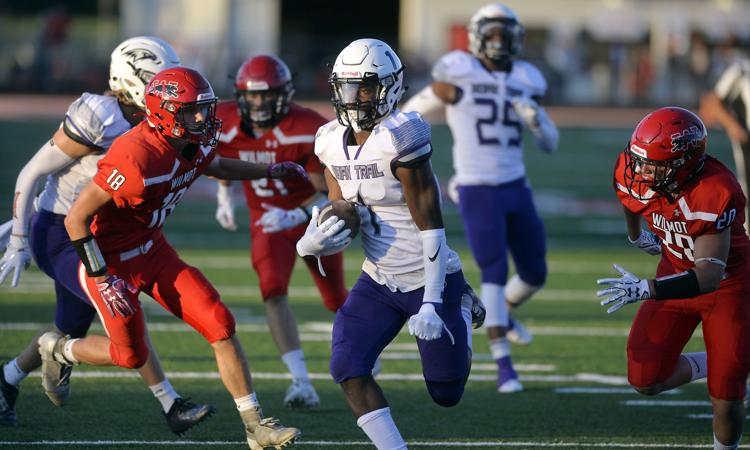 football2.jpg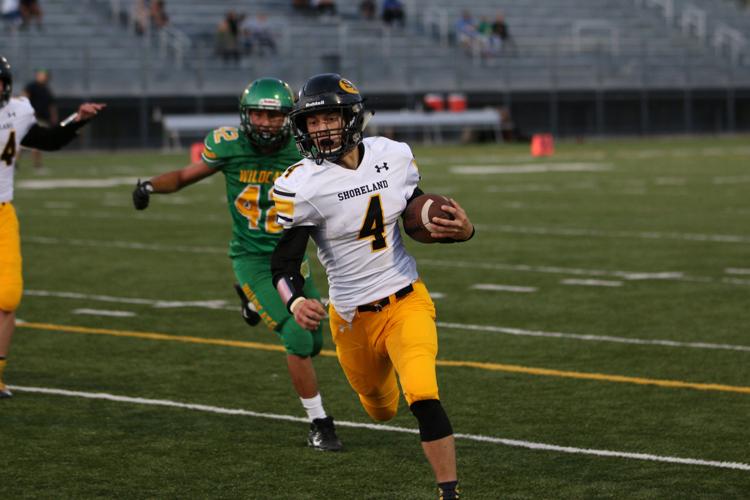 football1.jpg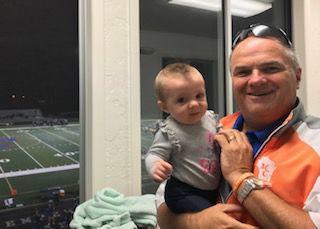 football3.jpg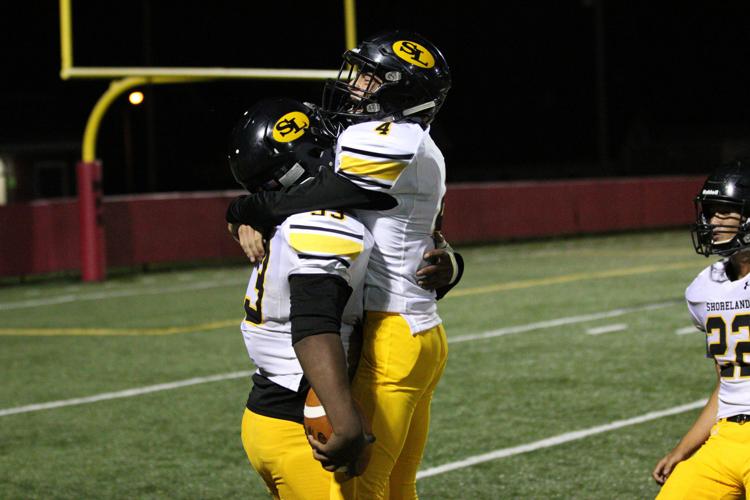 football4.jpg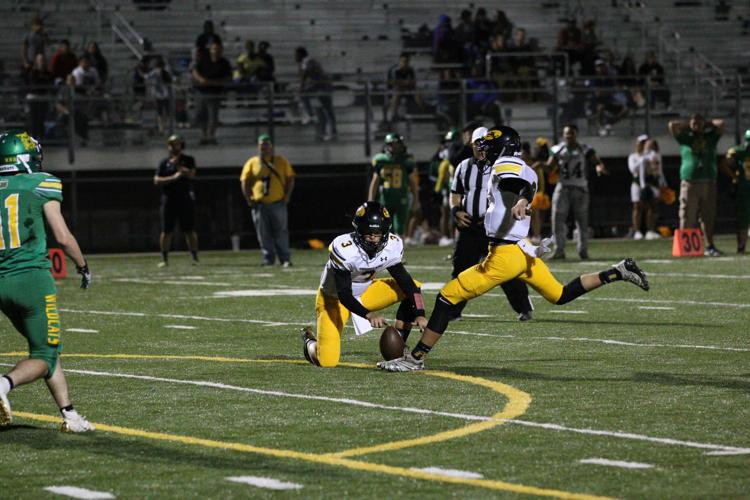 FOOTBALL WILMOT INDIAN TRAIL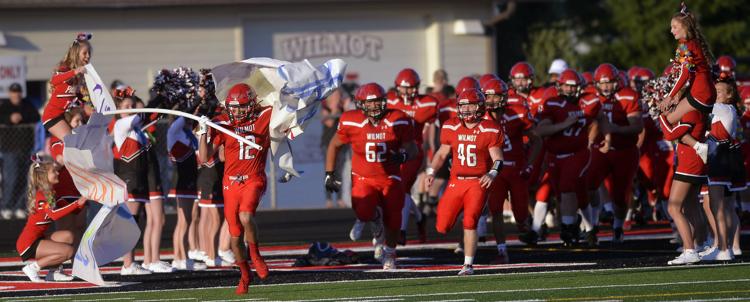 FOOTBALL WILMOT INDIAN TRAIL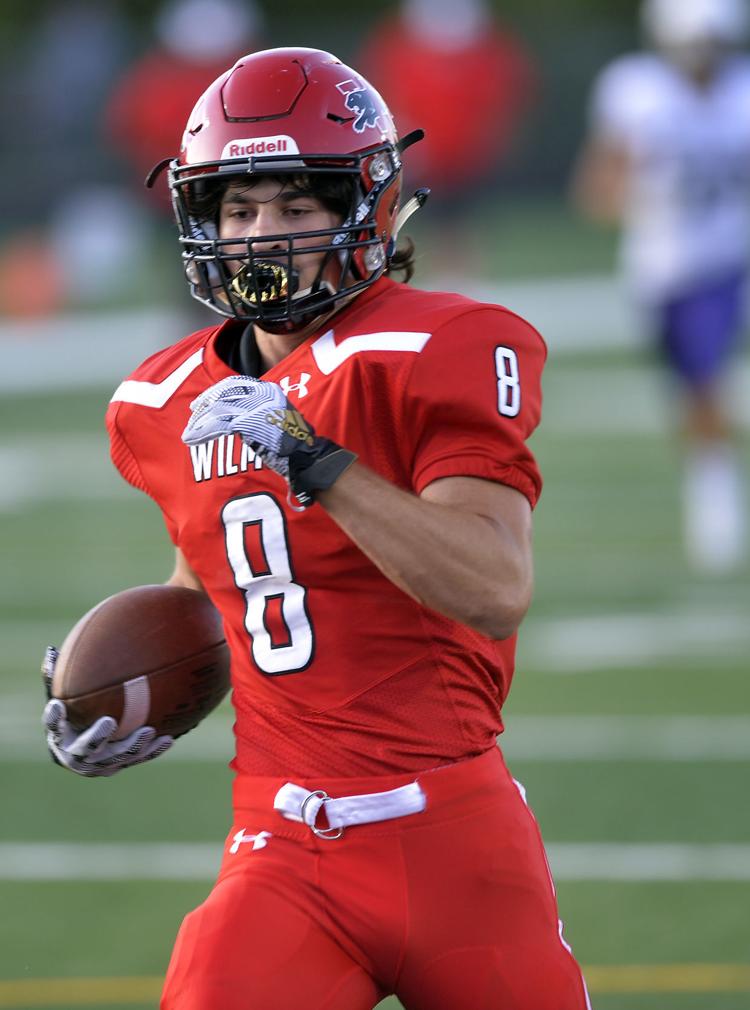 FOOTBALL WILMOT INDIAN TRAIL
ST. JOE FOOTBALL BRADLEY TECH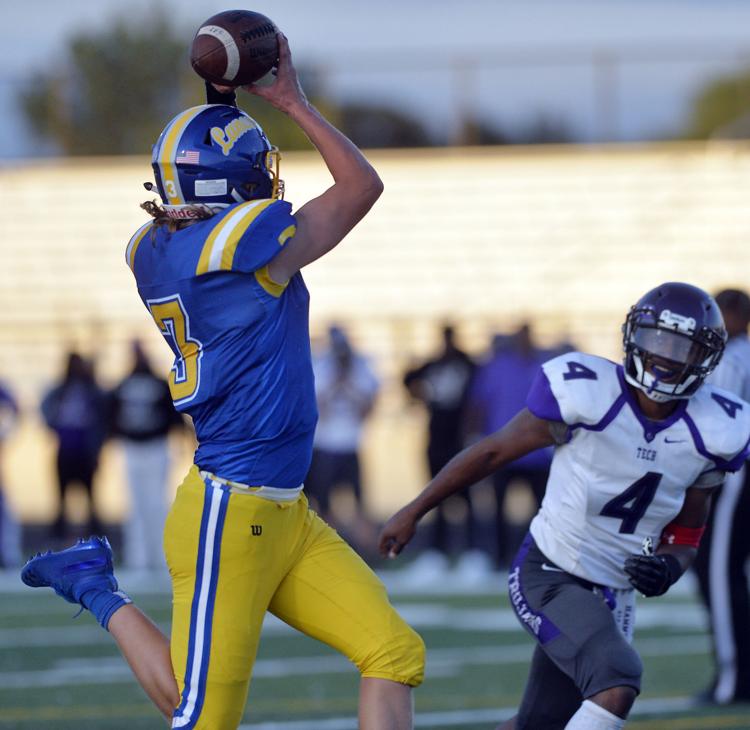 ST. JOE FOOTBALL BRADLEY TECH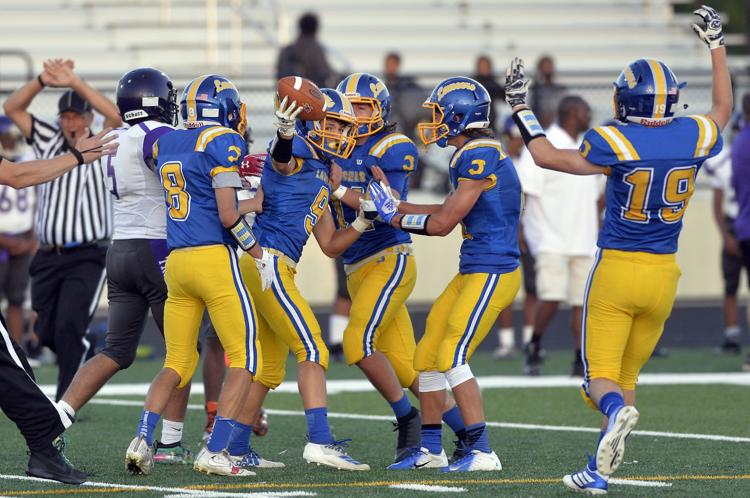 ST. JOE FOOTBALL BRADLEY TECH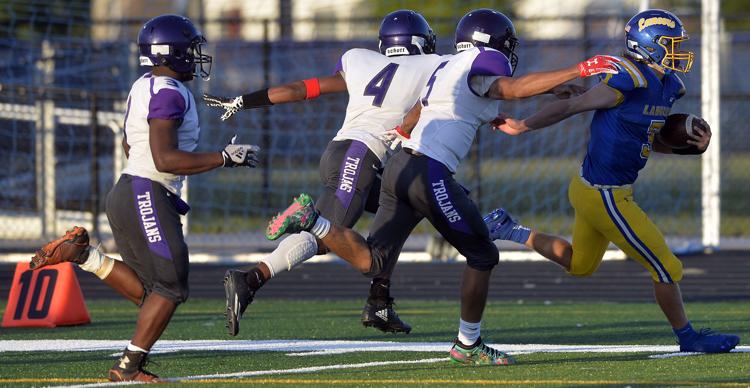 ST. JOE FOOTBALL BRADLEY TECH
ST. JOE FOOTBALL BRADLEY TECH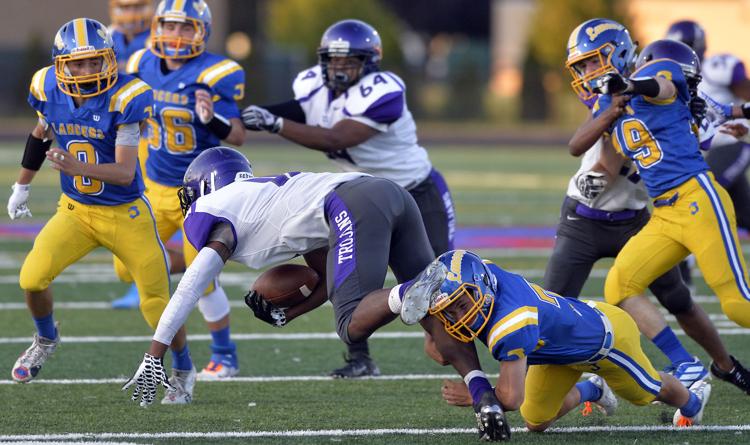 ST. JOE FOOTBALL BRADLEY TECH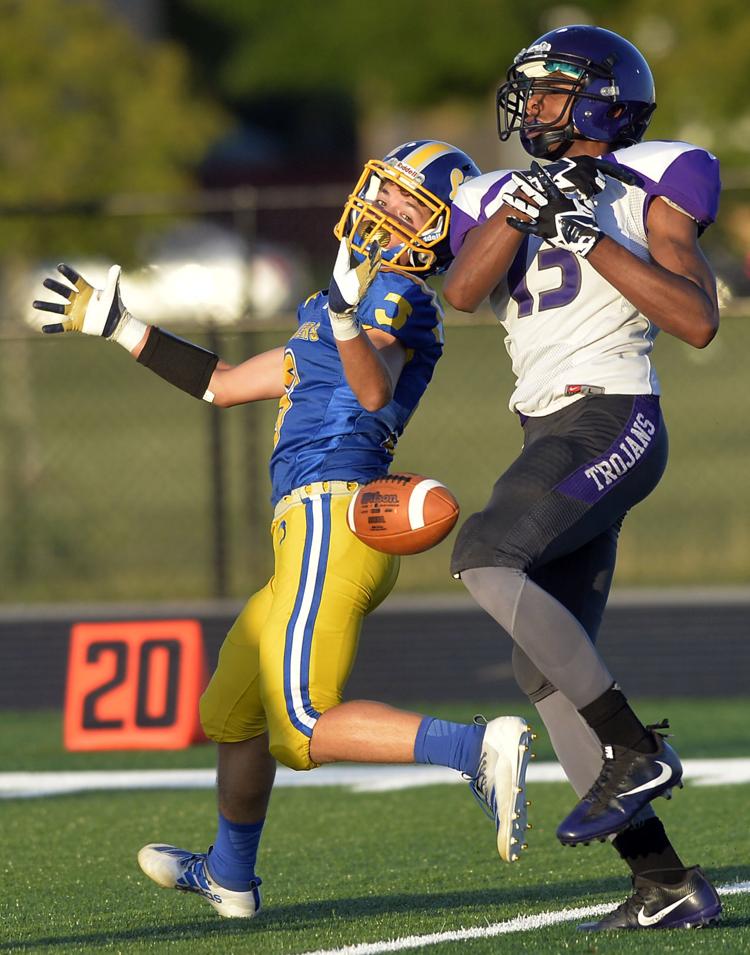 ST. JOE FOOTBALL BRADLEY TECH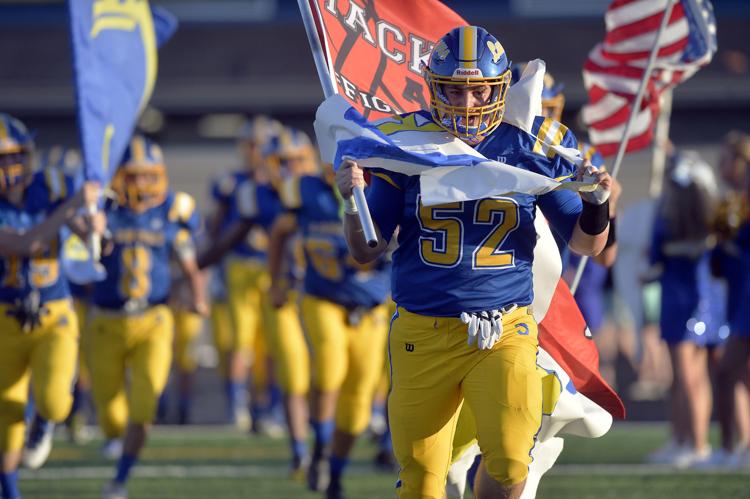 ST. JOE FOOTBALL BRADLEY TECH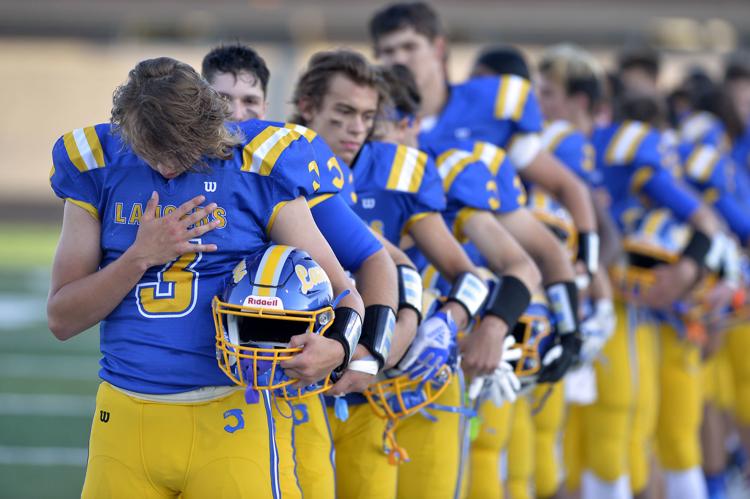 ST. JOE FOOTBALL BRADLEY TECH