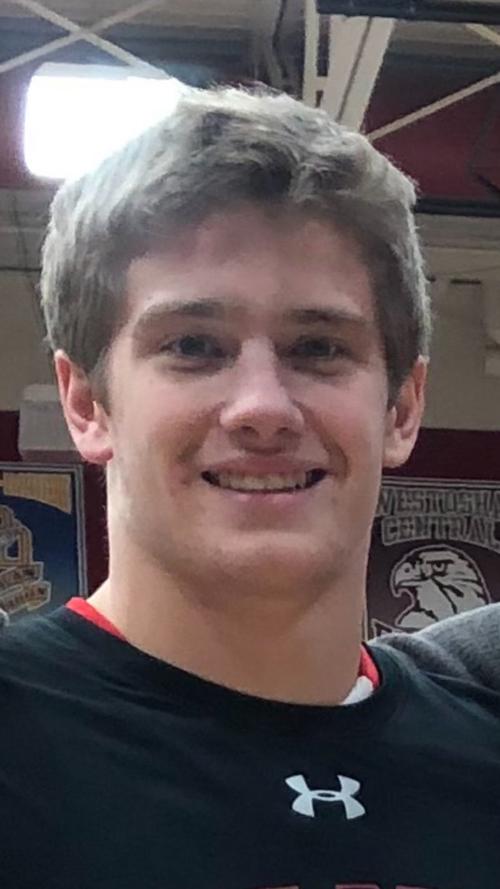 Wilmot senior Zack Watson is known to opponents as a dangerous runner from the quarterback position, but that's not to say he can't pass the ball a little bit as well.
Through eight games, Watson has thrown for 935 yards and 16 touchdowns and has rushed for 869 and 11 scores.
He used both skills in Friday's 41-14 Southern Lakes Conference win over Central at Frank Bucci Field with two rushing touchdowns and three fourth-quarter scores through the air.
"Our game plan was to just run the ball like we did against Burlington (a 35-34 win in Week 7), and it was cold, too, so it was going to be tough to throw, and we knew that," Watson said. "But (the coaches) started calling pass plays for me and trusted me.
"I was able to just throw it out there and trust my receivers. They made some good plays for me."
Special night
While there was plenty of action on the turf at Frank Bucci Field on Friday night, there was an even bigger cause in mind for both teams.
The night's feature was the "Go Pink" game, as funds were raised for Amy Cochran and Renee Dohse, who both are battling cancer.
Being able to come together as a community, and even football rivals, certainly was a focal point all week leading up to the game.
"It's really huge to give back to the community and people who really need it," Wilmot coach Keiya Square said. "Any time we can give people help when they're going through really tough times and have them thanking us, it's something easy that we can do on our part, but it's really big for the community and the people around us."
Watson agreed with his coach.
"It's always fun playing in this rivalry when the two communities get together, especially with the ('Go Pink') game going on," he said.
Heading to the Hall
Wilmot's regular-season finale Friday at Delavan-Darien isn't just a big game because the Panthers could still earn a share of the SLC title.
It's also going to feature a special ceremony, as Square will be inducted into the school's Athletic Hall of Fame.
Square, a 2000 Delavan graduate, downplayed the night a bit, as he wants his team to focus on finishing the regular season strong heading into the WIAA playoffs.
But he also knows how special the night will be, not only personally, but for his team to witness as well.
"When I got the call, it was one of those things that was really awesome," he said. "It's going to be an exciting time, but we have to take care of what we have to take care of and finish off the season on a high note.
"We tell our guys that you want to leave a legacy and do things that nobody else has really done. For me in football at Delavan, that's how we approached it when we were there, and we had a lot of success in all of our sports."
Excited for the future
While the outcome Friday didn't go his way, Central coach Tyson Mengel continues to be encouraged by the development of the young players on his squad.
Counting both sides of the ball, the Falcons started 13 sophomores or freshmen against the Panthers.
And with just one week left in the regular season, he's seen steady growth that he hopes will be a springboard for the future.
"We're very young," Mengel said. "We don't have many numbers in the upper classes, either, so getting these guys game reps and experience this year, I'm hoping (will help). I'm seeing them play like juniors now, so I'm hoping, starting next year, they'll be playing like seniors."
Showing patience
The Falcons hung tough with the Panthers through the first half before Wilmot eventually pulled away with three second-half touchdowns.
And Central found its success on the ground, especially early, which gave Mengel and his offensive coaches a chance to roll the dice with some other plays against the Wilmot defense.
"They knew we were going to try to run the ball, and they were giving us press-man coverage on the outside," Mengel said. "We knew we would try to grind it a little bit early on and then take some shots."
Mengel said the "gadget" plays, which included a flea-flicker and a successful hook-and-lateral, have been in the plans throughout the season.
"We practice those things all year," he said. "You never know when you're going to pull them out."
Playoffs?
It wasn't quite the famous rant by former Indianapolis Colts head coach Jim Mora on the prospect of his then-struggling team making the playoffs.
But after his team's 6-0 Southeast Conference victory in overtime against Tremper at Ameche Field on Friday, Bradford coach Troy Bowe channeled his inner Mora when talking about the Red Devils' postseason chances.
At 2-4 in the SEC, Bradford can't attain the four conference wins necessary to qualify automatically for the WIAA Division-1 playoffs. The Red Devils can only get to three SEC wins with a Week 9 home victory over Racine Park.
It's highly unlikely a Week 9 win would be enough to get Bradford into the playoffs, but when reminded that his team still technically has a chance — the Red Devils snuck into the playoffs with a 3-4 conference mark last season — Bowe quickly dismissed that notion.
"Sure we are (eliminated)," he said. "We don't belong."
To be fair, Bowe said prior to this season that while making the playoffs is fine, he didn't particularly think last year's team deserved it.
Besides, Bowe's not interested in just reaching the postseason.
"I tell these kids all the time that it's not what we want," Bowe said. "We're not playing for a playoff spot. That's not our goal. Our goal is to play deep (into) November. Our goal is to play in meaningful games (in) mid-November. That's our goal.
"So, to make the playoffs, big deal. Who cares?"
Baby on board
Tremper coach Jared McGranahan and his wife, Kelley, entered the weekend expecting the birth of their third child.
After Friday's game against Tremper, McGranahan reminded himself to check his phone in case his wife had gone into labor.
A man who has his priorities in order, McGranahan didn't hesitate for a second when asked if he'd have left the sideline for the hospital Friday had the call come during the game.
"One-hundred percent, yes," McGranahan said. "I'm not going to miss my child's birth for a high school football game.
"Especially one that was as ugly as this."
Dan Truttschel and Mike Johnson contributed to this report.