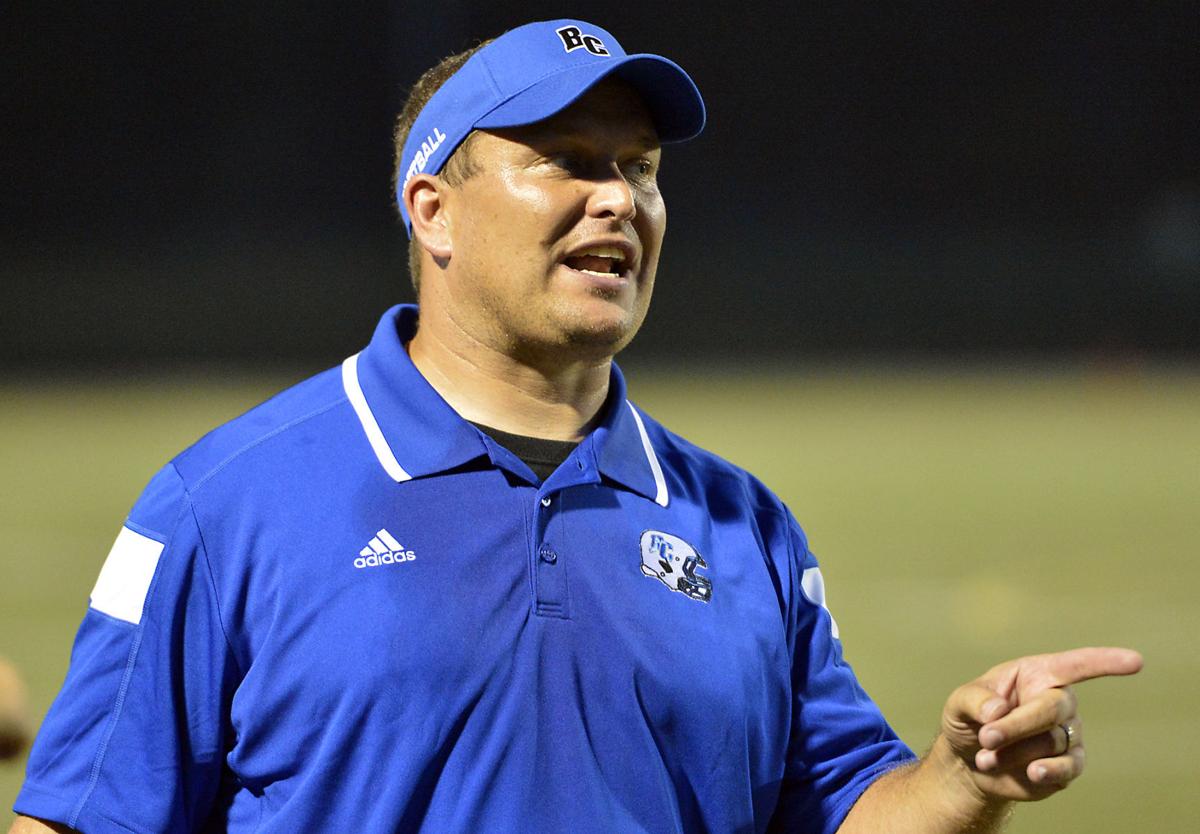 Monday was the morning high school football players from all nine Racine County programs would have reported to their schools to be issued their equipment.
Practices would have started Tuesday, most scrimmages would have been Aug. 14 and then the regular season would have started the following week. Friday night lights would have glowed throughout the county into November, just as they have for the longest time.
Heck, high school football has been played in this city since Tin Lizzies were chugging along brick streets.
But I just don't see it happening this year with the COVID-19 pandemic. I don't see how it could happen. And I don't think it should happen.
As I scrolled through the national wire at my desk on Sunday afternoon, here is just a sampling of the headlines I saw:
Pac-12 football players urge opt-out amid COVID-19 concerns.
As school begins amid virus, parents see few good options.
Nick Canepa column: NFL embarking on journey through COVID-infested waters with little chance to reach Super Bowl.
Detroit QB Stafford goes on reserve/COVID-19 list.
After almost a week in quarantine, Marlins learn they'll resume season Tuesday in Baltimore.
Paul Sullivan column: Baseball is in crisis mode as more MLB players and staff test positive for COVID-19.
And, of course, just in the last few days, Wisconsin sports fans have seen Milwaukee Brewers outfielder Lorenzo Cain and new Green Bay Packers wide receiver Devin Funchess opt out of play this year because of health concerns related to the virus. There have been so many more similar decisions in all sports, which obviously compromise the integrity of the seasons so many of us are desperate to see played.
As I write this, school administrators in this county and across the country are wrestling with an agonizing decision. Do they try to figure out a safe way for high school student-athletes to play their sport? Or do they err on the side of caution and simply make these high school sports another casualty of a pandemic that has already claimed so much?
On a personal level, it would be devastating to not see high school football this fall. Ever since Sept. 7, 1979, when I was a 20-year-old reporter at Horlick Field who watched Racine Case coach Gene Veit and his players march off their charter bus for a game against Madison West, high school football in this county has been a part of who I am.
I'm embarrassed to admit this, but I could recite off the top of my head every All-Racine County Player of the Year, starting when Case lineman Todd Simonsen won the first honor in 1977. Yeah, I know. You're probably thinking, "Jackel must REALLY be the life of a party!"
And there is a film library stored in my mind of Racine Park's Brent Moss and Johnny Clay breaking loose for one of their breathtaking long runs; of Burlington's Tony Romo performing in his version of "The Natural"; of Park's Kevin Barry knocking some hapless defensive lineman into another time zone; and of Da'Shaun Brown winning a state championship for Racine St. Catherine's in 2018 with that heart-stopping conversion run at Camp Randall Stadium in Madison.
I've been doing this for so long that I even remember those great Kenosha Tremper teams from the late 1970s and early 1980s under Ron Davies, who remains one of my favorite coaches to this day. Who could forget the great Marc Hujik, Tremper's All-State quarterback back then?
And of course, there were those phenomenal Kenosha Bradford teams during the early 2010s under coach Jed Kennedy, which featured two future No. 1 draft choices — running back Melvin Gordon and cornerback Trae Waynes.
But, just one year after Racine Lutheran's Tyler Tenner became the all-time leading rusher in state history, it seems to me that the games have to stop for awhile. It pains me to write those words, but we have to face facts: About 157,000 people have died in the United States alone (and nearly 700,000 worldwide) since COVID-19 became a household term early this year.
That's a staggering number that should not be swept under the carpet.
And there is no end in sight.
No, the games do not have to go on, as therapeutic as so many of us certainly find them to be through these tough times. The focus just has to be on our collective well-being and nothing else.
As of now, the start of the high school football season has been pushed back into September, but I don't know what purpose that serves. It's not as if this pandemic is going to go away between now and then.
Other school districts have made the agonizing choice to not only cancel football, but all fall sports. Just last Thursday, the Madison Metropolitan School District announced that it will not offer sports this fall.
That has to be the only decision for everyone. It may not be the popular one, but it's the only one.
I feel for the kids who will lose out on the opportunity to do something they love. And for so many of the seniors this school year, this will be their last chance.
But high school is just the start for them. Let's make sure these kids are healthy as they are sent into the real world.
Latest images of Kenosha County area football
It's football season and the Kenosha News would love to see your photos. Some will be considered for publication, and all will go up online. Send your selfies, photos of bands, cheerleaders, crowds and game action to spotlight@kenoshanews.com for a gallery that the News will create each weekend and publish at kenoshanews.com.
Peter Jackel is a reporter for The Racine Journal Times. You can reach Peter by calling 262-631-1703 or by emailing him at peter.jackel@journaltimes.com
Be the first to know
Get local news delivered to your inbox!